I'm willing to bet that the latest Nokia phones we reviewed here at GSMDome.com had high grades, but don't expect the same treatment for Nokia X. This very first Nokia phone with Android was announced in February, launched in March at MWC 2014 and it's priced at $120.
This handset looks like a LEGO cube and it adopts a blocky design. It measures 10.4 mm in thickness, weighs 128.7 grams and offers good grip. The back cover actually surrounds the body of the device and it's easier to remove than the shell of the Lumia 520. The design reminds me of an Asha and the back lids are actually interchangeable, by the way. Under the battery cover you'll find 2 micro SIMs, a microSD and a battery. The case is made of plastic and the front side features a capacitive Bak button, the earpiece and display. Close to the earpiece there are the ambient light sensor and proximity sensor, plus a mic at the bottom.
On the right side we've got a comfy pair of volume and On/Off buttons, while at the top there's the audio jack and at the bottom lies the microUSB port. Finally, at the back we've got the camera and speaker. This is a simple design, but one that works and the device is pretty resilient by the way. Moving on to the hardware side, we've got a Snapdragon S4 Play dual core CPU here, a Cortex A5 1 GHz unit, accompanied by the Adreno 205.
There's a 4 inch IPS LCD display on board, with a 480 x 800 pixel resolution and other specs include a microSD card slot (with support for 32 GB), 4 GB of storage and 512 MB of RAM. On the connectivity side there's HSDPA, with 7.2 Mbps download speed, WiFi, GPS, Bluetooth 3.0, microUSB and this is a dual SIM dual standby model by the way. We've got a 3.15 MP camera at the back with no flash and there's also a proximity sensor in the mix, as well as an accelerometer and FM radio.
Nokia X features a Li-Ion 1500 mAh battery, that on paper provides 408 hours of standby and 13 hours of talk time. It can also offer 26 hours of music playback. The SAR value is 1/30 W/kg. Our test, that involves HD video playback with WiFi on and brightness at 50% gave us only 3 hours and 14 minutes, while the charging is 2 hours and 10 minutes. These values place the handset close to the Lumia 520 and I would say they're OK.
I should also mention that there are no power saving options here, which is kind of a bummer. On the audio side, we've got a pretty loud and clear experience, with a custom player and even an EQ is included, with the usual bass boost and 3D effects from the stock Android player. The bass is decent and the volume is nicely shown through a bar at the top of the screen. The headphones were a bit too big for my ears and they actually offered too much bass, drowning out the overall sound of songs. The acoustics are actually pretty close to the one of Lumia 520, that is slightly better.
We achieved 86.4 decibels with this model, a not too shabby performance. Finally, there's FM radio in the mix, with stereo and mono options and a sleep mode. On the video side, we've got a 4 inch IPS LCD with 480 x 800 pixels, 233 ppi density and RGB pixels. The colors are vivid and this is certainly not the brightest screen, but it does its job. The contrast is decent, but the screen is not that good in sunlight.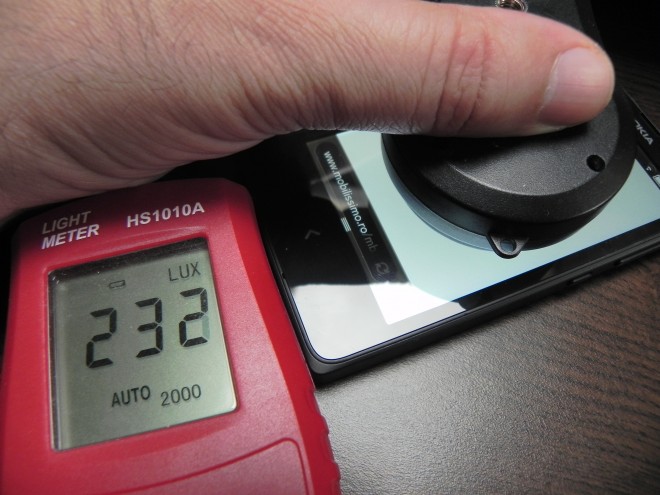 Nokia X offers 232 LUX units, good view angles and overall this is a good screen for this price. In the screen settings area you get double tap to wake up gesture and you can also tweak the font size and activate the Glance feature, allowing you to show info when the screen is off. Moving on to the camera, this is a 3.15 MP unit with a maximum resolution of 2048 x 1536 pixels, no autofocus, no flash and it uses fixed focus with a larger field depth. The sensor of the camera measures 1/5 inches and does 480p video at 30 FPS. There's no front camera here, as you already know.
The UI offers a decent frame rate, fast zoom and on the left side we find options like white balance and exposure, while in the Settings area there's anti banding, ISO up to 400, noise reduction, face detection, saturation, contrast, sharpness and automatic exposure. You can also tweak the picture size and quality (super fine/fine/normal) and save the location. There are also color effects (mono, sepia, aqua, negative) and the camera options include panorama, video and picture.
As far as the actual pictures are concerned, the quality is not good at all and certainly not good when compared to the Nokia Lumia 520. The noise level is high and the pictures taken in full sunlight look burnt. The panorama looks decent, but you can forget about macro and other such features. We're not very happy with the camera, but we'll take what we get. The video UI options include white balance, time lapse, FWVGA, WVGA, SD and VGA video capture and you can also select the video encoding, in MPEG4, H.263 and H.264. The audio encoding is done in AAC and AMRNB.
Finally you can select the color effect, power mode (low/normal) and video duration (30 seconds, 10 minutes or 30 minutes). The videos are filmed in 3GPP, which is certainly not my favourite format. The level of details is not good, as suspected. The camera offers F/2.8 aperture and when filming you get good colors and OK contrast. Finally, you can also edit pics with the stock Android options. Overall the camera was sacrificed for the sake of a lower price. The Nokia X was also tested with videogames and we achieved a temperature of 38.2 degrees  Celsius, which means it doesn't suffer from overheating.
The web browser is the Nokia Browser based on Chromium and it's actually pretty fast and fluid. You've got Bing Search integrated in the address bar area, by the way and since the keyboard was also triggered on this occasion I have to say it's not comfy and it's rather cramped. Thank God we have that Swype thing input method. You can also switch browsers, since Opera is preinstalled.
On the phone side, there's the dual SIM action, no smart dialing and a loud and clear experience. Even if this model doesn't have Google Play Store, we managed to download benchmarks from the 1 Mobile Market and we did the tests. We scored 2730 points in Quadrant, above the Motorola Atrix and Galaxy Nexus, but below the Xperia E1, that has a similar price tag with the Nokia X. In AnTutu we got 7521 points, almost half of the Xperia E1 score, while in NenaMark 2 we got 29.7 FPS. In Vellamo the score was 1145 points, 700 less than Xperia E1, while in 3DMark we scored 2370 points.
GFX brought a score of 1.4 FPS and Speedtest.net gave us a speed of 20 Mbps for download and 21 Mbps for upload, very good results. Finally, Sunspider brought a very weak 2490 score and BrowserMark 291, also weak. Well, at least this model runs Asphalt 8, right? Nokia X runs Android 4.1.2 with the Nokia X Software platform 1.0 on top and no Google services whatsoever. There's a custom Nokia launcher on board, with a slight lag and if you switch to another launcher, the device will run better. The Nokia UI feels like a mixture of Asha and Windows Phone.
It even has tiles, that are resizable and their color can change. The tiles are not live and you can create folders and apply widgets, by the way. All apps will be included on the homescreen, so there's no separate area for the apps. If you swipe to the left or right you can go to the Fastlane area, that reminds me a lot of the Asha experience. This area keeps track of all the recent activity and installed apps, taken pics and social network posts and stuff. Fastlane can be customized, so it will only show certain content or app information.
We've also got a pull down status bar, where you can see the notifications and quick toggles. Considering we only rely on a single capacitive button, the back one, you should know that if you keep it pressed it takes you back to the homescreen. There are also contextual menus, signalled by a few lines at the bottom of the screen, as shown in the video. You can also pull down on the homescreen to trigger the search, like on iOS. Since you don't have the Google Play Store, you will rely on third party solutions like 1 Mobile Market, Slide Me Market and Nokia Store.
The list of preinstalled apps on this device includes email, skype, Facebook, Twitter, Danger Dansh, Here Maps, Calculator, calendar and a ton of games, like Fruit Ninja, Tetris and Sim City. Then there's Viber, Astro File Manager, WeChat, Mix Radio and One Drive. There's no multitasking here and the verdict is that the handset is a combo between Asha and Windows Phone and of course Android. And now the verdict!
Here are the Pros for this device:
low price
Android in affordable Nokia package
good audio and decent headphones
nice Fastlane experience
decent display
runs modern games
more customization than Windows Phone
fast downloads
low learning curve
And the Cons:
camera is weak
battery could be a bit better
the design is not very appealing
no multitasking
no Google services
laggy UI
1.2 GB available to the user
Nokia X gets from us an 8 out of 10 for design, an 8 for hardware and an 8.3 out of 10 for OS and UI. The final grade is 8.1 out of 10 and I prefer the Lumia 520 and Xperia E1 to this smartphone, actually. I have to say that a person who likes Android won't choose this castrated model and a person who hasn't may opt for it just to get started in this world of smartphones.