What if the Batmobile wasn't a vehicle but a cellphone? It would probably look something like the Nokla handset below, made by Chinese manufacturers. The device looks pretty hard to hold in one's hands, specially if they're small.
We're dealing with a dual SIM phone with FM radio on board, 3 built in games, MP3 and MP4 playback, an E-book reader and 506 Kb of internal memory. The handset supports Bluetooth connectivity and 4GB TF memory expansion cards and it comes with a 2 inch screen (176 x 220 pixels) plus a "high definition video camera" (probably not).
Java is also on the specs list, as well as SMS/MMS messages, MP3 ringtones, an independent speaker, GPRS, IP call and a 1200 mAh battery, that will provide 180-220 minutes of GSM talk time and 160-200 hours of standby time.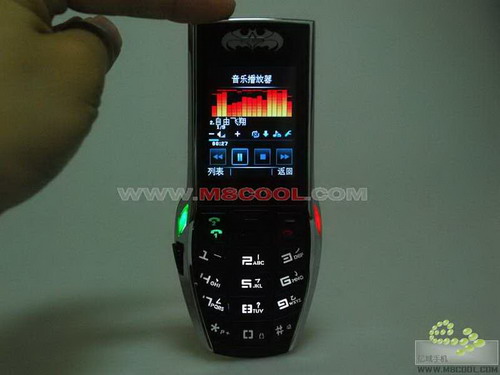 [via dailymobile.se]