It appears that the NVIDIA Tegra X1 is a beast of a chipset, which is proven by a fresh AnTuTu test, performed on a mystery device. There's no way of telling if that's a phone or tablet, but I tend to believe it's the latter. The score is truly impressive, beating the 70k mark.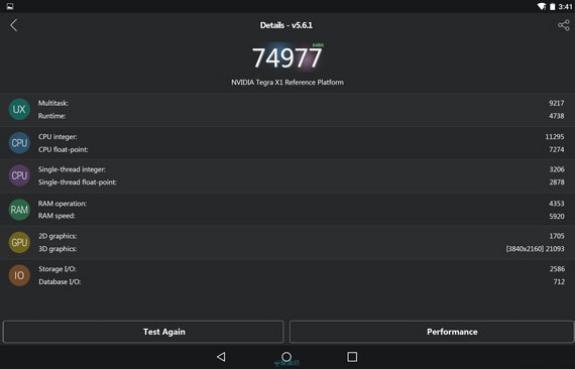 The mystery device scores 74,977 points, which is huge, considering the latest leaks regarding the Snapdragon 810 and Exynos 7420 only place them at around 60k points. The Tegra X1 CPU debuted at CES 2015 last month and seemed focused on automotive solutions at first. It's a 64 bit octa core beast, with a 256 core GPU, that should provide gaming at the level of a PS3 or Xbox 360 theoretically.
The CPU performance score in AnTuTu is over 10,000 points and the 3D performance score is over 21,000 points, even with a 4K resolution support. This is pretty impressive for a mobile device of any kind, that's for sure. Fingers crossed for seeing the Tegra X1 on more devices than the Tegra K1, that was available in a pretty limited fashion last year.