Testing the Oppo X907 Finder was an unique opportunity, since this is the thinnest smartphone in Europe and one of the thinnest handsets in the world, at 6.65 mm. The device is made in China and sold in Russia and Moldova, among others, for 350 euro. The product's maker is famous enough to get Leonardo Di Caprio in its commercial, so yeah, Oppo is kinda cool.
Oppo Finder is very thin and elegant, yet solid and it comes without an audio jack, as shown in the review. Instead of the audio jack we plug the headphones into the microUSB and there's an adaptor microUSB to 3.5 mm audio in case you need one. On the side of the device we've got some metallic pins, making me think of a potential dock or other accessories.
The handset has a matter back with a soft touch and provides nice grip. It weighs just 125 grams and a complaint of mine is the fact that the capacitive keys below the display are pretty dim. The slots of the device are covered by lids, keepind the compact alure of the model. We've got a solid metal frame all around the phone, that makes this thin model feel more solid.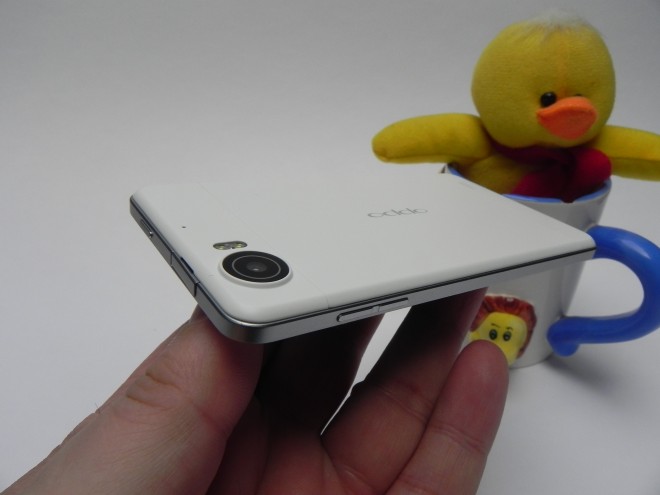 The hardware specs here include a Snapdragon dual core 1.5 GHz processor, an Adreno 220 GPU, 1 GB of RAM, 16 GB of storage and keep in mind there's no microSD storage. The superb screen is a Super AMOLED Plus 4.3 inch unit, with a 800 x 480 pixel resolution and 16 million colors. We've got a microSIM card slot and Oppo Finder supports GSM chat all over the world.
It comes in black or white, it has a GPS, Bluetooth 2.0, WiFi and microUSB 2.0. At the back there's an 8 megapixel camera with dual LED and upfront a 1.3 MP shooter. Finally, we also get a light sensor, accelerometer, G Sensor, FM radio and a Li-Ion battery with a capacity of 1500 mAh and good enough for 9 hours of 2G talk time. The handset has Dolby Mobile technology and excellent bass and volume when it comes to media playback.
The screen is superb and has an RGB stripe arrangement, vivid colors, very good brightness, good sunlight behaviour and even good viewing angles. The camera generates clear shots, keeps a good quality when zooming in during video capture and the only problem is that HDR kind of turns stuff to a green-ish hue. Overall the quality of the cam is on par with Galaxy S II.
On the OS side we have Android 4.0.3 with a bunch of customizations ad a ton of Yandex apps. Yandex is a big search engine in Russia, with associated app store, maps app, social networking and a ton of other software. As far as benchmarks go, this model scores 3566 points in Quadrant, 8580 in ANTuTu and 57 FPS in NenaMark 2. This means it's a bit better than the Galaxy S II, at least on paper.
Bundled apps include Lomo Camera, Power Saver, Weather, Security, Quick Office, Notes, Vkontacte and the usual Google suite. And now the Pros and Cons of this very thin model. Here are the pro aspects:
very nice design, slim and solid
good battery
decent price
very good audio and video quality
not laggy
charges fast (1 hour and a half)
And the cons:
no audio jack
older OS
custom OS looks antique
sometimes the camera generates weird colors
Overall, this model gets a 9.5 out of 10 for design, 8 for OS and UI and 9.2 for hardware, for a total of 8.9 out of 10. This is a very good phone considering its design and price range and it's a solid buy.