After a supposed sighting of the Galaxy S7 around the time of the Galaxy Note 5 debut, we get another glimpse of that future flagship through an AnTuTu leak. This model may or may not be the S7, but it's mentioned here under the codename "Bunny".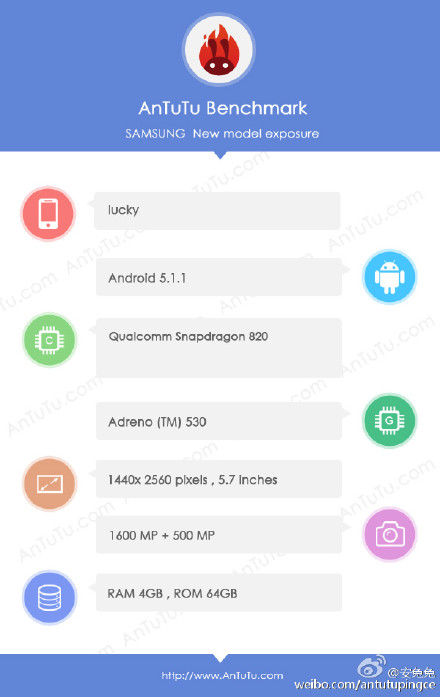 Previous rumors have claimed that the Galaxy S7 will come in two versions, one with a Snapdragon 820 processor and one with a new Exynos chip. 4 GB of RAM and a Quad HD screen with 5.7 inch diagonal are also listed, plus a 16 MP back camera and 5 MP front shooter. 64 GB of storage and Android 5.1.1 round up the specs list. The general configuration feels familiar from the Galaxy S6 Edge+ and Galaxy Note 5.
The total score in AnTuTu is 65775, which is pretty big, but not bigger than what the Galaxy S6 Edge or S6 Edge+ achieves. However, the GPU 3D score is 23597 and the Single thread integer one is 3481, both bigger than what we scored with the Snapdragon 810 and Exynos 7420. I imagine that the arrival of Marshmallow may also influence these scores in the future.
via Weibo