If you're looking for your US-available version of the Samsung Galaxy S, know that T-Mobile customers got it early as the Samsung Vibrant model. However, if you're an AT&T faithful, Samsung Captivate will work just as well, bringing its 4 inch Super AMOLED screen to your pocket for $199.99 with a 2 year contract.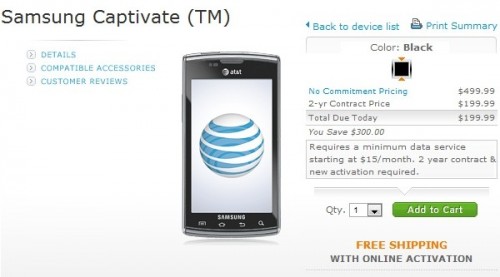 You can get it without commitment for $499.99, but who would want to spend that much on a phone, right?
Said device runs Android 2.1 on a Hummingbird CPU, features a Li-Ion 1500 mAh battery, a 5 megapixel camera with 720p HD video capture, a microSD card slot, 16GB of memory, WiFi, Bluetooth 3.0 and A-GPS.
[via Engadget]