Aside from announcing that it'll launch an Android phone next summer, Samsung also launched two new candybar handsets today: E1410 and E1117. Such devices sell really well on emerging markets, but considering the current depression, they should do equally good in developed countries in the coming year.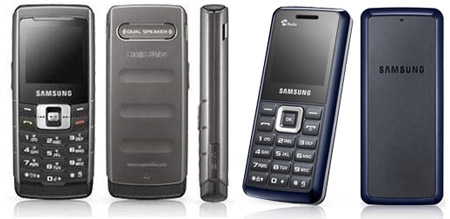 Samsung E1410 is a dual-band GSM/GPRS handset that features a 1.63 inch CSTN display, 4 MB of internal memory and a very, very impressive battery. The 1000 mAh unit will power it up for 11.5 hours of talk time and 546 hours of standby.
Samsung E1117 uses the same display and battery, but only features 900 KB of internal memory and an FM receiver. The first phone measures 108 x 46 x 15.3 mm, while the E1117 measures 106 x 45 x 15.4 mm and weighs 79 grams. No info on the pricing yet.
[via IntoMobile]