Samsung Galaxy A5 reached us last month for a detailed review and this model belongs in the middle of the Galaxy A series, between the Galaxy A3 and A7. The series started with Galaxy A as the inspiration, but we didn't exactly like that model when we reviewed it. Announced back in October 2014, Samsung Galaxy A5 was launched in December 2014 and it's priced at $516 on Samsung UK's site.
This is a midrange phone with a classy design, that involves a metallic unibody case, a pretty slim one. It measures 6.7 mm in thickness and weighs 123 grams, plus it has a 5 inch screen. Galaxy A5 has a clean and minimalistic design, a rectangular format and slightly rounded corners. Its bezels are not very narrow and the edges luckily don't cut into the palm like they did on the Galaxy Alpha.
The color versions available here are white, blue, gold, black, silver and pink. Samsung Galaxy A5 has a solid frame, good grip and an excellent one hand usage. There's a matte back in the mix and upfront there's a dotted glitter texture to see, if you look closely. Also at the front we find the selfie camera, earpiece, sensors, Home button and 2 capacitive buttons.
At the back there's the main camera, flash and speaker, while at the top there's a mic. At the bottom there's another mic, a microUSB port and audio jack. We've got volume buttons on the left side and the On/Off button on the right. All these buttons offer pretty good feedback. On the right side we also find a nano SIM card slot, a microSD one, both accessible with a metal key accessory.
The dual SIM version of this phone replaces the microSD with a second nano SIM card slot. Overall, the Galaxy A5 adopts a solid and elegant design and get rids of the imperfections of the Alpha. On the hardware side we get a 5 inch Super AMOLED screen with a 1280 x 720 pixel resolution, while inside there's a quad core Snapdragon 410 chipset, clocked at 1.2 GHz.
This processor uses Cortex A53 cores and it's a 64 bit unit, with Adreno 306 GPU. Other specs include 16 GB of storage, 2 GB of RAM and a microSD card slot with support for up to 64 GB extra. The back camera is a 13 MP unit with autofocus and LED flash, while the front one is a 5 MP shooter. On the connectivity side there's ANT+, microUSB 2.0, GPS, Glonass, WiFi A/B/G/N dual band, Bluetooth 4.0, NFC and LTE, as well as FM radio.
We've got no DLNA or MHL here. On the sensor side, there's an accelerometer, geomagnetic sensor, hall sensor, proximity sensor and RGB sensor. There's no notification LED here, just in case you were wondering. The battery inside is a Li-Ion 2300 mAh unit, that on paper should provide 8 hours of 3G Internet, 11 hours of WiFi Internet or 12 hours of video playback. There's also 68 hours of audio playback or 15 hours of talk time.
The video playback test we did involves a HD video loop with WiFi on and brightness at 50% and that brought us 9 hours of functioning time, which is quite good. The Galaxy S5 gets 11 hours and the Nexus 5 gets 5 hours, plus the Galaxy Alpha got 7 hours, so we're doing very fine. Then we did the PCmark battery test, that simulates continuous usage, with stuff like web browsing or photo editing in the mix and the brightness was kept at 200 LUX.
We achieved 6 hours and 51 minutes, beating many important models, including the OnePlus One, Huawei Honor 6 and even the new HTC One M9. The charging takes one hour and 45 minutes, so overall this is a very good battery, I have to say. In the Settings area you'll find the Power Saving option, that restricts background data traffic and CPU performance, plus it disables vibration, turns off the screen faster and decreases brightness.
You can also limit the CPU performance, turn off the GPS and keep the touch key lights off. There's a Greyscale Mode also available, making the UI monochrome in order to save power. Then there's the Ultra Power Saving Mode, that keeps only the basic features available and with 73% battery offers over a week of functioning. Basically you can get a full day of usage with 10 or 20%. Mobile data is off in this mode, when the screen is off and many other sync, GPS, touch key or vibration options are deactivated.
On the acoustics side, we've got a custom Samsung music plyer, with the usual organization of tunes within playlists, tracks, albums, artists, folders, devices and the famous Music Square. That one organizes music by emotion (Exciting, Passionate, Calm etc) and then we've got SoundAlive, which serves as the EQ here. There's an Auto option, but also genre-based options, effects, like tube amp, virtual 7.1, small room and large room, as well as concert hall.
Then there's the Advanced area, with 7 custom channels with sliders included, that you can tweak, a 3D, Bass and Clarity toggle and Adapt Sound, that sets up the acoustics for a new pair of headphones. Users will also be able to tweak the play speed and use a Music Auto Off option. Finally, Smart Volume will adjust all songs to a certain level.
When listening to music on the device's speaker there was no muffling, the volume was reasonably good, sound was clear and bass was good, while all the notes were heard perfectly. The headphones bundled here are typical for a Samsung device, made of comfy plastic and offering good isolation. Bass is very good and the headset comes with a big remote and offers very good bass, clear and crisp sound, plus a loud experience.
FM radio was also tested, with a custom UI, auto scan, scan and record as the features inside the app. There's also radio text, speaker option and you can switch to Internet radio if you lose connectivity. We used a decibelmeter to test out the device and got 77 dBA at the back, 77.6 dBA at the front, both not exactly impressive values. For example the Galaxy Alpha had 83.5 dBA and the iPhone 6 85.2 dBA, so it's a bit underwhelming.
Overall the device could be louder, but at least the sound is crisp. Now let's talk display! this one is a Super AMOLED 5 inch unit with 720p resolution and 294 ppi density. We've got 16 million colors display here and a video player with the pop up play option available. Settings include brightness and play speed, as well as Sound Alive and AMOLED Cinema in the player.
The latter makes the image very, very vivid, but also oversaturated. You can change the aspect ratio during play and the actual experience brought us very vivid colors, oversaturation, good brightness, wide view angles, perfect black and great contrast. Sunlight behaviour was also good and the image was crisp. Low reflectivity is another plus. The pixels are of the Pentile Matrix kind and the LUX level we achieved with the brightness set to max in manual mode was 370 LUX.
With the auto brightness on and the +5 option activated, we got 574 LUX, exposing a bright light to the sensor. The conclusion is that the Samsung Galaxy A5 has a very bright screen, that beats the Galaxy Alpha and its 454 LUX, as well as the Galaxy S5 and its 480 LUX. It's pretty much on par with the iPhone 6 and its 570 LUX. The settings area for the screen includes themes, font style and size, one hand use (swipe back and forth to activate), Smart Stay and Screen Mode.
This option has several sub modes, including Adaptive Display, that changes color setup depending on the app you're using, plus AMOLED Cinema and AMOLED Photo, one more vivid than the other and finally Basic, that offers the most washed out colors, but also the more realistic ones. You can also select "auto adjust screen tone" to save a bit of extra power.
Overall, the handset has an excellent screen and we move on to the camera. This one is a 13 MP shooter, with the same sensor as the one of the Galaxy S4, Galaxy Note 3 and LG G2. It's got F/2.0 aperture and the sensor is a Sony Exmor RS IMX135 (CMOS), measuring 1/3.06 inches and offering 1.1 micron pixels. There's a 28 mm lens here and the sensor is a 4:3 one, by the way. Upfront Galaxy A5 relies on a 5 MP camera with a 1/5 inch CMOS sensor made by Samsung and offering 1.1 micron pixels, too. This camera has a 23 mm lens and F/2.2 aperture.
The UI is typical for Samsung, with a front camera shortcut at the left side of the screen, flash options included and Settings like resolution (13 MP in 4:3, 9.6 MP in 16:9), color effects, timer or flash. The enlarged options area features exposure, ISO, white balance, metering and an option of tapping to take pics. Video res can be set to HD or Full HD and we've got video recording mode (Normal or MMS), location tag, gridline, voice control, volume key features and review pics.
On the right side of the screen we find the photo shutter, video shutter and capture modes. The latter include Auto, Rear Cam Selfie, Panorama, Night, Animated GIF, Sports and Sound + Shot. The front camera brings its own options, like showing the palm to capture a picture, 3 Beauty sliders, for the eyes, face thickness and face retouch and modes like Selfie and Wide Selfie.
Back to the main camera, it does 4X zoom and offers fast picture taking, but not very fast focus. We took the shots from this gallery on a sunny March day and we got realistic colors, good details, nice blues and good lighting. We didn't have an HDR option, but we played with exposure and got good results. In lower light areas shots were kind of blurry, as well as inside, but overall the quality was impressive.
Contrast, exposure and white balance were spot on outside and the shadows were also good. The panorama taken here is very wide and well caught and the shots that feature text and images like billboards were nicely captured. This camera is sadly unable to take closeups, no matter how hard we tried. GIFS look cute, but have low quality and the level of detail is good in pictures, when zooming in.
Focus is OK, selfies were decent, but not fantastic and overall the Galaxy A5's camera is Galaxy S4 level good, if we can say that. On the video side we had a bit of a surprise, with very crisp Full HD MP4 capture, at 30 FPS and with 17 Mbps bitrate. It's like the capture was too good to be true and offered good colors, crisp image, realistic image and good focus and stabilization.
Acoustics are also nice, as well as the lighting. There's good exposure and lighting in the videos shown below and even the moving subjects were properly caught on cam. Zoom was fluid, focus was just fine and contrast was perfect, even at sunlight. This qualifies as a very good concert phone, as far as video capture goes. Aside from inside shots and closeups, the Galaxy A5 camera did a great job and videos were perfect.
Editing photos includes options like rotate, crop, contrast, saturation, red, green, portrait, stickers and more. There's also the Studio app, that allows you to trim videos. We move over to the temperature, where the Galaxy A5 achieved 35.5 degrees Celsius, after 15 minutes of playing Riptide GP2, which means the temperature is pretty cool here.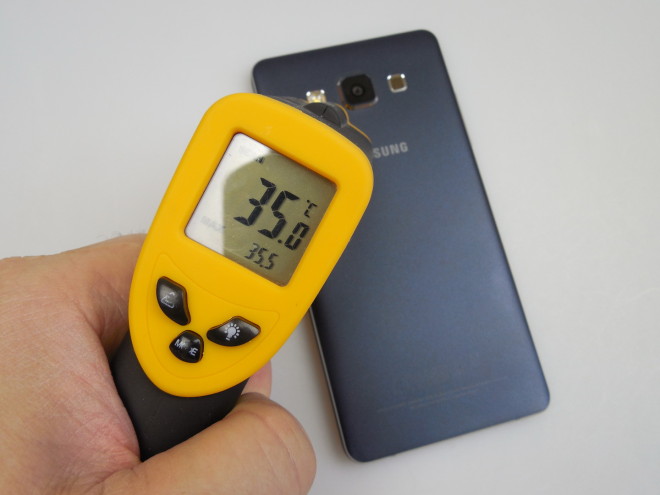 The browser on board is fast and the keyboard is very well spaced and has an useful numeric row. There's also handwriting and voice control included. On the phone side, there's no background noise canceling, but the audio is crisp and signal was at 80% the whole time, probably because of the metal case. Still, the earpiece was loud and clear.
In the benchmark area, this model was compared to the Moto G 2014 and HTC Desire 816, just to see how the Snapdragon 400 and 410 fare against each other. These are the results:
Galaxy A5 wins 5 out of 10 battles and it may be running on 32 bit for now, as far as we've heard, so its 64 bit potential may be higher. I'd say its results are underwhelming, but the way it runs 3D games like Riptide GP2 is just fine. If you're wondering about the day to day experience, this TouchWiz does come with its proverbial lag, just a few milliseconds of delay within the UI.
Speaking of which, the smartphone runs Android 4.4.4 with TouchWiz on top, pretty much the same version from the Galaxy Note 4. We get a carousel multitasking and we pinch the homescreen to get to the wallpapers, widgets, homescreen settings, themes and more. Obviously they're non stock ones. You can also play with transitions in the same area and get rid of Flipboard as an extra homescreen.
Overall, the UI is colourful and a bit flat. The dropdown part features Quick Settings, S Finder, Quick Connect, a brightness slider and notifications. The Settings integrate a Quick Settings area at the top, with your preferred shortcuts shown there, as well as a Search bar and options included here are Multi Window, Motions and Gestures and an Easy Mode among others.
Multi Window splits the screen in two and lets you run two apps at the same time and even drag text and pics between them, while Motions include palm swiping for screenshots and muting the device by turning it over. Settings also offer an Easy Mode, Blocking Mode, Private More and security features. The preinstalled apps list includes Accuweather, Chrome, Clickshop, Drive, Dropbox, Email, Flipboard, FoodPanda, Galaxy Apps, Gmail, Google+, Hangouts, Info + Play Club, Google Maps, Mireo Nav, My Files, One Football, Photos, Play Books and Games, Play Music and Newsstand, Radar Me, S Planner and S Health.
There's S Voice here, Shazam, Studio, plus a series of apps related to the carrier Telekom, so I'd say we pretty much get bloatware in the mix. Now let's see the verdict for this phone.
Here are the Pros:
nice design
slim, elegant, metallic case
good battery
very bright screen
great contrast
good pictures
excellent video capture
good headphones
nice power saving features
And the Cons
big price for midrange phone
not very loud
can't take macros
poor inside shots
weak CPU, in spite of high potential
bloatware
We give this model a 9.3 out of 10 for design, a 9 for hardware and a 9.3 out of 10 for OS and UI. The average grade is 9.2 out of 10, with a minus 0.2 for the price tag. The final grade is thus 9 out of 10 and this is an excellent midrange phone, for young people, good for filming concerts, enjoying a great display and great battery life, plus a slim, sexy body.