From what it seems, Samsung Galaxy A7 wasn't the biggest phone from the new Galaxy A range of device brought by Samsung on the market. Today, through nowhereelse.fr we have the chance to take a close look on several pictures with a new phablet called Galaxy A8. In the same time, the technical specs of the device are leaked, so we can make a first opinion about it.
Samsung Galaxy A8 will bring a 5.7 inch Super AMOLED display (1920 x 1080 pixels), an octa-core Qualcomm Snapdragon 615 processor on 64-bit, 2 GB of RAM memory and 16 GB space of internal storage and a microSD card slot.
We have a 16-megapixel rear camera, a 5-megapixel front-facing sensor and a 3.050 mAh battery. The phone also brings a fingerprint scanner placed under the home button. Samsung Galaxy A8 arrives in a 5.9 mm thin case that offers a metallic frame.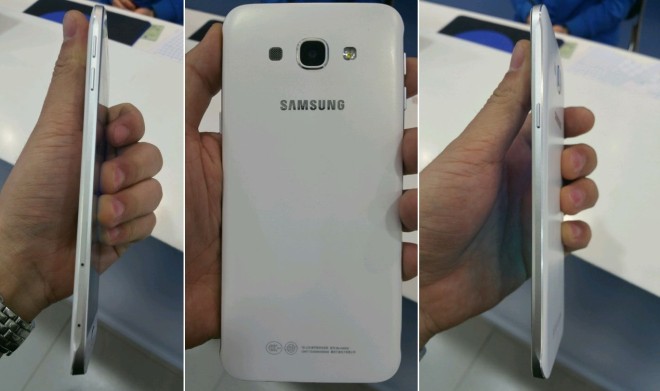 Galaxy A8 will run Android 5.0 Lollipop with the TouchWiz user interface applied on top. It remains to see when this new device will be introduced on the market, and how much it will cost.
via: nowhereelse.fr