Samsung Galaxy J5 (2016) is the latest Samsung phone I've tested and a low midrange device, a selfie phone that's a reply to all the Chinese handsets that have been digging into Samsung's market share. It's a Super AMOLED machine with a plastic body and a price of $260.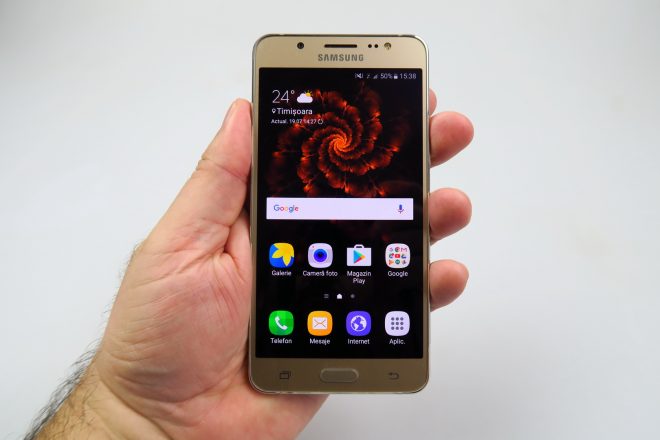 The J5 was a big hit in developing countries and the J5 (2016) is its logical follow-up. Launched in the Spring of 2016, this device comes in white or gold and offers a 5.2 inch screen, a slight bump from the 5 inch display of the J5. The handset measures 8.1 mm in thickness, compared to the 7.9 mm of the J5 and it weighs 159 grams, while the J5 weighed 146 grams.
It has a metal frame, a removable plastic back and provides good grip. There's some rough finishing here and there and I found the buttons to be quite comfy. One hand use is pretty easy and the back imitates metal with its texture. The screen has a big bezel and overall, this phone has a nice feel to it. I found the back to be more curved than the one of the Galaxy A5 2015 edition for example.
The build is solid and functional and overall it's not a bad looking phone. Now as far as the display goes, we get a 5.2 inch Super AMOLED panel with a 1280 x 720 pixel resolution and 16 million colors. There's no video player preinstalled here, so we had to use the gallery and set up stuff like subtitles or aspect. The viewing experience involved vivid colors, bright image and good contrast.
View angles are wide, blacks are deep and pixels are of the Pentile Matrix variety. We also did a brightness test and achieved 440 LUX units, which means the screen is quite bright for its price range. It beats models like the LG G4 and Huawei Mate 8, but scored below the HTC One M8. Options for the screen include an Outdoor Mode (15 minutes of brightness boost), font, timeout and Screen Mode (Adaptive, AMOLED Cinema, AMOLED Photo and Basic).
The display is quite good, but below the Galaxy A 2016, if you really want a comparison. As far as the CPU goes, we've got a quad core Snapdragon 410 here, the same chipset as the J5 before it. We get an Adreno 306 GPU, 2 GB of RAM, a 512 MB boost from the predecessor, 16 GB of storage and a microSD card slot. Apps fire up fast and there's no lag, plus the UI is fluid.
Games like Riptide GP2 work fine and there's no problem with gaming. Benchmarks we performed placed us below Huawei P8 in Quadrant, but also above the Galaxy A5. In AnTuTu 6 we scored below the Lenovo Phab Plus, while in 3D Mark Ice Storm unlimited we surpassed the Galaxy A5 2015, but scored below the LG AKA somehow.
I'd say that overall this device doesn't defeat its biggest nemesis: the $140 or $120 3 GB RAM phones from China. Temperature was good, getting to only 33.2 degrees Celsius after running the GFXBench test and 34.2 degrees after running Riptide GP2, so there's no overheating. The battery on this handset is a Li-Ion 3100 mAh unit, a 500 mAh bump from the J5 and also removable.
And then came the pleasant surprises. First we did a video playback test and achieved 12 hours and 38 minutes of continuous video playback, which is great and placed the handset on the 11th spot in all of our tests. It even beats the Galaxy A5 (2016) and iPhone 6S, as well as the Xiaomi Mi5. In PCMark we got to 9 hours and 7 minutes, which is great and made us beat the Huawei P9 Plus, Galaxy A7 (2016) and below the Galaxy A5 (2016).
Charging requires 2 hours and 31 minutes, which is not bad. It made us beat the iPhone 6S and P8 Lite, but also score below the iPhone SE. Options for the battery include Doze, Power Saving Mode, Ultra Power Saving Mode with its black and white UI, plus App Power Save and overall I'd say it's a great battery. Time to check out acoustics.
We've got the speaker at the top, next to the camera and it has a cute design. There's no music player here, so we had to rely on Google Play Music. Still, the Samsung equalizer was kept, including genre settings, 2 knobs for bass/treble and instrumental/vocal setup, as well as 7 custom channels. There are also the classic options, like 3D, Bass, Clarity and Concert Hall.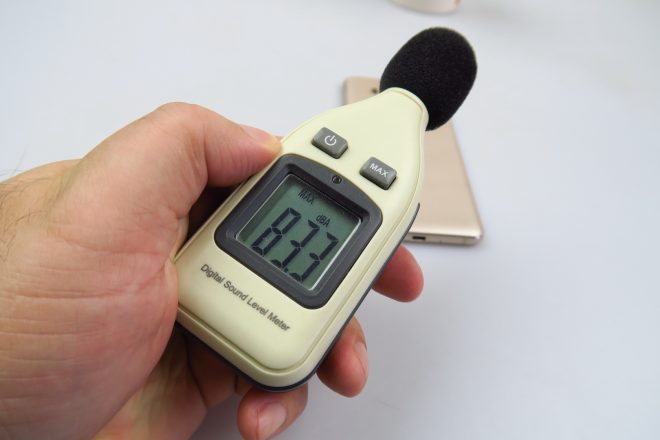 Adapt Sound is also here, plus Sound Alive+ and Tube Amp. The listening experience brought us OK volume, no distortion, good high notes and a so so bass. There's very little to no muffling on a flat surface and when we used the decibelmeter we reached a value of 82.4 dBA at the front and 83.3 dBA at the back. The high value places us above the iPhone SE and Huawei P9 Lite, so we're not doing bad.
We did score below the LG Nexus 5X. Headphones are atypical for Sammy, being cheap looking and sporting a weird format and ugly remote. They're still comfy, hugely loud and have a good bass and isolation. There's FM radio in the mix too and we found stations quite fast, plus also got to record music from the radio. Time for the camera folks!
So, there's a 13 megapixel back camera in the mix, with F/1.9 aperture and LED flash, plus a 5 megapixel front camera, also with LED flash and F/1.9 aperture. The camera has an OK start time, fluid zoom and a mediocre focus speed, but fast picture taking. The camera UI includes options like timer, flash options, resolution ones (13 MP in 4:3, 9.6 MP in 16:9 and 9.6 MP in 1:1).
There's also grid, location and finally the main Modes: Auto, Pro, Panorama, Continuous, Beauty Face, Sound & Shot, Sports. The Pro mode offers extras like ISO, white balance, exposure and center. Now as far as the gallery is concerned, we took the shots with the camera on a very sunny July day with 30+ degrees Celsius. The lack of an HDR option within the camera UI is strange, but you can make up for it using the brightness slider.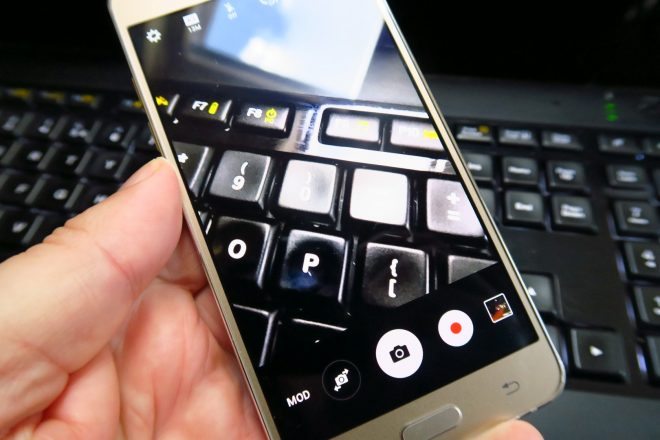 The phone has good zoom in quality, OK colors and a very good texture of flowers and closeups we caught. Focus was also quite good and the selfies were OK, especially regarding skin texture, but the background was burnt. The main camera didn't suffer from the burns and we had a great panorama, with a 7408 x 592 pixel resolution and good details.
Overall, I like the exposure, dynamic range in the sun and shade, plus the play with brightness. I feel that the general quality was above the disappointing one of the Galaxy A3 (2016) and very close to the one of Galaxy A5 (2016). I'd place it on par with the Huawei Honor 5X, as well. Low light capture featured lights that were a bit blurry and actually one third of the shots were blurry.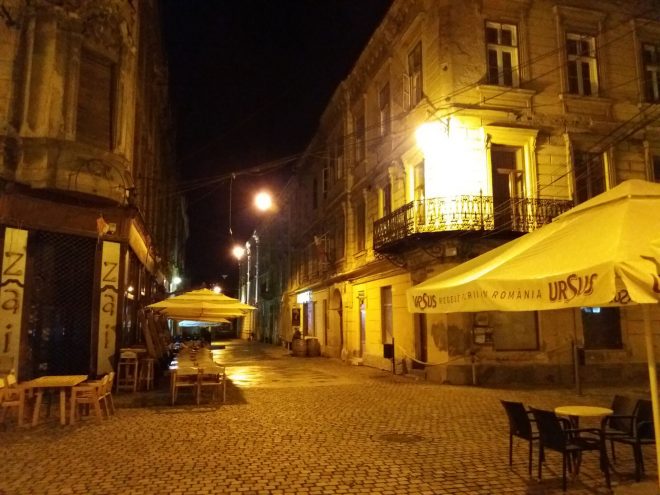 Colors were OK in general and everything felt rather dark overall, plus shadowy, so to say. The flash made pics a bit too white and building texture was mediocre. It's clearly way below the quality of a Galaxy A 2016 or LG Nexus 5X at night. Video capture was shot in Full HD, at 30 FPS, with 17 Mbps bitrate and OK stabilization. Focus was good and so was the microphone, but we did have a few burnt areas.
Colors were good and the zoom quality wasn't half bad. Everything worked out fine, minus the burn and some refocusing. Still, this camera goes in my book below the ASUS ZenFone 2 Laser and it remains on Huawei Honor level. Low light videos had reasonable focus, good clarity and some blur when zooming in. Street light halos were big and overall, this device films better than the entry level Chinese models it goes against.
The web browser preinstalled here was fast-ish and had unimpressive benchmarks. The virtual keyboard is comfy, in case you were wondering. On the connectivity front, there's a dual SIM setup here, with micro SIM slots involved. There's also a single SIM version of the device. 4G LTE is available on the Samsung Galaxy J5 (2016), in both TDD and FDD flavour.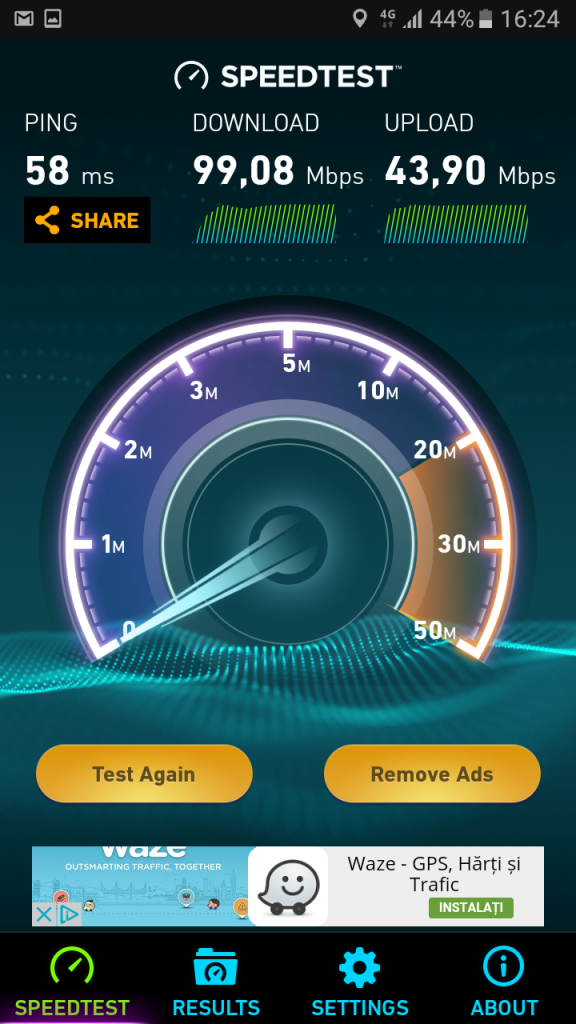 Other connectivity options include NFC, microUSB 2.0, USB OTG, GPS and Glonass, plus Bluetooth 4.1 and WiFi b/g/n. There's ANT and WiFi Direct too. Calls have good volume, but they're not perfectly clear. At least the mic is good. Speed Dial is also here and then we did a SpeedTest, achieving 99 Mbps download speed via 4G and 43 Mbps in upload.
WiFi provides 28 Mbps download speed and 25 Mbps upload. I feel that the 4G was good, but WiFi could be better. Moving on to OS, UI and apps, we've got Android 6.0.1 Marshmallow here with TouchWiz on top. It's the same UI as the one that Samsung Galaxy A 2016 models provided, which means colorful and flat. Flipboard is still a homescreen and speaking of which, if you keep the homescreen pressed, you'll trigger the widgets, wallpapers and themes area.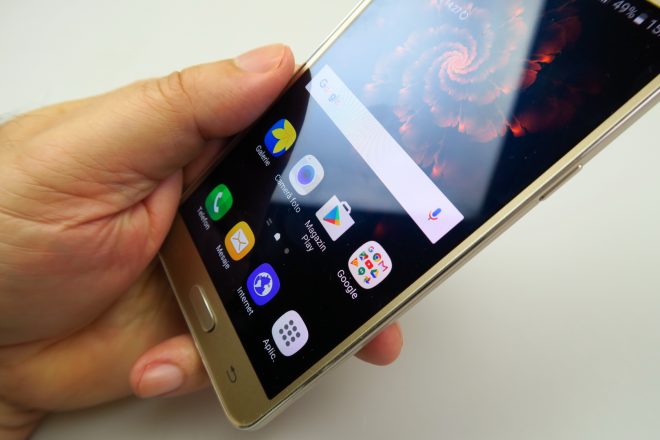 You can set up the grid of apps and enjoy nice looking widgets. Themes have their own store. The dropdown bit has the Quick Settings and brightness slider, as well as notifications. Settings have their own Quick Settings bit at the top and they include a Smart Manager, Battery options, Storage, Security, RAM and Do Not Disturb.
Advanced Features is another section offered here, with options like One Hand usage, One Hand Input and then we have Easy Mode, Smart Alert and Easy Mute. The preinstalled apps list includes 33 apps, which is pretty close to bloatware. There's S Health, Microsoft Office apps, plus Skype, OneDrive and S Planner is here too.
And now here's the verdict on this selfie phone.
These are the Pros:
great battery
comfy design
bright screen
OK audio
good pics
videos are OKish
no lag
games run with no problem
no overheating
And the Cons:
some rough finishing
old CPU from the J5 is kept
low graphics benchmark
calls could be clearer
almost bloatware
This is clearly a phone for young people, with a good battery and maybe even a Pokemon GO phone, judging by the same battery. It's got a low price, good screen, nice selfie abilities and a good main camera. It's not future proof, that's for sure and performs a bit lower than the  Chinese rivals, but at the end of the day the battery and screen triumph, with the added cherry on top of the selfie cam.  The updated price is here.