Samsung Galaxy Note 8 was a necessary phone, because it pulled Samsung out of a slump and made them cool again. Samsung Galaxy Note 9 comes with some room to relax, as the Note 8 was very good and well received. Note 9 seems to get back to the stylus innovation, at least at first sight. It's not every day you get to see a stylus with Bluetooth, remote features and a supercapacitor. Let's see if there's more to this device… in our in depth review.
Available in blue, black and purple, the device is still a massive phablet, coming with loads of storage this time, up to 512 GB. It's sold for $1100 and it's detailed below. Just a quick reminder: we had two versions of the phone to play with, a Snapdragon 845 one and an Exynos 9810 one. Let's see what came out of that.
Design
Samsung Galaxy Note 9 is made of glass and metal, it's the typical "sandwich", with curved glass panels back and front. It's massive, long and stylish for sure, made of premium materials. It's lass narrow than the ultra narrow Note 8, by the way. It's got a more discrete dual back camera now and the fingerprint scanner has been moved to a comfier position, below the camera and not the uncomfy right side of the last year model.
The handset measures 8.6 mm in thickness and weighs 195 grams, while the Note 8 weighed 201 grams and measured 8.8 mm in waistline, so we're doing fine. It has a solid grip and feels more serious than the rounded and playful Galaxy S9+. It's also a bit harder to wield, to be honest. It's got comfy buttons, a comfy stylus and the accessory kind of feels the same as the 2017 model.
Samsung Galaxy Note 9 is IP68 certified, for dust and waterproofing, it's a huge and sexy phone, but also clearly not a device for everyone. It's more business than casual. It's pretty sexy, but also massive, like a yacht.
Display
On the display front, the Samsung Galaxy Note 9 proposes a 6.4 inch Super AMOLED screen panel with a 2960 x 1440 pixel resolution and an 18.5:9 aspect, as well as HDR10 support. There's Gorilla Glass 5 protection and all of this is compared to the last year panel: a 6.3 inch 2960 x 1400 pixel Super AMOLED. Not much has changed, at first sight. The viewing experience had me satisfied.
Great brightness all around, solid contrast, wide angles, immersive experience, on account of the curved edges and a deep black. The colors are vivid and the video player we used offers a GIF and Pop Up Play features (it was the Gallery by the way). Pixels have a Pentile Matrix arrangement, according to our microscope and the luxmeter showed us a value of 460 LUX, which is pretty OK, but not mind blowing, like I've seen on the iPhone XS Max.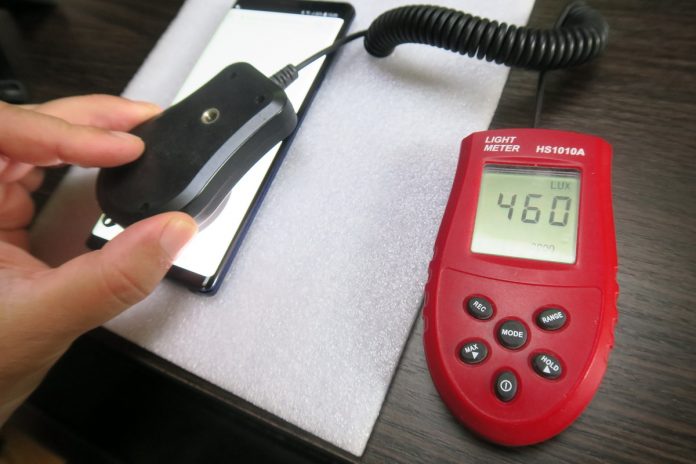 This brightness does beat the Galaxy S9+ and its 453 LUX and also beats the HTC U11, and iPhone 7 Plus. It scores below the iPhone X by 300 LUX, below the Huawei P20 Pro and OnePlus 3 even. At least we've got a ton of settings to play with: Auto Brightness, Blue Light Filter and Screen Zoom, plus font size and style. With Samsung being Samsung, they also throw in the Screen Mode.
That one offers options like Adaptive Display, AMOLED Cinema, AMOLED Photo and Basic. There's also a Color Balance setup mechanism, RGB Slider and the resolution options (HD+/ FHD+/ WQHD+), plus Layout, Easy Mode, Icon Frames, Edge Screen and Video Enhance, as well as Always On Display. Everything is just as we left it on the Note 8 basically.
Hardware
Samsung Galaxy Note 9 has two versions of CPU, either the Snapdragon 845 or the Exynos 9810. The GPU is the Adreno 630 or the Mali G72 MP18. It comes with 6 GB or 8 GB of RAM and 128 or 512 GB of storage. There's also a microSD card slot and of course, zero lag. Gone are the days when TouchWiz dragged everything down with hangups. We ran Fortnite, skipped to PUBG, Asphalt and Free Fire, like a champ.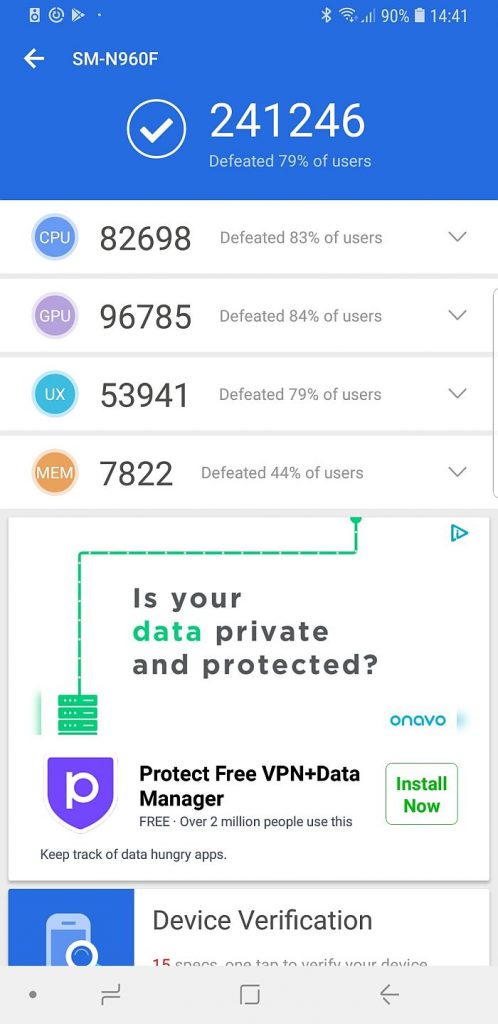 Zero overheating and perfect frame rate. We also did benchmarks and in AnTuTu 6 we beat the Galaxy Note 8 by 3k points and also beat the HTC U11. We did score below the Nokia 8 and Galaxy S9+ for some reason. AnTuTu 7 offered us scores above the Huawei P20 Pro, Nokia 8 Sirocco, but also below the Galaxy S9+ again and the OnePlus 6. Fun fact: Note 9 Snapdragon 845 scored 280k points here and it beats the Exynos model by 40k points.
We also tried out GeekBench 4 Multi Core and beat the Galaxy S9+, OnePlus 6 and HTC U12+. This time the Note 9 Exynos beats the Note 9 Snapdragon 845. In spite of these achievements, the scores are lower than the PocoPhone F1 ones, iPhone 8 and iPhone X ones. Slingshot was also on the table and the Note 9 Exynos was able to beat the Galaxy S9+ and Nokia 8, but it scored below the HTC U12+ and Xperia XZ2.
A quick mention for the fact that the Note 9 Snapdragon 845 scores higher in the AnTuTu GPU test compared to the Note 9 Exynos, by 30k points even. These are all solid results, but they can't seem to surpass the 2017 iPhones. We also did a temperature test or two and achieved 40.5 degrees in GFXBench (close to heating), while in Riptide GP Renegade we were at a cooler 34.3 degrees Celsius.
There's a big heatpipe and it does its job OK. We also did a heatmap test with a FLIR sensor from the CAT S61 handset and the heat dissipation was OK.
Battery
Samsung Galaxy Note 9 makes no excuses, it just shows up with a big 4000 mAh battery. Well, not so big after you see the 4200 mAh one from the Huawei Mate 20 Pro. It's still an upgrade from the Galaxy Note 8 3300 mAh battery. There's also wireless charging and fast charging (for wireless too). Moving aside from the pleasantries, we did a video playback test and achieved 15 hours and 55 minutes of playback, which is great. It definitely beats the Huawei P20 Pro, Galaxy S7 Edge and Xperia XA2 Ultra.
It still have some way to go till it beats the Moto Z Play, Bluboo S3 and Allview P9 Energy. We also did a PCMark test and achieved 10 hours and 43 minutes, which is solid, but I've seen better. It surpasses the Xiaomi Pocophone F1, Galaxy Note 8 and Galaxy S8 for sure. Still, even today the Huawei Mate 9 is better than it, plus the Xiaomi Mi 6 and the Huawei P20 Pro.
Charging is done in 1 hour and 52 minutes, which is a lot seeing how Huawei Mate 20 Pro even drops below the hour. It's better than HTC U12+. Step by step charging is also a thing we do, so we reached 6% after 5 minutes and 17% after 15 minutes. 30 minutes of charge meant 35% and 1 hour was 70%.
Settings include a Power Saving Mode, which can be set to OFF, Mid and Max. There's also Speed Limiter and tweaks to the brightness and screen resolution, as well an option to go with a more minimal UI to save juice. Solid battery overall.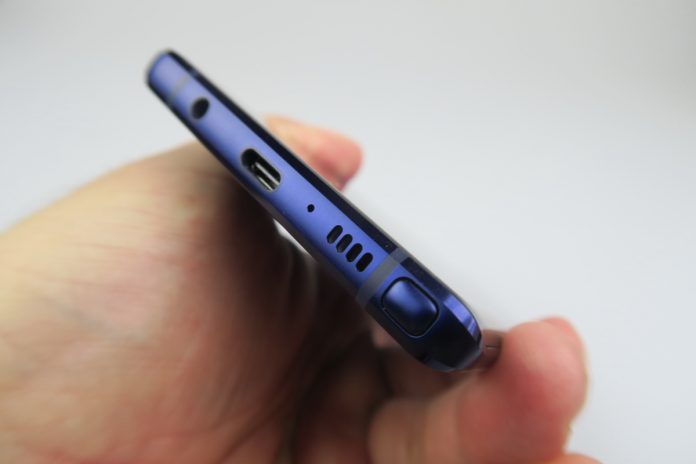 Multimedia
Samsung Galaxy Note 9 follows in the footsteps of the Galaxy S9, having dual speakers, stereo even, with AKG tuning. There's also Dolby Atmos and the promise of 3D sound. Google Play Music is the preinstalled player, but I downloaded the Samsung one, because I'm a big fan of its UI and the way it lights up when it plays music. Back to Play Music, it may be Google material, but it also gets the Samsung EQ.
There's a Dolby Atmos option, an EQ set to Normal, Pop, Rock, Custom. Speaking of which, there are 9 custom channels here, plus two knobs replicating the time of older music players. You can use them to tweak bass, treble, vocal and instrument. And we're not even done! There's also UHQ Upscaler, Tube Amp Pro, Concert Hall and Adapt Sound, which lets you tweak the experience for your ear.
Now as far as my own listening experience went, I felt that the bottom back side of the phone vibrates quite a bit when listening to music. The highs were solid, bass was fine, you won't cover the speakers with your hands and the volume was pretty high. There's no distorting, but I noticed that the earpiece speaker lacks bass. While I enjoyed the volume, I felt this wasn't a top 10 loudness.
We used a decibel test to confirm it and we got to 84.4 dBA with the bottom speaker (audio music sample) and 80.4 dBA (top speaker). The highest value equals the Galaxy S7 Edge and beats the Xiaomi Mi 6 and Nokia 8. We scored below the Huawei P20 Pro, Xperia XA1 and iPhone 8. We also did a Riptide GP Renegade test and achieved a 93.5 dBA result, far from impressive, as I've seen the ASUS ROG Phone going past 107 dBA.
It still beats the Xperia XZ2, but scores below the Galaxy Note 8 by 6 dBA. The headphones are solid, we have some nifty surround and great sound isolation. Volume is OK, but once again could be louder. I love the tough wire of the headphones and how comfy the buds are.
Camera
Samsung Galaxy Note 8 had a kickass camera, inaugurating the dual cam for the mainstream Galaxy S/Note series. The Note 9 has to step up, by borrowing from the Galaxy S9+. It's got a combo of 12 MP + 12 MP sensors, with the main camera having variable aperture from F/1.5 to F/2.4. OIS is offered on both cameras and there's also 2X optical zoom. The system includes a LED flash and the second cam has F/1.7 aperture.
960 FPS Slow Motion capture is also on the table. The selfie cam is an 8 MP unit and it also does Bokeh, like the main cam by the way. This time Samsung also brings forth the AI, with 20 modes recognized. It also introduced something called "Flaw Detection", which can find things that went wrong in the pic, plus Disney Emojis. The camera UI is very similar to the S9 one.
Focus was very fast, picture snapping too. The leftmost scrolling vertical section includes the capture modes, once again similar to the S9 ones. Live Focus is in the mix for Bokeh/Portrait shots, with a slider for the level of blur. We can't do without a Pro mode, which offers tweaks to exposure, white balance, focus, shutter, ISO, autofocus and meter. Hyperlapse, tracking autofocus, Panorama and Wide Selfie are all here.
I didn't want to put too much emphasis on options, because I want to focus on the Gallery. We start off with day time shots, with very natural colors and the first vibe being that we surpassed the Huawei P20 Pro color-wise. That model used to burn shots and especially did overexposure for vegetation, especially with AI on. I found the dynamic range to be great and the clouds to be perfectly rendered.
I fancied the zoom a lot and I found everything to be comparable to the Huawei P20 Pro, clarity-wise and detail wise. The selfies were just OK and time after time Samsung only seems to deliver average selfies. Ever since the Galaxy S8 all of their devices have been OK at best. In this case the selfies are too white and there background blur doesn't convince. I'd say that even the iPhone X is superior.
There are some pluses, like the great texture of my beard, nice way of rendering eyes, natural hues, so a jump from Note 8 is present. I found the landscape shots to be great and the clarity was perfect all the time (main camera of course). The closeups were taken very close, with excellent focus and no blunders. Compared to the Galaxy S9+, which sometimes produced mixed results when the sun was coming out of the clouds, this one handles the situation better.
It never fails, basically. Even with the sun dead ahead things are spot on. HDR felt solid, albeit at times some frames were a bit cold coming from an iPhone. But come on, for the Instagram and Facebook generation, this phone will produce no flaw. It's a 10% upgrade from the Note 8, not more. Somehow I do feel a slight bump from the Galaxy S9+ in colors, especially the sky.
Bokeh was rather good, maybe on par with an iPhone X, but I could say the Mate 20 Pro is a bit better with an extra layer of depth.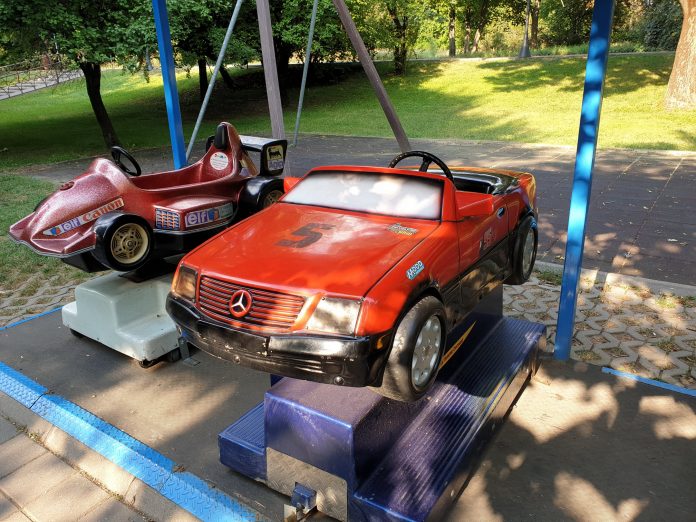 It beats the Huawei P20 Pro's off colors and I'd say it's the equal of the HTC U12+ and iPhone X. In low light conditions we got some very crisp shots and bright too, like we did on the S9+. Zoom was solid and this was actually a zoom champion for a few weeks, till the Huawei Mate 20 Pro came. The flash produced OK lighting, but I've also seen better.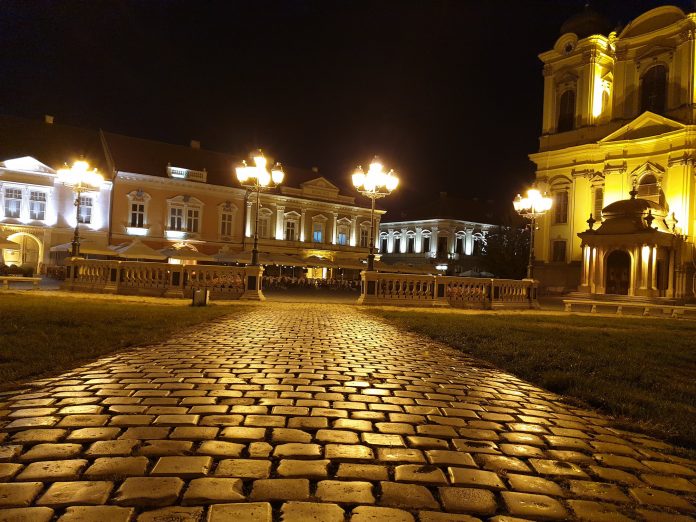 The yellow hue associated with street lighting was decent and the street light halos had an OK size. Once again, we're on par with the iPhone X and we catch enough light to equal the Galaxy S9+. There's still a bit of grain in finer details. Huawei P20 Pro and Pixel 2 XL were kings of low light for a long while and they can be joined by the Galaxy Note 9. However, it gets bested by the iPhone XS Max and Huawei Mate 20 Pro for sure.
They get more light, more accurate colors and better clarity. What the Note 9 does best is achieve a proper manner of catching light. By the way a quick mention for food closeups: I've seen better!
On the video capture front we used Full HD, MP4 capture, at 14 Mbps and 30 FPS. Not a very impressive bitrate, after having seen cheaper Xiaomi phones with 20 Mbps bitrate even. Optical image stabilization was great, there was no flicker and no visible flaw. I couldn't spot any refocus and the selfie capture revealed that the microphone was spot on.
I loved the face texture and I did notice some background burn. It's still top 3 material in 2018, courtesy of the face clarity and texture. 4K video capture registers perfect dynamic range, colors and clarity, plus microphone. Colors were great, certainly better than the Huawei P20 Pro and honestly I couldn't find any flaws. 4K 60 FPS is basically perfect, even for your journalism needs, for travels, trips, business needs, what have you.
Zoom is also great and the texture of the water in the park was superb. I also pulled off a few Super Slow Motion attempts and it wouldn't have hurt to have them in Full HD. I'd put this on the podium of the video capture of 2018, on par with HTC U12+, maybe also Xperia XZ2, but with less burn. Galaxy Note 8 was also very solid filming-wise, so I can't say I'm feeling an upgrade.
One of the best microphones I've seen though…
In low light filming conditions we got a pretty OK zoom, even though there was a bit of grain here and there. Some reflections also popped up and the light sources were fully rendered, sans flaws or weird colors. Stabilization was fine the mic was again superb. I did notice a small vibration of the scenery when we were filming and walking at the same time.
Street lights were perfectly rendered and lights were also perfect in size, color and texture. In spite of all this praise, I feel that the Xperia XZ2 did a slightly better job at catching night scenery on video. HTC U12+ seemed brighter, but it was also more yellow. Optical image stabilization is better than the Galaxy S9+ though, by a bit.
Web Browser/ Input
The web browser on board provided pretty OK benchmarks, in Jetpack and Sunspider and the browser itself was very fast, secure and also offered options to save stuff offline and hide your presence. The keyboard is obviously huge and generous, with big keys and also includes a numeric row. Pretty comfy and big.
Connectivity
Samsung Galaxy Note 9 came to us in the dual SIM Version, that has a hybrid slot for the nano SIM and microSD. There's also a single SIM version out there obviously. Connectivity specs include an USB Type-C 3.1 port, audio jack, 4G LTE Category 18 and WiFi a/b/g/n/ac with MU-MIMO. ANT+ and Bluetooth 5.0, as well as NFC are part of the experience.
GPs, Glonass and Beidou round up the list, as well as Galileo. The calls were loud and clear and the voice felt crisp and natural. We also did a SpeedTest, with huge results. We got as high as 466 Mbps in download on WiFi and 25.1 Mbps in upload. 4G is also here with a value of 114 Mbps in download and 56.6 Mbps in upload. The results are great, but I've been better on some handsets, even crossing the 250+ Mbps mark.
Software/ Productivity
Samsung Galaxy Note 9 runs on Android Oreo 8.1 with Samsung Experience 9.5 on top. It's a similar experience to the Galaxy S9+ one. Bixby is still a bit slow and has less functionality than Siri, Google Assistant or Alexa. There's also a Bixby Homescreen on the leftmost side of the UI and it's basically an aggregator for news sources, Facebook posts, Linkedin, Spotify, Twitter and videos.
It also gathers data from the calendar, Galaxy Apps, Uber and Youtube. Multitasking is done via the usual carousel, plus split screen, including in landscape and including in screen thirds. Keep the homescreen pressed and you get to tweak the wallpapers, themes and widgets, all of them with a clean and clear background. You can also mess around with the layout.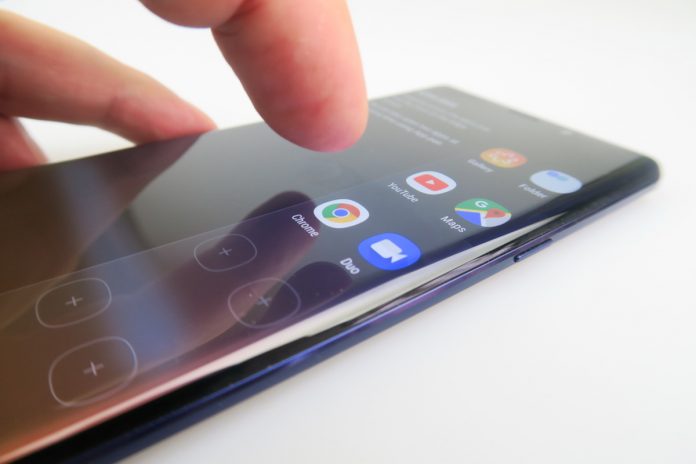 The dropdown section includes notifications and Quick Settings, while Settings themselves offer lots of options. There's a One Hand Mode and fingerprint sensor gestures. You can swipe on it to navigate in menus for example. Samsung also offers a Dual Messenger feature, SOS functionality and on the security front we have a fast fingerprint sensor. It's actually uber fast and satisfying in functionality.
Face recognition and iris scanner are combined for the Intelligent Scan, which is rather fast. I feel that the ZenFone 5z is faster and the iPhone XS Max too. AR Emoji is still a thing and now let's move on to the S Pen. It now has Bluetooth and a supercapacitor, that charges it in just seconds. It offers 4096 levels of pressure and you can assign a variety of apps to the pen button.
You can use the accessory as a remote now thanks to Bluetooth and use it to snap a pic, navigate in the gallery and play/pause content. You can also navigate PowerPoint slides with it. Air Command is also part of the package, with pretty much the same options from the Galaxy Note 8:
Create Note
View Notes
Smart Select
Screen Write
Live Message
Translate
PenUP
But there are even more you can add like Glance or a Magnifying Glass feature. There's also Screen Off Memo, so you can take a note on the lockscreen in standby. The pen's comfort is the same as before and you can use brushes to sketch drawings, do hand writing, annotation and more. Live Message will animate your messages and you can also connect to the Pen UP community.
To be honest, I can't exactly say I'm blown away by the pen and only its remote control features are a change from the predecessor. Other than that we have the typical curved Edge shortcuts, Secure Folder and the bundled Microsoft apps for productivity. There's Word, Excel and PowerPoint, OneDrive and Linkedin. Samsung also offers SmartThings used to control smart home devices, Samsung Health to track your steps, calories and more, Galaxy Apps as a new app store and overall I counted 40 apps, which is rather OK, considering you get as much as 512 GB of native storage.
You can also do DeX functionality, this time with no Dex Pad. Just hook the device up to a monitor and keyboard and you've got a PC replacement.
Verdict:
Pros:
great battery
top 3 camera
lots of storage
powerful and great gaming device
best stylus in the biz
solid screen
premium build
good acoustics
microSD and audio jack
Cons:
no big jump from the Galaxy Note 8 and Galaxy S9+
I've seen better selfies
massive and heavy
iPhone X is brighter
I've heard better speakers and headphones
long charging
not a low light champion
Overall, this is a must have device for business people and entrepreneurs. It's great for sketch artists, art students, gamers even, if you look at the Fortnite pairing. It has a great camera, but also one that doesn't feel like a Galaxy Note 8 2.0 version, but more of a 0.1 version. I'd say you may want to skip this device if you have the Note 8, but if you have a mere Galaxy S9, it's worth a shot.
It's great for gaming, it has a top 3 camera, but it also feels as massive as an SUV. It all depends on whether or not you want to walk around or strut. You can buy it here.