The moment you've all been waiting for is here, as the Samsung Galaxy S8 text review is done, after our extended video review. Announced in New York on March 29th, the device comes in two versions: Galaxy S8 and Galaxy S8+. We've got the 5.8 inch Galaxy S8 for testing, the Orchid Grey model with an Exynos CPU inside. Priced at $750, the machine started shipping last week and it's been very well received. Let's see if it impressed us or not.
The handset stands out through the Infinity Display, the virtual assistant Bixby and it's basically the end of a trilogy, that started with the Galaxy S6 and continued with the Galaxy S7. Time to discuss the design! This 5.8 incher is incredibly compact for such a diagonal and it's available in Midnight Black, Arctic Silver or Orchid Gray.
The classic design combo is here, with glass at the front, glass at the back and metal frame sandwiched between them. Curved edges are present at the front and back and although the screen is curved on the edges, it's no AS curved as the Galaxy S7 Edge for example. That was my feeling. There's an interesting dotted texture under the back glass and this Orchid Gray model gets prints that are less visible than the black model.
I have to say that this may just be the most beautiful phone of the past decade and you have to see it to believe it. It even beats the Xiaomi Mi MIX and Huawei Honor Magic, quite easily I'd say. It's not a slippery phone, in spite of all that glass, because it's a very narrow machine. The frame is made of aluminum and the Infinity Display is really charming, because it's immersive and feels like it's neverending.
There's no camera protrusion here, since that area is flat. The handset has a good grip and as you noticed, there's no longer a physical Home button or capacitive buttons, being replaced by virtual ones. The side buttons are quite comfy, but what's not comfy is the fingerprint scanner, an uninspired choice of placement at the back side. It's easily confused with the camera, if you feel your way to it.
Since this is a very long phone, one hand usage is out of the question, unless you have huge hands. If you want measurements, Samsung Galaxy S8 is 8 mm in thickness, weighs 155 grams and meanwhile the Galaxy S7 was a 7.9 mm thick machine with 152 gram weight. However, the difference in diagonal is impressive, so the measurements of the Galaxy S8 are quite amazing.
This is still a waterproof and dustproof phone, within the IP68 standards. It's the jewel of the Samsung crown for sure and once again it's simply superb. Now as far as the display goes, we've got a 5.8 inch Super AMOLED panel with Gorilla Glass 5 protection and 83.6% screen to body ratio. The resolution is WQHD+, meaning 2960 x 1440 pixels. That's actually the maximum resolution and the phone when taken out of the box has a Full HD+ resolution.
The aspect ratio is an interesting and unusual 18.5:9 and we've got curved corners, like those seen on the LG G6. There's also HDR support and since we didn't have a video player preinstalled, we could either use the Gallery App or download the Samsung Video app. Gallery playback options include Pop Up Play, Create GIF, Aspect Change and Video Enhancer.
The viewing experience involved great brightness, perfect colors, wide view angles, great contrast and perfect black. Settings include speed and subtitles. Pixels have a Pentile Matrix arrangement and the luxmeter we used showed a value of 522 LUX at max level, but when using the auto brightness and exposing the light sensor to a strong LED light we got as high as 705 LUX.
I imagine that in the strong summer sun, we could even reach 800 or 900 LUX. These values beat the OnePlus 3, iPhone 6S and Xperia X overall, but it scores below the record breaker of a phone Galaxy S6 Edge+ and S7 Edge. Settings include Brightness, Auto Brightness, Blue Light Filter with an opacity slider and Screen Mode. The latter offers functions like Adaptive, AMOLED Cinema, AMOLED Photo and Basic. There's also Color Balance with RGB sliders, plus the option to zoom in onto items and change the font (small to large via slider).
There's also font style and size to tweak and the Home screen layout is also up for setup, with full screen apps also on offer. Samsung offers an Easy Mode here and icons with or without frames. We didn't forget that Edge screen features are here, so the curved edges of the display will show app shortcuts, favourite contacts, reminders, clipboard, tasks, tools and so much more.
It still feels like a gimmick, even after so many Edge models. And we're not even done with the options! There's a status bar, nav bar option and Home button sensitivity can be tweaked. Always on Display is here, with clock, calendar and image to show (or not). It's a great screen overall, the best on offer in 2017. Other specs include a Snapdragon 835 or Exynos 8895 chipset. We have the latter version, in case you're wondering.
The GPU is an ARM Mali G71 MP20 and we also get 4 GB of RAM (LPDDR4), but there's also a 6 GB RAM version in China. The handset functions in a very fluid manner, without lag and it basically breezes through menus, apps and huge queues of games and applications at a time. Some initial lag was felt after the first setup, but after everything was ready and firing on all cylinders things worked out fine.
Games look stunning, console-level even. I'm talking about the latest Power Rangers title and the game Riptide GP Renegade, that look amazing, even though I've seen it on a ton of other devices. We also did benchmarks of course, like Quadrant, where the Galaxy S8 sits on the 6th spot, below the Xperia XZ and HTC 10 somehow, but above the Huawei P10 and the LG G5.
In AnTuTu 6 we did better, as the Galaxy S8 was second only to the iPhone 7 Plus, but it beat the iPhone 7 and the OnePlus 3. In 3DMark Ice Storm Unlimited we scored below the ASUS ZenFone 3 Deluxe and OnePlus 3, but above the Google Pixel XL and Huawei Mate 9. In GeekBench 4, we got the number one spot in the multi core sub test, as well as the Compute sub test and in the single core one, we placed third.
Keep in mind we did those tests with the Full HD+ resolution on, which is activated by default on the device. The temperature test was also done, so we reached 40 degrees Celsius after running GFXBench and 33.5 degrees after running Riptide GP Renegade. The latter is OK, but the former is close to the limit of overheating. With performance checking out, it's time to see what the battery brings.
It's a 3000 mAh unit, the same capacity as the Galaxy S7, but lower than the Galaxy S7 Edge's 3600 mAh. On paper we are promised 16 hours of video playback, 20 hours of talk time or 14 hours of Internet browsing on WiFi. Time to see if our own results delivered compared to those on papers. For example in the HD video playback test we achieved 13 hours and 31 minute, which is great, even for a flagship.
It's above the Google Pixel XL and Huawei P10 Plus, but below the Galaxy S7 Edge and its crazy 15 hours of playback. In PCMark we achieved 10 hours and 21 minutes, which places this handset on the 12th spot and above the Galaxy S7 Edge and Huawei Mate 8, but also below the Huawei Mate 9 and Pixel XL. Charging can be done wirelessly, or wired and in the latter case we reached a 6% juice up in 5 minutes and 18% in 15 minutes.
30 minutes meant 37%, 1 hour means 73% and a full charge was done 1 one hour and 39 minutes, which is the equal of the HTC 10. It's superior to the Huawei P10 Plus, but inferior to the crazy Galaxy S6 Edge+ and its one hour and 5 minutes of charge. Of course we have Power Saving Settings, a fast charge option and the Power Save modes are Off, Mid and Max.
They can be customized, when it comes to brightness, resolution of the display, CPU limitation and network. You can also choose which apps to stop from functioning in the background. It's a great battery overall I'd say, once again, even for a flagship. Let's see if the audio is good in spite of not being stereo. We just have a bottom speaker on this flagship, but at least we kept the audio jack, right?
It's kind of easy to cover when you're holding the device in landscape. There's also 32 bit audio support here, DSD, FLAC and MP3 support. Dual Bluetooth headset connectivity is also in the mix. Interestingly the Google Play Music app is preinstalled as the default player, but we felt the need to install Samsung Music, because we simply like it.
As usual Samsung implemented its famous equalizer, with a ton of options, SoundAlive. It's got a Smart Volume feature, genre tweaks and a Custom function. There are also 2 knobs to turn in order to grant some extra bass or treble, maybe extra instrument and vocals. 9 custom channels can also be tweaked via sliders. But that's not the end! There's an UHQ upscaler, Tube Amp Pro, Surround and Adapt Sound.
Let's leave the audio lingo aside and see how the speaker did in our listening test. It was all loud and clear, crisp, the bass was simply great and the voice was peachy. I also love the Batman-feeling of the Samsung Music app UI and the glittering edges when listening to music. We did a decibelmeter test, achieving 88.6 dBA with our audio sample and 92.3 dBA after running Riptide GP Renegade.
This beats the 84.7 dBA of the Galaxy S7 and also beats the iPhone 7 Plus, but scores below the BlackBerry Passport. We won't dodge the matter of headphones, since this time around we get AKG tuned ones, with a nifty design and priced at $100 separately. Their design reminds me of the headphones supplied with the ZenFone 2 and ZenFone 3, as far as the inclination of the buds goes.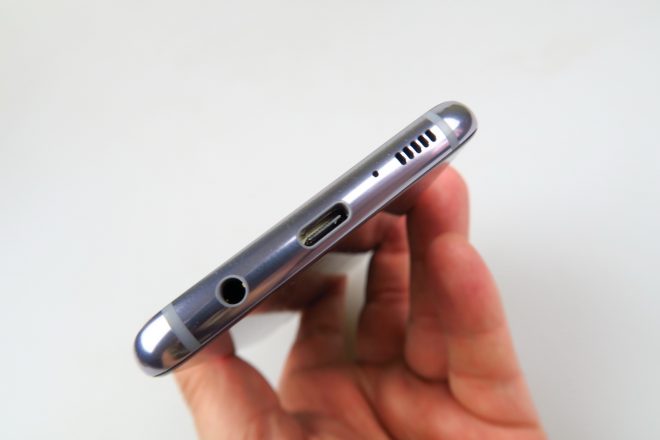 The headphones have great noise canceling, loud and crisp sound. While they're pretty badass, but the bass could be better. Acoustics are solid, flagship-worthy, but the lack of stereo in 2017 in puzzling. Finally, after a bit of a struggle we've reached the Camera area, which most people are curious about. Samsung Galaxy S8 has a 12 megapixel Dual Pixel sensor camera with F/1.7 aparture and 1.4 micron pixels.
Basically it's the same camera sensor as the Galaxy S7, with some processing upgrades. The front camera is an 8 MP shooter, with F/1.7 aperture, with Snapchat style stickers and smart autofocus. The camera app starts up fast and just like the Galaxy S7, the S8 has a crazy fast focus. I mean it, you have to see it to believe it, it's truly amazing.
Picture taking is snappy and zoom is fluid. Options include tracking autofocus, correct distortion, timer, motion photo and HDR. The following Modes have been included in the camera UI: Auto, Pro, Panorama, Selective Focus, Slow Motion, Hyperlapse, Food, Virtual Shot and you can download more. The Pro mode offers extras like exposure, white balance, focus, effects, shutter and ISO. A ton of stickers have been included, too, some pretty funny.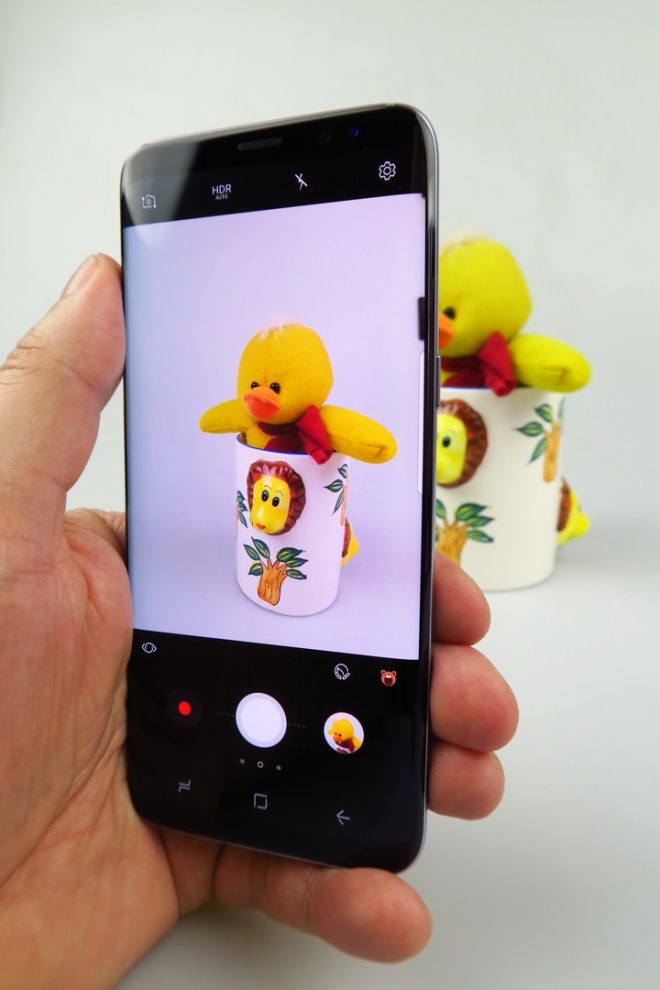 And let's see the day time gallery… It was a hot day of April and we achieved some perfect clarity shots. Colors were great and Samsung is finally no longer behind LG in color calibration, although I felt that the blue skies were rendered more naturally by the Huawei P10 compared to the Galaxy S8. HDR was great, not too white or washed out and you can zoom in all you want and details will still be great, in spite of the relatively low res.
The texture of objects was perfect and as far as closeups go, the Galaxy S8 brought me the closest to REAL macro levels I've even been. I'm referring to those flower macros, that had us going really up close with the subjects. Also, Selective Focus is basically Bokeh with a single camera, so that's nice to see, justifying the lack of a dual camera here.
Focus was superb, it never failed and selfies felt warm, human, crisp, even with a powerful sun outside. The Panorama was was huge in resolution, at 26.224 x 2000 pixels. Basically, this camera has no flaws during the day and while the Galaxy S7 didn't feel like a big jump from the Galaxy S6, the S8 does feel like one, even compared to the S7.
It beats the iPhone 7 Plus, Google Pixel, Xperias and only the Huawei P10 gives it some fight, but even that one's beaten. Godly focus can't be argued with. Low light capture featured perfect lighting and unlike the S7 that sometimes caught too much light, S8 is keeping things within normal limits. It has a great flash, OK street light halos, superb textures and great details.
It's even 10% above the Google Pixel XL and I loved the colors and focus, too. It doesn't have any flaw and night is basically turned into day here, so you won't feel you're missing out on anything. In the end, the Galaxy S8 has the best camera on the market in 2017, even if it beats the best of the best by only 10%. Moving on to video capture, Galaxy S8 shot MP4 videos, in Full HD at 30 or 60 FPS and with 17 or 28 Mbps bitrate. 4K clips were shot at 49 Mbps.
The clarity is great and the microphone and focus also pleased us. Just like the Galaxy S7, the S8 continues to have the fastest and most accurate focus on the market. Zooming in results in no big detail loss and colors are pretty realistic. We also have some situations where 99% of phones would have burnt the shot, but the Galaxy S8 didn't.
Even with the sun straight ahead, it carried on and filmed like a champ. We also saw a superb exposure change and very solid focus tracking. Optical image stabilization was excellent, or better said incredibly close to the excellence of Sony's Steadyshot. Everything felt smooth, no bumps, no focus loss like on the iPhone 7 Plus. It's movie like, when they're using those mini train tracks to move cameras around.
The Hyperlapse also looked great and took advantage of the stabilization in nice fashion. Even the front camera was put to the test and showed it can handle some mean vlogging, even with a strong sun in the mix. The result was clear, clean and the colors were optimal. I'd say it can best the Xperia XZ if it can down to it, but we'll have to see if it also faces the new and meaner Xperia XZ Premium when it comes out in June.
Low light video capture featured great lighting, some detail loss when zooming in and once again realistic colors. The microphone stood out, creating a special atmosphere and capturing the ambiance in perfect fashion. The distance details feature a bit of grain, if you look closely, but nothing major. The 4K night videos were basically perfect, good enough to use in a music video or even a movie if you're optimistic.
There's no blue or violet hue, like we saw on the Xperia XZ, so that's a plus. The Galaxy S7 Edge was amazing when it came to shooting concerts and I'm convinced that the Galaxy S8 is able to pull off the same if not better. Overall, the idea remains that this is a higher step up from the S7 than it was from the S6 to the S7, no matter what it says on paper.
We also tested the Internet browser, the one dubbed Samsung Internet, which was amazingly fast and also comes with some useful extensions (Close By, Content Blocker, QR Code Read and more). Chrome is also pretty solid, as the benchmarks confirm. The Galaxy S8 has a comfy keyboard, with excellently spaced keys, so nothing to object here. Time to discuss connectivity!
Samsung Galaxy S8 has basically all the modern features and then some. There's USB Type C, Gigabit LTE, Gigabit WiFi, so that's pretty future proof material. We've got LTE Category 16 here, a dual SIM hybrid version and WiFi a/b/g/n/ac in the mix. There's of course Bluetooth 5.0, ANT+, NFC, GPS, Galilelo, Glonass and Beidou. The Dialer has Speed Dial and the calls are crisp, very loud and noise cancelling is perfect.
We also did a SpeedTest and achieved 100 Mbps download speed in 4G and 45 Mbps in upload. When it comes to WiFi, we got to a crazy 486 Mbps in download and 25 Mbps in upload, so overall we're doing fine, better than tine actually. Time to dissect the OS, especially because there's serious novelty here. We're running on Android Nougat with something called Samsung Experience on top.
It's a more mature approach than TouchWiz and everything feels like the outline of an UI, very barebone, transparent and using white edges. There's no gloss, everything is flat and the font involves interrupted lines, in a pretty Ancient Greece fashionable vibe. Everything is now one swipe away and there's lots of white, gray and transparency.
If you swipe up or down you can trigger the app drawer, so it's quite intuitive. Bixby is the talk of the town here, as Samsung's fresh virtual assistant, but it's not yet fully active. It has 4 main elements: talk, see, recommend and remind. There's also a special hardware button for it and it lets you control a variety of functions via voice commands, or it should when it's ready.
Bixby also has an element called Vision, that's integrated within the camera and recognizes objects, brands, wines and even translates stuff. It feels very much like a work in progress though from what I saw. Of all the elements, the Bixby Cards were the ones we easily had access to. Those include Alarm, Briefing, Contacts, Calendar, Foursquare, S Health, Uber, Video, YouTube, Weather and more.
Keeping the homescreen pressed triggers the wallpaper area, theme area, widgets and home screen settings, like layout and grid for example. Multitasking is done via carousel and swipe, plus there's split screen in action here, with a special Pop Up option and Pin Up option for your windowed apps. The dropdown portion includes notifications and Quick Settings, with a pretty clear and clean UI for this.
It's a different type of clean compared to iOS, since it has the luxury of a huge screen estate and a new font. Settings are also very rich and hugely branched. I haven't felt so overwhelmed since the Galaxy S4 to be honest. There's Themes, icons, Always On Screens, Smart Stay, Gaming functionality, One Hand Mode and fingerprint scanner gestures. Video Enhance is also a thing, plus there's a Performance Mode with the features Optimize, Game, Entertainment and High Performance.
You can also scan the phone for problems and when it comes to security there's a ton of variation. The fingerprint scanner is not the best choice, since it's placed in an uninspired location, very hard to reach right next to the camera. It's also not comfy and not precise. Of course there's also face unlock, but that can be fooled by a picture and iris scanner is also here, working incredibly fast, even compared to the Note 7. The setup was fast at least, while the recognition is still a bit hit and miss.
Samsung Pass is also a thing and in case you're wondering, yes we also covered the new Home button. It's not physical or capacitive, but rather a new kind, a sort of virtual button with special feedback, but not as convincing as the iPhone 7's Home button. As far as the preinstalled apps go, there are 39 apps here. There's the Microsoft suite, Galaxy Apps store, S Health with a new UI and the option to get in touch with a doctor, Samsung Connect, used to control smart home gear and Samsung Notes.
That one even includes a capable brush or two. Most of the apps can be uninstalled, if not all, which is always good news. Pressing harder onto an icon on the homescreens triggers that Google Pixel/ iOS 3D Touch-style menu, showing options related to the apps. The Gallery lets you create a story, a sum up of your past day or week, using pics, videos, music and a filter.
When all's said and done Samsung has not only caught up to iOS, but also caught up to all the other custom UIs and platforms out there on mobile. TouchWiz is past, Samsung Experience is present and probably future. And now the verdict!
Here are the Pros:
superb design
great performance and battery
almost perfect camera
nice audio
fast connectivity
waterproof
nice UI
lots of features
excellent display
solid headphones (AKG)
promising Bixby
And the Cons are:
fingerprint scanner has uninspired placement
Home button feedback is weak
no 6 GB RAM version in Europe
should charge faster
Bixby not fully active
screen curvature distracts when watching videos, as it reflects light a lot
slippery at times
face detection and iris scanner still feel gimmicky
Samsung Galaxy S8 is clearly the end of a trilogy, the end of the triplet of the best looking Samsung phones that were ever made. It manages to perfect the superb Galaxy S7 and S7 Edge, gets rid of the Home button and provides stellar battery and performance. The camera is the best of 2017 so far and I can't see this phone losing the top 3 or top 5 battle this year.
It's the type of device that may be beaten by one or two phones tops before the year is out, but even that's not sure. Design-wise, it would take a miracle for the Xiaomi Mi MIX 2 to outdo this phone and even the iPhone 8 should be a head scratcher if it wants to beat this. Simply put, it's Samsung's best phone, with so few flaws, they're not even worth mentioning. You can get the phone here.