Samsung GT-I9300 may or may not be the Galaxy S III but what's for sure is that it's a powerful device, at least in the graphics area. The handset's benchmarks were carelessly left behind on the GLBenchmark testing area, so we can see what the handset is about. They were left there by mistake apparently.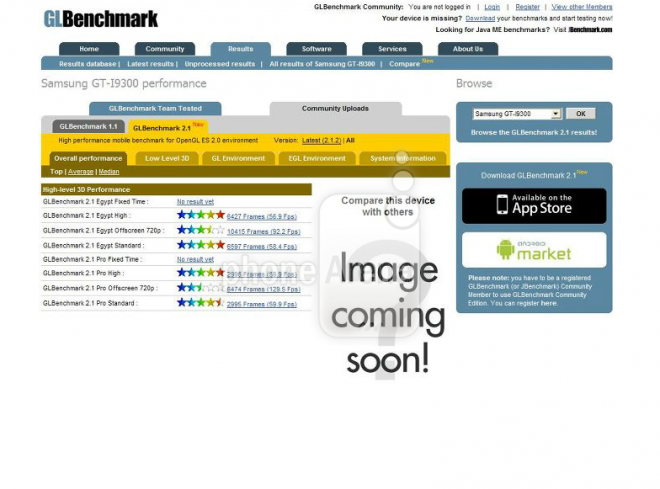 Of course, the results were taken down in the meantime, but at least we have the pics to prove their existence. What we're dealing with here is a quad core Exynos 4412 processor clocked at 1.4 GHz and using an ARM Mali 400 GPU clocked at 400 MHz, so it's 50% faster than the Galaxy S II on the graphics side. We certainly wished we had seen the Mali T-604 in action here, a GPU that provides 5 times the performance of the Mali 400 and it's part of the Exynos 5 series.
Anyway, back to the GT-I9300 its results beat the ones of the Snapdragon S4-based models and Tegra 3 as well, by quite a margin, as shown in these pics. Even the iPhone 4S is surpassed in the GPU tests and the GPU faces the fresh graphical solution on the iPad 3 with bravery. We tend to believe that this is actually the Galaxy S III seeing all of these benchmarks… So, for now the Exynos 4412 GPU is as potent as the new PowerVR on the iPad 3 and keep in mind that this is a prototype Samsung phone, not the final one, so it could be even better.