Sharp usually launches interesting phones, as far as designs are concerned, so that's why we like to keep an eye on their launches. One such potential upcoming machine is the freshly leaked Sharp FS8016, that just appeared in GeekBench and had its specs detailed.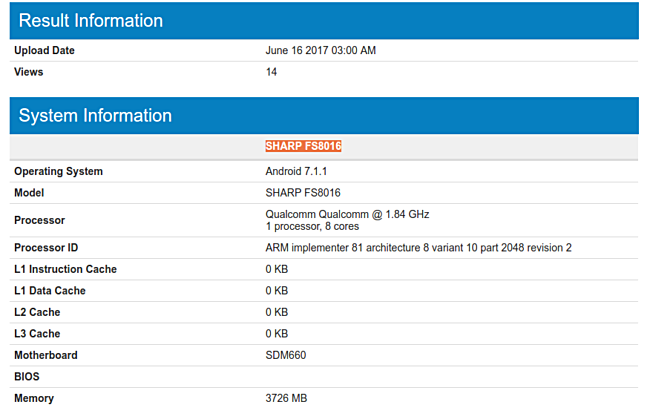 We seem to be dealing with a midrange device, one able to compete with the Samsung Galaxy C10 maybe. Sharp FS8016 features a Qualcomm Snapdragon 660 processor, an octa core CPU clocked at 1.84 GHz and announced quite recently. We also get 4 GB of RAM here, Android 7.1.1 as the OS and that's where the show ends and we are left only with speculation.
Right now there's only phone on the market with a Snapdragon 660 processor and that's the Oppo R11. Sharp's Aquos Crystal series wouldn't hurt a new model, particularly since more and more challengers have proposed alternatives to the edge to edge designs of the Japanese firm. I guess we'll have to wait and see. Also, don't get your hopes up, because such devices usually stay in Japan or get limited launches.
via GSMArena