Sony Ericsson has made a big splash today, by announcing the Aino, Yari and Satio handsets. The latter was previously known as Idou and it was shown back at MWC, as the first 12 megapixel cameraphone. Satio is a high end smartphone, belonging to the Entertainment Unlimited series and you can check it out below:
Sony Ericsson Satio supports GSM/GPRS/EDGE 850/900/1800/1900 MHz and UMTS/HSPA 900/2100 MHz connectivity and it comes with a large 3.5 inch TFT touchscreen, supporting a 360 x 640 pixels resolution (16:9 ratio). The new handset comes with a microSD slot and it's bundled with an 8GB Sandisk card.
Of course, what matters most about Satio is the very hot 12.1 megapixel camera with Xenon Flash and intuitive touch focus. Satio is based on Symbian S60 5th edition and it should hit the market in October, in 3 neat colours: Black, Silver and Bordeaux.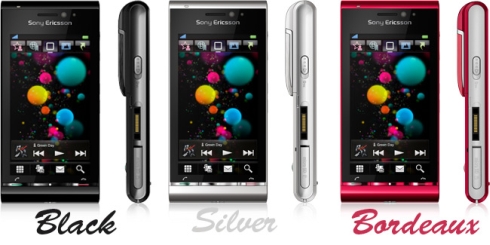 [via SEMC Blog]