I'm sure you've heard the news about Sony Mobile downsizing and trying to find profits again. Time after time Sony has disappointed loyal fans, by keeping the same design over and over again and only being able to deliver good cameras and nice screens and speakers, but not much else. They always sacrificed something, but their cameras have been almost flawless for the past 2 years or so. We try to see if the Sony Xperia XZ2 sticks with this direction and we just reviewed it below. You can find it on Amazon for $900, maybe less now.
I would say it's the main 2018 flagship, but the XZ2 Premium was already announced. Unveiled at MWC 2018, the Sony Xperia XZ2 comes with a new design, finally after a few generations of Omnibalance, which didn't get much love. This time we get glass, curved glass, a beefier format, 18:9 screen, but thank God no notch. Available from April, the smartphone came in black, silver or green, plus pink.
It's got a polarizing design for sure and our unit came with bonus headphones, the Sony WH1000XM2, which are sold for $400 separately. One of the loveliest bonuses I've seen bundled with a phone, like… ever. We've played with all major Xperias lately, from the XA2 to XA2 Ultra, XZ1 Compact, XZ1 and so forth.
Design
Deisgn-wise, the device looks more like a HTC U11 and less like the Xperia XZ1. It's got a glass back, which is very curved, very, very curved. There's glass at the front too and Sony made it so that it seems there's glass on the sides, even though it's actually metal. Luckily, the phone is not slippery and comes with a solid grip. The black version we had did draw some fingerprints and grease (gotta lay off the Kentucky fried…). I have to admit that many people have been complaining about the phone from day one, as far as the design goes.
I was one of them, but the renders simply don't do it justice. It simply grows on you, as you use it and it looks better in real life. The size is certainly abundant, at 11.1 mm in thickness and 198 grams in weight. The XZ1 by comparison had a 7.4 mm waistline and 155 gram weight, so that's certainly a beefed up device, even for a 5.7 incher versus the previous 5.2 incher.
Compare it to the Galaxy S9, with 8.5 mm and 163 grams and it's clearly a fattie. There's the original camera placement, which may feel odd, but it's also oddly practical. The smartphone is IP68 certified, for dust and water proofing and it's got a 3D glass fluid surface at the back, with a nice way of catching light. Gorilla Glass 5 protects the front and back.
Once again, a polarizing design for sure.
Display
Sony Xperia XZ2 packs a 5.7 inch IPS LCD display with a 2160 x 1080 pixel resolution, HDR support, 18:9 aspect and narrow bezels. There's the usual Triluminous setup and X-Reality technology, of course. As far as the viewing experience is concerned, we got a vivid image, close to OLED levels, solid brightness, OK contrast and wide view angles. Even the level of black is OK and the blacks are deep.
Pixels have an RGB Stripes arrangement and the luxmeter showed us a value of 580 LUX, which is great. It beats the iPhone 8, Xperia XZ1 (553 LUX) and Galaxy Note 8. Still, there are brighter phones, like Xiaomi Mi 6 and Xperia XZ1 Compact. Settings include Brightness, Adaptive Brightness, Smart Backlight Control, a Night Light Slider and you can disable the touchscreen when the screen is off.
Other options for setup include the Color Gamut and Contrast, set to Pro, Standard and Super Vivid. The white balance features a R, G and B slider and the options also include the Video Image Enhance (X Reality), then there's font size, display size, one hand mode and Ambient Display. A Glove Mode rounds up the scenery of this great, great display.
Hardware
On the hardware front, things are rather typical for a 2018 flagship. I'm talking about a Qualcomm Snapdragon 845 processor, as well as the Adreno 630 GPU, 4 GB of RAM and 64 GB of storage, as well as a microSD card slot with support for up to 400 GB extra. Of the 64 GB of storage, 14.59 were being used initially out of the box. The device doesn't suffer from lag or any sorts of problems and delays, working pretty snappily.
It also has the seamless install thing, with two partitions, one for Oreo and one for Android P, when it comes. That way, the new OS is installed as you do your work on the other partition and transition is seamless. Games such as Riptide GP Renegade or Rules of Survival run quite fine here, even though the Battle Royale game kind of tends to overheat the device if you take all the details to the max level. At least games look great.
We also did benchmarks, like AnTuTu 6, in which we surpassed the Galaxy S8 and Xperia XZ1, plus the Google Pixel 2 XL. At the same time we scored below the HTC U11 and Nokia 8. Meanwhile in AnTuTu 7 things looked much better, since we surpassed the Galaxy S9+ and scored below no other phone out there. We also did a GeekBench 4 test, the multi core sub test, placing 5th. We went above the Huawei Mate 10 Pro and Galaxy Note 8, but scored below the Galaxy S9+ and iPhone 8.
In 3DMark Slingshot 3.0 we scored first spot, so the GPU is tip top for sure. GFXBench also brought us a bunch of first place scores. Basically, a champ of Androids so far. We did temperature tests as well, for example reaching 40.6 degrees Celsius in GFXBench, which sure sounds like overheating to me. In Riptide GP Renegade we reached 33.6 degrees, but I'm sure that PUBG will overheat the device more, so be careful with the high temperatures.
Battery
Sony Xperia XZ2 packs a 3180 mAh battery, with Quick Charge 3.0 support and wireless charging. It also has the Qnovo tech that doesn't let the battery go overboard with overnight charging. The Xperia XZ1 had a 2700 mAh battery by comparison and the Galaxy S9+ has a 3500 mAh one. We did tests and in the video playback one we scored 11 hours and 21 minutes, so not bad, not half bad actually. We beat the iPhone 8 and Nokia 8, as well as the ASUS ZenFone 4.
Still, we went below the HTC U11 and Xiaomi Mi 5, as well as the Huawei P10. In PCMark we scored 8 hours and 31 minutes, which is nothing more than OK, but below expectations for a heavy hitter. Just look at the 50th spot placement and it's clear why. It may be superior to the Google Pixel 2 XL and HTC U11, or the Galaxy S7, but it's far from the ASUS ZenFone 4, Galaxy S8 or S7 Edge values.
Charging is just reasonable, at 2 hours and 22 minutes. We also did a step by step charging, reaching 6% in 5 minutes and 20% in 15 minutes. After 30 minutes we got to 42% and 1 hour equals 73% charging. Settings include the typical Stamina Mode, which limits the background data, GPS and video enhancement. It also has 3 modes: Battery Time, Balanced Power and Performance.
Then there's Ultra Stamina, which just lets you use the basic apps and nothing more. There's also Battery Care, which doesn't let the battery be overcharged. I'd say that the video playback time is OK, while PCMark is "meh".
Multimedia
Just like most modern smartphones, this one offers a stereo experience, thanks to a set of dual speakers. There's one at the top and one at the bottom, but this one is very cleverly hidden in a front side slit. There's all the audio goodness you need here, from LDAC to Hi Hires support and the usual ton of options that Sony provides. We have a generous Music Player, with the likes of DSEE HX, Clear Audio+ and Sound Effects (equalizer with genre settings, 5 custom channels and a Clear Bass channel). Surround Sound is also here, as well as S-Force Front Surround, which forces the surround to actually manifest and it's damn good at it.
We end the list with Dynamic Normalizer and an Auto Optimize option. The listening experience was satisfyingly loud, clear, stereo was good and the bass was pretty deep. I loved the warm voice and the overall experience was fine. A small vibration of the back was present, but that's not all, since we also have the Dynamic Vibrate system, that makes the small vibrator motor vibrate in the rhythm of your tunes. It sometimes goes off track though…
There's no audio jack here and no bundled headphones, well except for the special offer that brought us the badass Sony WM1000 XM2 headphones (priced at $400 separately). They have the best noise cancelling I've heard. You're basically totally isolated and deaf with them on. They're comfy, but the controls on the cups are rather confusing, being too discrete.
We also did a decibelmeter test to the speakers and let's see what we got. We first played a typical acoustic sample, reaching 83.5 dBA at the top and 81.3 dBA at the bottom, plus 82.5 dBA with the device facing downwards. The bottom speaker value was inferior to the iPhone 8, buts superior to the Galaxy A5 (2017), while top speaker value was above the Xperia XZ1 and iPhone 8, but below the Galaxy S9+.
We also played the Riptide game and achieved 92.5 dBA in it, above the Galaxy S8 and Xperia XZ1, but below the Nokia 6 and Galaxy Note 8. Still, I'm so in love with the headphones I'll consider buying a pair. They work on both Bluetooth and wired connection and provide Hi Res support.
Camera
And here we are finally with the camera. The camera was actually my favourite aspect of the Xperia XZ1 and its camera was my favourite of all the 2017 phones. On paper we get the same IMX400 sensor, a 19 MP Motion Eye unit, an 1/2.3 inch Exmor RS sensor, by the way. It's got 1.22 micron pixels and F/2.0 aperture. A 25 mm wide lens is put to work here, together with the BIONZ processing engine and the promise of 960 FPS Super Slow Mo, this time also in Full HD, not just HD.
8X digital zoom is also on offer, plus Autofocus Burst, 4K HDR filming (a premiere for smartphones), Steadyshot stabilization on 5 axis and Anti Distortion Shutter. We also have the Predictive Hybrid Autofocus here, plus triple image sensing and LED flash. Sounds like a camera packed to the gills and it even has Bokeh…
The front cam is a 5 MP shooter with Exmor R sensor and 23 mm wide angle lens, with F/2.2 aperture and its own taste of Steadyshot. The camera UI is rather typical Xperia and the camera itself starts up fast, focus is also fast, but not Samsung fast. Zoom is snappy, doesn't hiccup, but the many megapixels take a toll, as the picture taking is rather slow.
The Superior Auto is in the mix, being able to properly identify the scenario you're dealing with. There's even a corrector for distortion here. Then there's the Manual mode, with tweaks for white balance, ISO, exposure and shutter, as well as focus and metering. In the Apps area there's AR, Bokeh and Panorama, as well as Sound Photo. Selfies have a special Soft Skin option.
Moving on to the day time gallery, we caught a very sunny day and an Easter Fair. A lot of details were caught in pictures, thanks to the high res. Colors were great, spot on and I loved the focus in closeups, particularly when food was the subject. For selfies I loved the facial texture and hair texture, as well as the brightness and clarity. We took the zoom for a spin on a blue crane and the details were good once again.
Flower closeups were great, typical for a 2018 flagship and with top clarity. Selfies were once again perfect, including the way the light reflects on the skin. For a 5 megapixel front camera, I'd say that the level of detail was quite high. Even the background of my selfies was nice looking. Both the front and back camera are able to focus properly, for sure
Every now and then we did have a burnt shot, but that happens rarely, about 1% of the times. The sky looks very nice, with a clear and realistic blue, not that burnt strange opal shade you sometimes see on some phones. HDR also makes a nice setup of the dynamic range, when the shades and the sun get ambigous. The Panorama had a high resolution of 20.848 x 3584 pixels and the pics we took with the main camera had excellent green and red hues.
Bokeh was more of a synthetic affair, done from software and not convincing, compared to the dual camera achievements out there. In general I was happy to use this Xperia as my daily driver and DSLR replacement with zero regrets. Perfect dynamic range, focus, the colors pop and to be honest Xperia XZ1 was already close to perfect and we actually have the same sensor, so I expected these results.
Colors and backgrounds are now a bit better though and overall I felt an upgrade from the Galaxy S9+ in details at least. When you post on Instagram and Facebook you can't quite tell which is better, including the XZ1, S9 or Huawei P20 Pro.
In low light conditions we actually caught some snowy weather, one of the last snows of the spring. There were some crazy North Pole conditions and still the phone handled them like a champ. We had great details and lighting, decently sized halos for the street lights and we caught snow flakes in mid air. The snow texture was superb, palpable and the lighting was once again, great.
Colors were on point and the statues, walls, building had a very realistic texture, no artificial vibes from processing. Overall the phone feels inferior to the Galaxy S9+ in brightness and the flash makes things a bit blue. Things are superb for such rough blizzard conditions. It's hard to say this beats the Galaxy S9 and I'd rather place this Xperia below it.
Colors are better and halos look better than the Xperia XZ1.
On the video front, we shot in MP4, Full HD, 30 FPS and 17 Mbps. Stabilization was godly, as usual for a Sony, something we found for the past two generations of flagships from Sony at least. The XZ1 was also perfect by the way, so hard to say there's an improvement. Things are stable all the time, even when walking around and walking fast. There's no refocus and no flickering.
The 4K video was so good, I may as well film my reviews with this camera. You wouldn't tell, trust me. The microphone was also very good, catching all voices and also some wind and ambiance. Great colors, great clarity, great everything, but somehow a letdown in the zoom department. Focus and exposure were solid at least. I would put the Xperia XZ2 on par with the Galaxy S9+, but with less details in the zoom department for sure.
The selfie video capture had perfect stabilization once again and a very nice way of capturing the background details. There's also less face clarity than the Xperia XZ1, to be honest. Slow motion capture was excellent, but if you go with Full HD, you'll do half the time of the capture of the HD version. Everything is perfect minus the details I'd say.
I feel that the XZ2 does better slow mo than the XZ1. I also tried out the 4K HDR video, which looked too white on my monitor, but that's a Full HD non HDR monitor, so you'd better watch the content on a 4K HDR screen. As far as the low light videos go, I liked the brightness, colors were solid and in spite of the strong snow storm that affected the experience.
Object tracking was solid, the microphone is good and the zoom was poor again. Street lights were superb (size, clarity) and at times the image was a bit shaky and flickery in motion. The yellow hue specific to the night time lights was within regular parameters. This time you can actually feel the upgrade from the Xperia XZ1, with better clarity, better color and better brightness.
Browser and Connectivity
We also tested the web browser, which was fast and snappy to load websites. Scrolling was also rather fluid. The browser had solid benchmarks and we also got to testing the keyboard, which is Swiftkey, that has well spaced keys and a comfy input, with Swype included.
As far as connectivity goes, there are dual SIM slots here, nano SIM ones and the handset comes with support for 4G LTE Category 18, which means up to 1.2 Gpbs download speeds on paper. The usual options also apply: AGPS, Glonass, Beidou, Galilelo, WiFi a/b/g/n/ac, Miracast, Bluetooth 5.0, DLNA and USB Type-C 2.1. Google Casting is on the table as well.
Calls were very loud and very clear and I was impressed particularly by the clarity and noise cancelling. We also did some SpeedTests, achieving 149 Mbps in download on 4G and 65.7 Mbps in upload. On WiFi we scored 369 Mbps in download and 26.1 Mbps upload.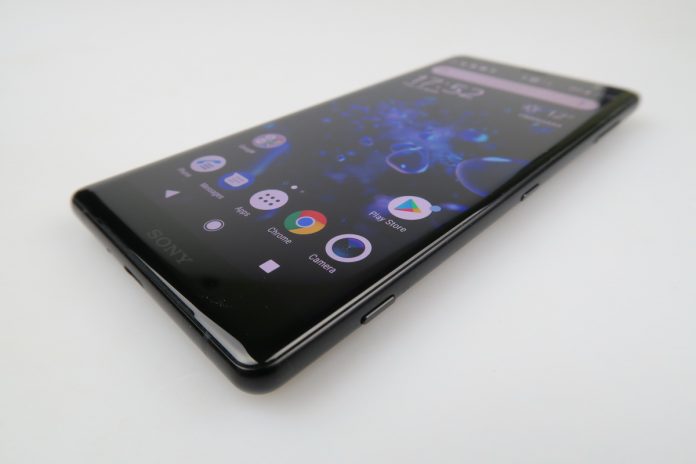 OS, UI, Apps
Sony Xperia XZ2 runs Android 8.0.0 Oreo and it's no surprise, since Sony was the first company to launch phones with Android Oreo preinstalled last year, the XZ1 and XZ1 Compact. It also has the promise of seamless update and 2 partitions, so you can keep using the device while Android P gets installed on the other partition. The UI is typical Xperia, all gloss and colors, plus a big touch of stock UI.
Multitasking is typical: split screen and carousel, while the leftmost homescreen shows soccer scores, news, weather and more in the Google Feed. Keep the homescreen pressed and you'll activate widgets (white and stock), wallpapers, themes, transitions, grid and more. You can also tweak icons, the feed and trigger auto rotate for the homescreens.
The dropdown portion has notifications and quick settings. Speaking of Settings, the actual Settings, we get a compact list of options, Dual Shock 4 compatibility and on the Security front everything is tip top. We've got a 5 step setup for the fingerprint, fast unlock, Voice match and Trusted Face. Xperia Assist is a dedicated section, which is also rather important.
There's Xperia Chat to advise you on device problems, Xperia Actions (automated tasks and setups of features like Night, Gaming, Abroad or Commute). We've got an Xperia Intelligence Engine and a Smart Cleaner too, which will keep the RAM, battery, memory and CPU in check. As far as the apps are concerned, there's 43 of them, which is quite a few, including a PlayStation app, News, Weather, Movie Creator, 3D Creator, Amazon, Kobo and Sketch.
3D Creator lets you do a 3D scan of an object or a person and then 3D print it. The tutorial is rather hard to finish, though. I guess it's time to draw some conclusions.
Verdict:
Here are the Pros:
the design grows on you
bright screen also superb looking colors
solid performance
OK video playback time (battery)
excellent acoustics, particularly the bonus headphones.
great colors and details for pics
excellent stabilization
solid low light capture
fast connectivity
seamless Oreo updates
And the Cons:
slips on sloped surfaces
big and thick
low PCMark scores
poor Bokeh
selfies are inferior to the Xperia XZ1
too short Full HD Super Slow Mo
music vibration doesn't impress
a bit of bloatware (4 Amazon apps)
Sony Xperia XZ2 is for me the ultimate media phone, because it can hook to the PS4 and control games, it's got the music chops, excellent video capture and photo capture, plays games fine and has excellent performance, even past the Galaxy S9 in some benchmarks. The design change finally happened from the Omnibalance devices, but it's also very polarizing now.
It's not as immersive as the Galaxy S9, it doesn't have the gimmicks of the iPhone X and it's much thicker and heavier than its rivals. It lacks a proper Bokeh, but takes very good selfies and gets tons of details. Couple that with seamless updates and a pretty smooth software experience and you get the picture. The design is probably going to scare many people away from an otherwise very solid phone, which is too bad if you ask me.
However, I can honestly say that if you have an Xperia XZ1 you can stick with it, because it still holds its own. You can get the device here.