Thomson isn't the kind of name that says anything to me, but apparently they have some nifty devices in their portofolio, including an IPTV tablet (PoMMeS) and now an interesting 5.3 inch device. Meet the X-View 2, that's actually a dual SIM gizmo with Android 4.0, headed to the French market.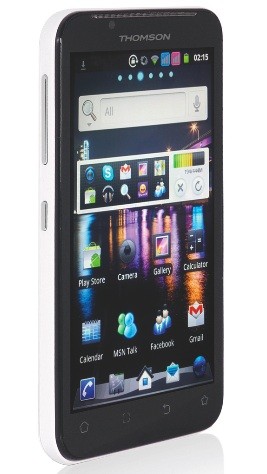 This phablet features a qHD 960 x 540 pixel display, a mystery single core 1 GHz processor, 512MB of RAM and a 2500 mAh battery. The phablet will debut in France this summer and we have no idea how much it will cost, but I reckon it will be cheaper than the Galaxy Note from Samsung. It also looks very bulky in these pictures and strangely enough it has 4 capacitive buttons below the display, not 3 like modern Android 4.0 devices usually do now.
There's also an 8 megapixel camera at its back, 512MB of RAM on the specs list, a microSD card slot and the ability to work on GSM and CDMA networks. It also supports 7.2 Mbps HSDPA connectivity, Bluetooth 2.0 and e-book reading. For the right price, this model could become a popular phablet in some areas in Europe.