BlackBerry Storm has just been released via Verizon Wireless and we've seen tons of new AT&T handsets this week branded Samsung and looking hot. However there are many other hot mobile devices coming soon to the market, either branded LG, HTC or Samsung, which we'll take a peek at in the following lines.
BlackBerry Storm
Yes, it has arrived, but not everywhere on the globe and not through all major carriers… You know the "drill", a hot touchscreen with a 480 x 360 pixels resolution, the BlackBerry OS, CDMA and GSM connectivity, tons of messaging options, a 3 megapixel camera and 8GB of memory out of the box.
Samsung Eternity
Eternity features the same megapixel count as the Storm and adds AT&T Navigator to the specs list, GSM and HSDPA support, while the 3.2 inches screen is also a touch one. AOL, MSN and Yahoo support are on the features list, accompanied by a microSDHC memory slot and a battery that lasts about 5 hours in talk mode.
LG Incite
Next on the list of new arrivals is LG Incite, a Windows Mobile 6.1 handset with a 3 inch touch display, GSM and HSDPA support and 8 hours of battery life in talk mode. The phone also features a 3 megapixel camera, AT&T Navigator, 128MB of internal memory and Bluetooth 2.0.
Samsung Gravity
Yet another Samsung handset on our list, Gravity is not a touch-based device and it comes with decent specs, like the 2 megapixel camera or the microSD slot. The phone supports GSM connectivity, offers 5 hours of talk time and uses a full QWERTY keypad.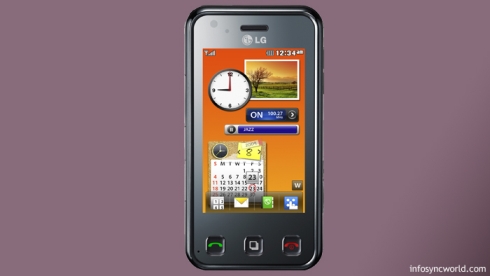 LG KC910
This is the 8 megapixel phone with all-touch interface you've been waiting for… KC910 features Schneider-Kreuznach optics, GPS and tons of camera features that make it a great companion for paparazzis: image stabilization, autofocus, face tracking, smile shot, blink detection and geo-tagging.
HTC Touch HD
We left desert for last, as HTC Touch HD tops all of the devices above with is hot specs. Touch HD comes with Windows Mobile 6.1, a 3.8 inch 800 x 480 pixels touch display, GSM/HSDPA connectivity and a 5 megapixel camera. On-board you'll also find Google Maps and 512MB of memory, plus the usual Bluetooth 2.0 and USB support.
Think that Santa will deliver any of these handsets to you? If he does, you might just be the luckiest kid on Earth…
[via infosyncworld]