Among the smaller handset makers from China, Vernee stands out, because it was among the first to debut a 6 GB RAM smartphone, before that was even cool. Now that model, the Vernee Apollo gets a Lite version, which we dissected below. We're pretty familiar with this brand, since we already reviewed the Vernee Thor, so let's dig into the Vernee Apollo Lite, priced at around $179.
We say "around" because in early November there were some special promotions on GearBest, taking down the price tag to $99 even. Coming under the motto "More than faster", this smartphone is a 5.5 incher, available in silver or space gray, the latter feeling more like a shade of plum. It's got a metal unibody chassis and it also brings a 2.5D glass panel upfront.
We get plastic lids at the top and bottom of the back side and there's a slight flimsy feel of the buttons on this model, but their feedback is rather good. The smartphone has a curved back side and it's made using a special CNC process. It measures 9.2 mm in thickness, weighs 175 grams and these mean that it's slimmer than the 9.9 mm thick OnePlus 2, but it has the same weight.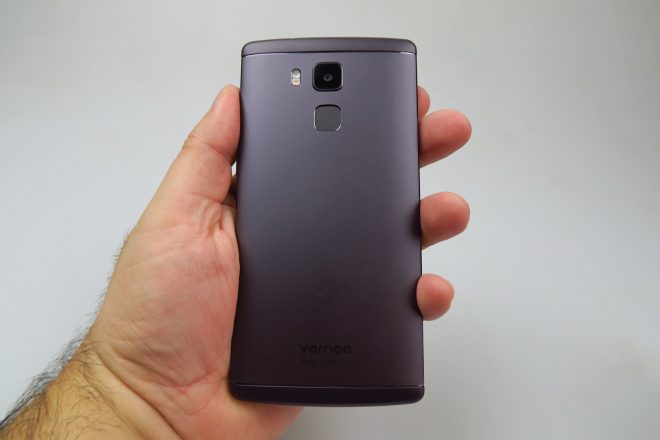 It's also 20 grams heavier than the LG G4, that has a similar diagonal. It's a comfy phone, but also very heavy, offering a solid build. We liked the look of the facade, but in the end Vernee Apollo Lite doesn't bring anything really new to the table. It's got a typical design and it's hard to use with a single hand. Upfront we find a 5.5 inch Full HD screen with good pedigree on paper, including a 5.5 inch Full HD Sharp IGZO IPS panel. We are promised a 95% NTSC color gamut, 450 nits of brightness, a 1000:1 contrast and there's also Gorilla Glass 3 protection in the mix.
Since we didn't have a video player, we resorted to the Gallery app to play clips. The experience brought us OK colors, but the image was a bit too white and the black was not deep. View angles are wide and the contrast is more of a so-so affair. Pixels are of the RGB Stripes variety and we used our luxmeter to measure 385 LUX units, which is just OK and could have been much better.
With this value we surpassed the LG G5 and HTC One M9, but scored below the OnePlus One and Ulefone Power for example. Settings include the Miravision section, with tweaks to the Picture Mode, like Standard, Vivid or User. The latter lets you modify contrast, saturation, brightness, sharpness, color temperature and also play with dynamic contrast.
There's also a Blu Light Defender option, to remove the blue hue from the image and avoid harm to your sleep patterns. There's also Adaptive Brightness in the mix, font size and overall I'd say the screen is just average. Now we proceed to the CPU, in this case a MediaTek Helio X20, a deca core 64 bit chipset, with an ARM Mali T880 MP4 GPU.
There's 4 GB of LPDDR3 also in the mix, plus 32 GB of storage and a microSD card slot. The device doesn't have any lag and it comes with good performance and a fluid UI, pretty logical for such solid specs. Our usual benchmark game, Riptide GP Renegade runs just fine, as well as Zombie Anarchy. In benchmarks, such as Quadrant we scored above the Huawei P9 Plus, which is no small feat. Also in Quadrant, we beat the LeEco Le Max 2, while in AnTuTu 6 we went past the Huawei Mate 8 and Nexus 6P.
In GeekBench 4 we scored above the OnePlus 3 and Xperia XZ, in the multi core sub test. We also beat the ZenFone 3 in 3DMark. Then we proceeded to do a temperature test, achieving 38.3 degrees Celsius after running GFXBench and 36.6 degrees after playing Riptide GP Renegade. There's no overheating here. On paper the battery sounds pretty good here, with a 3180 mAh capacity and the promise of MediaTek PumpExpress technology, that offers 1 hour of calling after 10 minutes of charging.
The charger bundled with the phone is a 2A/1.5A unit that can get to 5V, 7V, 9V or 12V. We did a video playback test to assess the quality of the battery and got to 7 hours and 47 minutes, which is not impressive for such a beefy device. We scored below the Huawei P9 Lite and Huawei Honor 4X, or even the Vernee Thor. At least we beat the ASUS ZenFone 2 and Huawei P9.
Then it was time for some PCMark action, with 5 hours and 44 minutes, which once again doesn't impress. It may beat the LG V10 and Xperia Z5 Premium, but not the LG AKA or LG Nexus 5X. Charging is spot on, at least, since we are only needed 1 hour and 18 minutes to juice up the phone. We scored below the OnePlus 3 and Galaxy S6, but better than the Galaxy Note 5 and Galaxy S7 Edge.
Settings are the usual Standby Intelligent Power Saving , Battery Saver and Doze. Aside from the charging, nothing special here either. Now let's discuss the acoustics! We are only treated to a single speaker at the bottom, in spite of having two grilles. There's an old school music player preinstalled, with a stock EQ, that offers genre presets, 5 custom channels, bass boost, surround sound and reverb. The listening experience brought us high volume, good clarity, a so-so bass and a bit of distortion at max volume.
The high notes are well heard and the back of the handset vibrates quite a bit. The decibelmeter test showed a value of 88.1 dBA at both the front and back side. This places us on equal term with the iPhone 7 and above the HTC one M9 and LG G5. We also scored below the Galaxy S6 and LeEco Le Max 2, by the way. We also got FM radio on this device and no headphones bundled.
Acoustic settings for the Vernee Apollo Lite include BES Audio Enhance, BES Loudness and BES Surround. We tried out some EarPods with this model and found the listening experience to be quite solid. Good audio overall and nothing big or major to complain about. Now let's see what the camera has to offer. At the back there's a 16 megapixel shooter, with a Samsung S5K3P3 sensor, the very same one from the Xiaomi Redmi Note 3 Pro.
The cam offers PDAF, theoretically 4K as well and comes with 1 micron pixel size and a dual tone flash. The whole sensor measures 1/3.06 inches and upfront we also get a 5 megapixel camera. The camera UI is rather old school, pretty barebones even for someone who likes a more classic UI. The cam starts up slowly, has a laggy UI and options include HDR, flash, panorama, exposure, white balance, anti flicker, sharpness, hue and saturation.
Brightness and contrast can also be tweaked and we've got anti shake as an option, plus face detection, smile shot, ISO and picture size. In spite of the official promises, there's no 4K here and no 60 FPS Full HD filming. Picture taking is slow and the zoom is also on the slow side, while focus wasn't as fast as we'd like it to be. We shot a day time gallery of pictures at the end of October, registering some image burn and the quality of shots was not constant. Some of the pictures were actually very blurry, when it came to the details in the distance.
The HDR is OK and selfies were reasonable, but that's about it. Colors were pretty good, so too bad for that mist that appears every once in a while. The Panorama has a resolution of 8384 x 800 pixels and it's only decent, while closeups were pretty nice. Sometimes shots felt too dark, sometimes too bright, so that's the lack of constance I mentioned before.
The hue of green from the pictures is unrealistic, so forget about proper color calibration. Colors are cold and sometimes this 16 megapixel camera feels like an 8 megapixel shooter. There were instances when it behaved worse than my very own iPhone 5. Only the HDR, closeups and selfies are good here. Zooming in results in detail loss and the yellow hue was the only one OK.
It's also clear to me that in spite of sharing the same sensor as the Xiaomi Redmi Note 3 Pro, the quality is not the same. It's a letdown no matter the price, to be honest. Night time capture featured lots of foggy areas, washed out shots, grainy or yellow images. Even the flash was poor. Street light halos were big the only comfort came with some decent landscape shots.
If you're patient enough to focus and also get lucky, things get passable. Overall, it's a pretty raw deal we're getting on the picture taking front. Videos are shot in 3GPP, in Full HD res, at 17 Mbps and 30 FPS. They're foggy, have the same unrealistic shade of green and serious detail loss when zooming in. Among the good things we find the exposure change and the microphone.
At least one of the videos had good clarity, especially when closeups were done. The focus was solid and there was no focus loss, but overall, the results are passable at best. Low light video capture happens at 14 FPS and 8 Mbps, so you can imagine the grainy and blurry results. Lighting is OK, but you'll meet with ghosting every once in a while. Shoutout for the mic though.
Time to address other aspects. The web browser for example, the preinstalled one is quite slow and on the input front we have a stock keyboard, as expected. We also tried out Chrome, which is slightly faster to load pages and sites. Browser benchmarks are modest too. Vernee Apollo Lite comes with an USB Type C port, 4G LTE connectivity (FDD LTE) and this is a dual SIM dual standby handset, with a micro SIM and nano SIM card slot.
The latter is also used to store a microSD card. We've got WiFi a/b/g/n support, Bluetooth 4.0, GPS, AGPS and both SIMs are 4G compatible. USB OTG is available too and LTE Category 6 is here with 300 Mbps download speed. Turbo Download is available in the Settings area, combining 4G and WiFi together. Calls have a reasonable volume, clarity is OK and the signal too.
We did a SpeedTest and achieved 276 Mbps in download on WiFi and 25 Mbps in upload. On 4G we got to 97 Mbps in download and 46 Mbps in upload, all of them good speeds. Vernee Apollo Lite runs Android 6.0 Marshmallow, in a pretty much stock version. Multitasking is done via carousel, we've got stock widgets here and the dropdown portion features Quick Settings and notifications.
There's a fluid UI here and Settings are stock, with nothing special extra. You can tweak the memory and storage, checking out how much of them are free. Finger scanner is also here, with a 10 step setup, a so so speed of authentication and sadly the scanner is unable to work properly at 90 degrees, only working in your regular, standard pressing angle.
Encryption and nav bar options are also here. The apps are surprisingly few, the preinstalled ones I mean: only 22 and the list is totally clean, only filled with stock Android apps. Now it's time for the verdict!
Here are the Pros:
OK build
solid performance
good hardware
fast charge
loud
good selfies
fast WiFi and 4G
OK brightness
stock UI
no bloatware
And the Cons:
the screen is a bit too white
not impressive battery
the promise of 4K video is in vain
too few camera options
poor camera
modest speed of fingerprint scanner
Vernee Apollo Lite is a phone that's pretty future proof, has powerful hardware, takes good selfies and has nice audio and gaming abilities. I expected more from the Sharp IGZO panel and also more from the 16 megapixel camera with Samsung sensor. The price is great, though, especially with those discounts, that sometimes took the device down to $99.
I see it as a device for gamers, maybe for folks passionate about their music. You can get it here.