WinMobile Torrent (wmTorrent) v.3 is the world's first torrent client for Windows Mobile, that's now reached a more evolved version, providing features that you'd normally find on its desktop counterparts.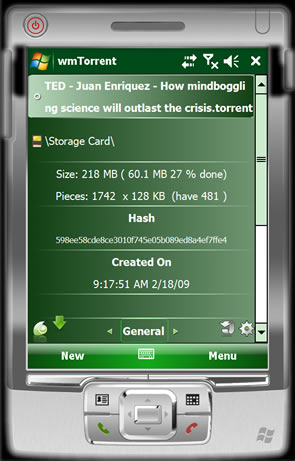 wmTorrent supports DHT (trackerless torrents), PEX (Peer Exchange), plain text and RC4 Protocol Encryption, torrent extensions and HTTP seeding. The software allows you to save directly to file, without the need of a temporary file, plus it uses Unicode UTF-8, full and consolidated file saving modes and works on Windows Mobile Standard, Classic and Professional.
On its feature list you'll also find auto tracker scrapes, support for files that are larger than 2GB, UDP tracker, HTTP proxies and basic proxy, plus local peer discovery. More info on the software and a download link can be found right here.
[via wmtorrent]