On September 22nd, Xiaomi has a press conference scheduled to take place in Beijing, where it's said to release the brand new phone Xiaomi Mi 4c. That model has been rumored to be a derived version of the Xiaomi Mi 4i, released in India a few months ago, but some say we may get some upgrades. For example an USB Type C port may be in the mix.
Confirmed by one of Xiaomi's main men, the port makes this the first device with this type of connectivity in the mix. Xiaomi will also bundle adapters and accessories to turn the USB Type C connectivity into microUSB without a hassle. In case you didn't know, the newcomer will keep the overall design format of the Mi 4i and it will come with 2 GB of RAM and 16 GB of storage, or 3 GB of RAM and 32 GB of storage in another version.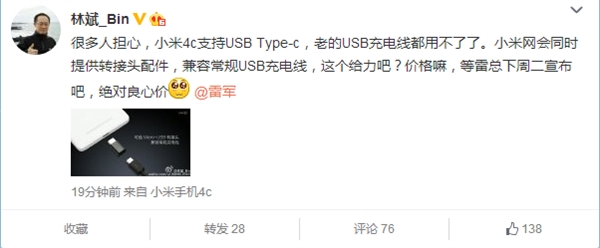 The first model is rumored to cost $235, while the better specced one will go into the $250-$260 range. Mi 4c is also expected to keep the 5 inch Full HD screen of the Mi 4i, plus it gets a Snapdragon 808 CPU this time, Android 5.1.1 with MIUI 7 on top and dual SIM slots. At the back there should be a 13 megapixel camera, while upfront there's a 5 MP shooter.
The battery is a 3080 mAh unit.