Xiaomi Pocophone F1 is a bit of a special phone for us, since it came to GSMDome.com as a world premiere and got us viral with its unboxing. It's now time to unveil the sum of all tests we did, camera samples, benchmarks and so forth, to decide if this is a collection of compromises or a genuine hit. While during the unboxing and review we kept talking about a $480 price tag, turns out that in India this device is priced at around $300, which is crazy good.
This definitely makes the Xiaomi Pocophone F1/Poco F1 the most affordable Snapdragon 845 phone, for sure. It's also the inaugural model for the Poco series, which I'm sure will spawn more models, since it has the makings of a hit. We're dealing with a dual camera machine here, with face unlock, a fingerprint scanner and a plastic back. I've seen black and blue versions of it so far, but other colors may appear.
Design
One thing's for sure: design is an area where Xiaomi felt the need to make compromises. They used a polycarbonate back, which is something that no other Snapdragon 845 handset has right now. I'm getting OnePlus vibes from this design, when it comes to format and looks. It feels heavy and solid, but also generic and boring. It does have comfy buttons with a pretty solid feedback, but it's rather big and wide to be used with a single hand.
We've got an OK build and definitely not a premium feel here. There's a 5.99 inch screen upfront with a big notch, that seems like it was an afterthought. It's the kind of phone that does its job, doesn't bend, functions OK, has a nice grip, but it won't win any beauty pageants. It measures 9 mm in thickness and weighs 186.5 grams, which makes it heavier than the Huawei P20 Pro for example.
It's also heavier than the 175 gram Xiaomi Mi 8. Overall a rather average design, but still a comfy machine in landscape gaming and movie watching.
Display
On the display front, things are rather typical: IPS LCD panel with a 5.99 inch diagonal and a 2246 x 1080 pixel resolution. It has the famed 18:9 aspect and the notch. The bezels aren't exactly slim or curved. The video watching experience suffers from the same asymmetry as the ZenFone 5, meaning that the left side is a straight line and the right side has curved corners, so that lack of symmetry bothers me.
The actual viewing brought us a decent level of brightness, wide view angles, but the colors felt a bit warm. Also the blacks aren't deep and the contrast is rather modest in the powerful summer sun. Luckily you can do some tweaks for the colors, but the contrast can't quite be fixed. Keep in mind that I'm talking about 35+ degrees Celsius here when it tested the phone with scorched Earth weather, so you may not experience it.
We put the screen under the microscope and found an RGB Stripe pixel arrangement. The luxmeter test we did showed a value of 378 LUX tops, which is just OK, definitely not a flagship level. It beats the Huawei P20 Lite and LG G5, as well as the HTC U12+, but scores below the HTC U11, LG G4 and Moto Z Play. Settings include Brightness, a Night More, a Reading Mode with sliders in order to get rid of the annoying blue light.
There's also special areas for contrast and color settings. You can mess around with a color palette, Warm or Cool options, plus choose between Auto, Increased and Standard for Contrast. All of them felt the same to me, to be honest.
At least you can hide the notch in the settings. Overall a mid level screen with reasonable behaviour.
Hardware
As said before, this is one of the most affordable Snapdragon 845 phones on the planet, if not THE most affordable one. It's got an Adreno 630 GPU, 6 GB of RAM, 64 GB of storage, a microSD card slot and does not suffer from lag. No matter what games, apps, updates I threw at it, it had zero problems processing the tasks. PUBG Mobile, Asphalt 9, Riptide GP Renegade ran like champs, with no stutter and excellent textures. You can turn the graphics to high with ease.
It's a snappy phone for sure and it also has a screen recording feature with up to 20 Mbps bitrate, which not even the Galaxy Note 9 has. Another good thing is that the device doesn't overheat when you do intense and lengthy gaming. We also did benchmarks, with excellent results. For example in AnTuTu 6 we beat the ASUS ZenFone 5z and Huawei Mate 10 Pro, while we also scored below the Nokia 8 and OnePlus 6.
In AnTuTu 7 we placed third, above the HTC U12+ and Xperia XZ2 and only below the OnePlus 6 and ZenFone 5z, but not by very much. In GeekBench 4 Multi Core we beat the Galaxy S9+ and OnePlus 6, but scored below the 2017 iPhones. Sadly we couldn't run GFXBench and 3DMark, that just wouldn't run on the device, but take my word for it, the gaming is awesome.
We also had zero problems with temperatures, reaching 38.3 degrees Celsius after running benchmarks and 34.5 degrees when running Riptide GP Renegade, so there's no overheating.
Battery
Xiaomi already had a good track record with batteries, delivering excellent battery life on its Redmi and Mi models, usually with 4000 mAh units. One such unit also comes here, on the Poco F1, which scored 14 hours and 57 minutes in our HD video playback test in a loop, meaning it's great for Netflix. It beats the Galaxy Note 8 and Google Pixel 2 XL, as well as the Galaxy S9+, while also scoring below the Xperia XA2 Ultra and Huawei P20 Pro.
In PCMark, the continuous usage test, we reached 9 hours and 54 minutes and this could easily be perceived as gaming time for example. This time means that we beat the ASUS ZenFone 5 and the Galaxy S7 Edge, as well as the Galaxy Note 8, but we scored below the Xiaomi Redmi 5 Plus and Xiaomi Mi 6, as well as the Huawei P20 Pro. Charging is done in 1 hour and 53 minutes, which is OK and superior to the HTC U12+ for example.
We also did step by step charging, reaching 8% after 5 minutes and 19% after 15 minutes. After 30 minutes we were at 38%. One hour meant 72% charge, which is excellent. Battery Saving options are rather generic, nothing new or fancy. Excellent battery overall.
Audio
Xiaomi Pocophone F1 surprised us when we learned it has stereo speakers. It uses the top side earpiece and the bottom side speaker. Actually at the bottom sit two grilles, but just for the sake of symmetry. Only right one is the speaker and you'll never cover it by mistake. The speakers deliver a solid bass, high volume, excellent synth rendering and warm voice. It's the kind of setup that feels OK even at 50% strength.
I feel that the top side speaker is rather weak and we could have done just as good without it, though. The EQ is limited in the MIUI player and a bit more generous in Play Music, with 5 channels, Genres and Bass Boost. There are no bundled headphones, but we do get FM radio. We love to do in depth test, so we took a decibelmeter for a spin. That one showed a mere 71 dBA at the top speaker side, when playing out typical acoustic sample, which is a bit of a letdown.
The bottom one was at 87.9 dBA, which is pretty good and superior to what the iPhone 8 and Huawei P20 Pro are offering for example. It's no match to the Galaxy S8 and HTC U12+ for example. When playing games or movies you can go as high as 100.4 dBA, which beats the HTC U12+, Galaxy Note 8 and iPhone 8+, but scores below the Nokia 8 and ASUS ZenFone 5z. Overall a pretty good stereo experience and I'm also glad we got an audio jack.
Camera
And here we are in the camera department. It certainly doesn't sound like flagship material, with a 12 MP + 5 MP dual back camera that seems borrowed from a Xiaomi Mi A2 rather than a OnePlus 6. We get dual pixel tech, plus 4K video capture and some sources talked about OIS, although I feel it's not the case here. The front cam is a 20 MP shooter that has pixel binning and combines 4-5 shots in one for extra details.
A dual LED flash is also present for the main camera. The camera UI is rather simple and minimalistic, with classic options like HDR, Panorama, Portrait/Bokeh, but also something called AI, which is supposed to achieve improved contrast and exposure, by detecting scenes properly. Speaking of which we also have settings for contrast, sharpness and saturation. I found the zoom of the camera to be slow, but the picture taking is fast. Focus speed is also OK.
Now off to the day time gallery. It was a torrid, desertic day, that would have made a lot of phones take burnt shots, overexposed I mean. In spite of that the Pocophone F1 performed. It caught better hues of green than Huawei P20 Pro and very rarely burned any part of the image. We caught some cool clouds in the sky, also an HDR that felt a bit too white and we even took a pic with the sun in front of us, to good results.
I even got some ASUS ZenFone 5 and ZenFone 5z vibes at some point, which is pretty high praise for this handset. Closeups are very close, you can even call them macros without too much regret. They're quite solid and well detailed. The zoom is OK just up to 2.5X, than it gets murky and grainy. Details are just OK, but you'll see that you're just working with 12 megapixels here pretty fast.
I loved the clarity and colors in general and I'd even put this phone on par with an iPhone 7, maybe also an iPhone 8. Selfies were just OK, but they didn't feel like a 20 megapixel shooter. It would make an excellent 5 MP selfie camera and a great 8 MP one, but not a 20 MP one. The background is too blurred, face could be more detailed, but the face, hair and clothes textures are OK.
Dynamic range is also poor for the front camera, but the back camera has it spot on. Bokeh is pretty nice, with those roses we caught, but it takes a few attempts to get it right. Panorama is at 13.696 x 3712 pixels and it doesn't get curved too much, so that's nice. I feel that you can pull off 80% of the experience of the ZenFone 5z or OnePlus 6, by spending much less.
It beats some 2017 flagships like LG G6 and ASUS ZenFone 4 and I also feel it's superior to the Xiaomi Mi 6. Not bad at all and I would even say it's the best Xiaomi camera I've tested. But then again I haven't tested the Xiaomi Mi 8.
Low light capture featured a decent zoom, but some shots were a bit too white, especially the flash ones. Also, every fifth or fourth shot is a bit blurry, moved and not clear. In general clarity was OK and there was no weird color, like blue, orange or pink. The yellow was a bit too powerful though, "too yellow" for me. Halos are long and this feels more like a midrange affair than a flagship. Basically like a midrange Motorola or Nokia. The street light halos are too long and expanded, a bit annoying.
When it comes to video capture, we did MP4, Full HD at 30 FPS and 20 Mbps bitrate. We also shot 4K video and I found the colors to be very solid. Actually, the first Full HD video shocked me with the excellent leaf texture and color. Look at what the Huawei P20 produced and look here. Quite the difference! The zoom is pretty nice, clarity is spot on and the stabilization test featured a shaky image, flickering and vibrating, but I've seen worse.
At least it doesn't refocus badly. The 4K video capture has a good dynamic range, nice brightness and solid hues. I'd put this capture on par with the Galaxy A8 (2018) and Xperia XA2, as well as the Nokia 7 Plus, so high midrange, but not into HTC U12+ and Xperia ZZ2 territory. Selfie video is not bad, but it's just HD, not Full HD. And it's not even related to the Beauty thing, like on the Huawei P20 Pro.
Selfie video capture is inferior to the ASUS ZenFone 5z and OnePlus 6. Slow motion is impressive, in Full HD 240 FPS, feeling like an iPhone slow mo. There's a bit of refocus to be honest. Some minor burn also appears, because of the powerful sun. By Xiaomi standards things are excellent and also by Chinese phone maker standards they're solid. I'm talking about Huawei, Oppo, Vivo and other companies.
Even the P20 Pro gets beaten in color calibration. Low light video capture features big street light halos, also pretty long, a bit of flicker and at least no motion blur. The microphone was great all around, in both day time and night time, so I feel that this phone would do great in live concert capture. Back to low light video capture, things are grainy in the zoom, but the colors are solid.
The level of yellow is OK, not exaggerated. Oddly enough the second video has OK halos and an OK zoom, so it's not a very constant experience. Overall a combo of ZenFone 5z pics and videos from the midrange area.
Browser
The web browser of choice here is Chrome, which moves pretty fast and snappy, no lag and instant loading. The benchmarks confirm that, both Jetstream and Sunspider. We also played about with the keyboard, which is a stock one and also has support for Swype.
Connectivity
As far as connectivity goes, we've got an audio jack, USB Type-C port and 4G LTE with 7 bands. There's WiFi a/b/g/n/ac dual band, Bluetooth 5.0, GPS, AGPS, Glonas and Beidou. This is a dual DIM dual standby phone, with VoLTE and NFC (only in paper, but in real life no trace of NFC). Calls were loud and clear, with good noise cancelling, also Speed Dial and Call Recording.
We did SpeedTest and achieved a fantastic 441 Mbps download speed in WiFi and 25.8 Mbps in upload on WiFi. On 4G we got to 85 Mbps in download and 65.8 Mbps in upload. Not bad and fantastic in the WiFi department.
OS, UI, Apps
Xiaomi PocoPhone F1 runs Android 8.1.0 with MIUI 9.6 on top. The UI is abstract, stuck in the skeumorphic era and still using cards for multitasking. There's an aggregator on the leftmost homescreen, which includes shortcuts, notes and the calendar. Multitasking is done with cards, swiping up to close apps and split screen is actually faster than on regular clean Android devices somehow. Things simply start faster when moving them on two screen parts.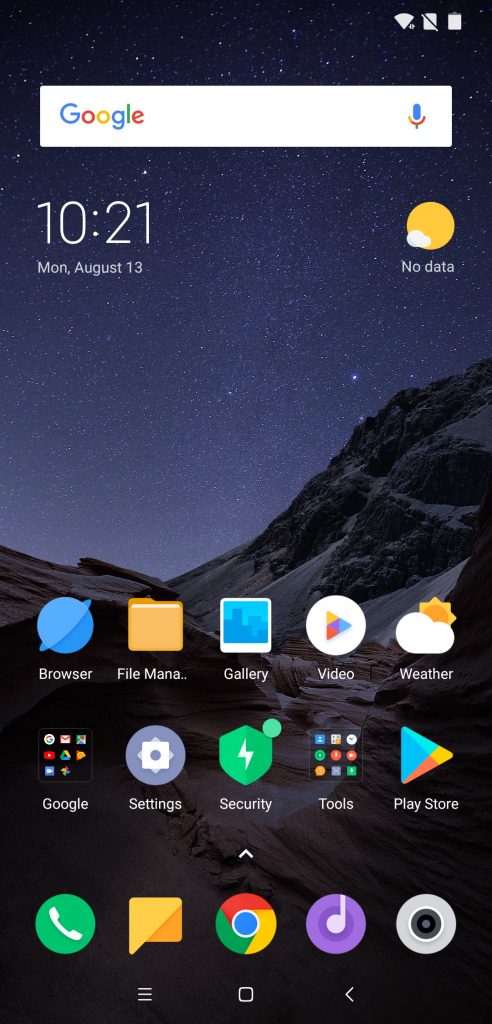 If you keep a homescreen pressed you can access the wallpaper area, widget (typical MIUI, for many years now) and Settings, for transitions, icon packs and grouping icons. If you swipe down from the top there's the usual notifications and Quick Settings. The Settings let us tweak quite a few aspects, like get rid of the virtual buttons and use swipe gestures like on Android Pie and iPhone X.
There are full screen apps, Second Space, that lets you use the device as if it was a new phone. It's useful for the little kids, if you want them to stay out of your content. It's sort of like a "new account" for a phone. Quick Ball is also here, offering a palette of shortcuts in a floating manner, gestures and multiple button presses to trigger apps. Options continue with One Handed Mode, dual apps and Pocket Mode.
Security is done with a fingerprint and we've got a 12 step setup for it, plus excellent unlock speed and very good accuracy. Sadly I couldn't find the face unlock I've seen hearing so much about, but in the meantime I found a way to activate that. We'll have a special article about it later on. It's just enough to know it's a bit slow, but very accurate. The preinstalled apps list includes 37 names, which is reasonable.
There's Duo, Facebook, Drive, Notes and QR Scanner, plus Security. This app has a Cleaner, virus scanner, block list and deep cleaner. My favourite app has got to be the screen recorder, which lets you record the video games and apps. Fun for gamers.
Verdict
Here are the Pros:
great price
great performance
great gaming
no overheat
excellent battery
solid acoustics
not bad pictures and videos
fast WiFi
fast fingerprint scanner
OK display
And the Cons:
average design
poor top side speaker
so so stabilization
display contrast is rather modest
no Face Unlock (unless you find its workaround)
no waterproofing
weak selfies for 20 MP
Xiaomi Pocophone F1 is a great bang for the buck machine, which at $300 is pure gold. It's a great gaming phone, for PUBG Mobile and Asphalt 9, it's on par with the Galaxy A8 (2018) on many levels, it has nice stereo acoustics and fast WiFi. It offers 60-70% of what phones with double the price offer and makes very few sacrifices. One thing to remember here is that there's NO fatal flaw or drawback here.
It's a must get for gamers on a budget.