What interest do we have in a 2012 phone with a single core CPU? Well, for one thing we don't get many Intel CPU-based handsets out there and second, this model is actually an interesting budget phone. ZTE Grand X In is the model we're reviewing here, priced at $260, announced in August 2012 and selling from last autumn or winter, depending on where you live.
This is the very first Intel CPU phone we're reviewing and it's a welcome premiere. ZTE Grand X In measures 9.9 mm in thickness, weighs 140.8 grams and has a good grip at the back side, thanks to a its pattern. Sadly, the battery cover is a huge pain to remove and you may even lose a finger nail or two in the process, like I did.
Some quick design pointers: the speakers at the back bottom, microUSB on the side and volume buttons also on the side. This is not an elegant phone, but it's pretty solid and resilient. It has a plasticky case, 4 capacitive buttons below the screen and rounded edges. There's a slight chin at the back, if I may call it that way. The capacitive buttons are pretty responsive and this model has a normal SIM card slot, unlike most modern microSIM or nano SIM devices.
The camera protrudes a bit too much out of the back to fit an elegant design, sadly. Moving on to the hardware, you get a TFT capacitive touchscreen, with a 4.3 inch diagonal and a 540 x 960 pixel resolution. We've got Dolby Mobile technology on board, a microSD card slot with support for up to 32 GB of storage, 4 or 16 GB of storage (no 8 GB version for some reason), 1 GB of RAM, HSDPA 21 Mbps connectivity, WiFi, DLNA and Bluetooth 2.1 with A2DP.
There's also NFC on board, microUSB 2.0 with MHL and at the back there's an 8 megapixel camera with autofocus, LED flash and geotagging, as well as 1080p video capture. The front camera is a VGA one. The ticker of the device is an Intel Atom Z2460 single core 1.6 GHz processor, that's a Saltwell hyper threading processor with a Power VR SGX540 400 MHz GPU.
We've also got an accelerometer on board, gyroscope, proximity sensor, compass, stereo FM radio with RDS, GPS and a Li-Ion 1650 mAh battery. This battery provides about 3 hours of gaming or 4 hours of video playback. You can barely reach a day of normal functioning with this battery, so probably in the evening you have to charge it.
Moving on to the multimedia side, when you listen to music at the top volume, the back of the handset tends to vibrate and the songs get distorted, too. The volume is pretty good, but the headphones bundled with this device are underwhelming at best, since the sound is kind of muffled for some reason. By the way, when you're making a phone call, the person you're talking to will sometimes have a hard time hearing you, so the mic on the device is not exactly top notch.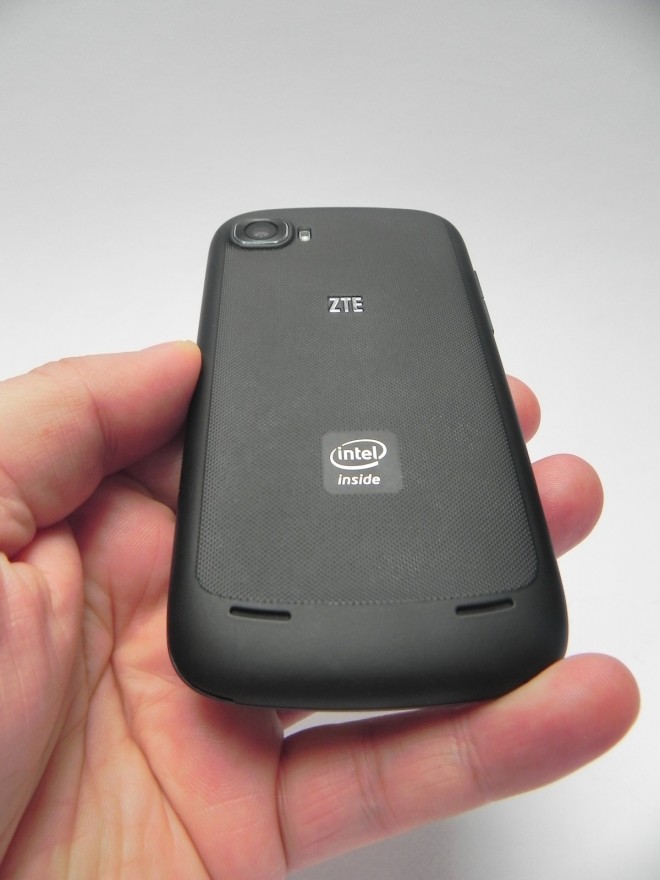 On the video side, the TFT here is a genuine surprise, with good brightness, also good viewing angles, but the colors are not that great. The contrast is decent and the behaviour in sunlight is also pretty good. As far as the camera goes, its closeups are pretty good and we also get a Panorama feature and Burst mode, that both function reasonably.
The exposure of the picture is good, but dark areas will certainly cause noise. The filming was disappointing and it was noisy, plus there was no point to zoom in, since the quality loss was dramatic. There's absolutely no image stabilization when filming as well, which is a huge bummer. As far as benchmarks go, I decided to compare this model to the Huawei Ascend P1 and Allview P4 Duo, dual core phones on the budget that seem like worthy rivals of this single core unit.
So, in Quadrant we scored 3180 points with the ZTE model, surpassing the dual core Huawei Ascend P1 and its 3521 points and the Allview P4 Duo and its 2742 points. In AnTuTu we scored 11.279 points, double compared to the 6000ish of the Huawei model and Allview model. In the NenaMark 2 test we were also superior, with 45.5 FPS, facing 38 FPS from Huawei and 23 from Allview. Finally in Vellamo we scored 1355, 200 more than the rivals.
This device runs Android 4.0.4 in a stock version, with the only customization being the flower-shaped lockscreen mechanism, that can be configured from the app MiEasy Access. Overall, the handset's functioning is flawless and lag-free, although we're running on a single core CPU. And now it's time for the Pros and Cons.
Here are the Pros:
low price
decent performance
good display
solid design
reasonably good camera
And the Cons:
weak audio
battery cover impossible to remove
video capture not so good
Android 4.0.4 is too old right now
call quality not exactly top notch
Overall, we give this model a 7.5 out of 10 for design, 8.5 for hardware and 8 for OS and UI, for a total of 8 out of 10, here at GSMDome.com. I can't wait to see the fist dual core Intel smartphones trickling in.