The folks of Phone Arena have just reviewed the Acer F900 Windows Mobile 6.1 Professional handset, a device that packs a 3.8 inch WVGA screen and the Acer Shell UI. In the handset's box you'll find its case, earphones, an USB cable, wall charger, software CDs, a screen protector, an extra stylus and an user manual.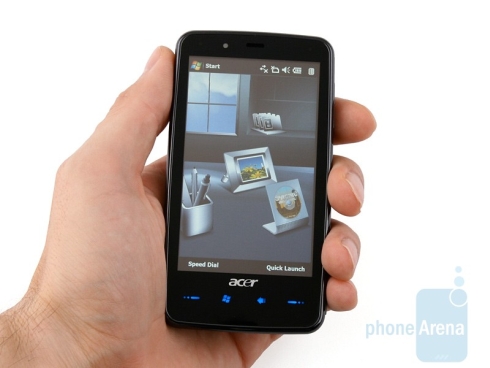 From the review we learn that this is quite a bulky phone, a heavyweight device even, but one that has the advantage of the huge display, supporting a 480 x 800 pixels resolution. Beneath the screen there are 4 touch sensitive keys that glow in blue and feature vibration feedback whenever you press them.
Moving on to the interface, we discover Acer Shell, that comes with a very neat virtual 3D office. The virtual desktop packs 12 widgets, shown as objects that one would usually see inside an office: a wall calendar, a desk phone, a music player and photo frame. 3D effects are also included and the interface's functionality might remind some of you of HTC's TouchFLO 3D.
Acer F900's camera is a 3.2 megapixel unit with autofocus and flash, but sadly it's plagued by lag, specially when focusing and saving images. The camera mode interface is performing quite well and there are even effects available in video shooting mode. For more details about the camera and the phone's full review check out Phone Arena's page.
[via passionemobile and Phone Arena]