We reviewed about a month ago the Microsoft Lumia 950 XL handset and now we've got a device cut from the same cloth, the Acer Liquid Jade Primo. This is a Windows 10 Mobile handset, a Lumia 950 rival and we tested a version that bundles a dock that turns the handset into a PC replacement for Office tasks, keyboard and mouse, all of them priced together at $649 on the Microsoft Store.
Launched in April, the device is an upper midranger and a corporate phone, that we tested in tandem with its accessories, including the case and an Acer R11 Series monitor. As far as the design goes, there's a plastic back side here, a rounded one and while the phone seems like it has a removable cover, it doesn't actually. The grip is OK and the Liquid Jade Primo feels like it's too long for one hand usage.
It's got an unique speaker design, that feels more like a second camera, than a speaker. The facade reminds me of the Nexus 4 and Nexus 5, which is not exactly a bad thing. The Power button is placed a bit too low to be comfy, so that's a problem. The front of the device scratches and stains easily, I noticed. The back side imitates metal quite well and has that special gloss.
This device's build is quite solid, there are no creaks, unlike the Lumia 950 XL, plus there's a discrete and shiny metal frame all around. The SIM slot protrudes a bit, which is a problem if you like symmetry. Acer Liquid Jade Primo measures 8.4 mm in thickness, weighs 150 grams and these figures aren't very impressive, unless you compare the device to the iPhone 6 Plus, that's 42 grams heavier.
It remains a light and relatively comfy phone, but not quite a premium one and with the strange Power button placement. When it comes to the display, we get a 5.5 inch AMOLED panel with a Full HD resolution and Zero Air Gap tech, plus the promise of 100% NTSC colors. We've got Gorilla Glass protection and the viewing experience brought us well calibrated colors, reasonable brightness, wide view angles, reasonable contrast and deep blacks.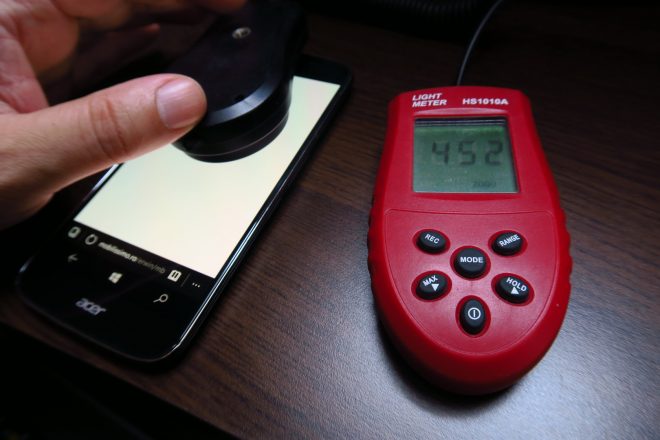 Pixels are of the Pentile Matrix variety and the luxmeter showed us a value of 452 LUX, which means we surpassed the Huawei P9 Lite and Lumia 950 XL, but we scored below the OnePlus 2 and Huawei Honor 5X. Settings include Brightness, Auto Brightness and a setup for the size of items, like apps and text. Sadly there are no color tweaks here.
On the CPU front, we receive the typical hexa core Qualcomm Snapdragon 808 processor, an Adreno 418 GPU, 3 GB RAM and 32 GB of storage. There's a microSD card slot here and somehow this model tends to suffer from lag, sudden restart, or simply it won't respond to a long press of the Power button to start. The apps take a long while to start and functioning didn't make us happy.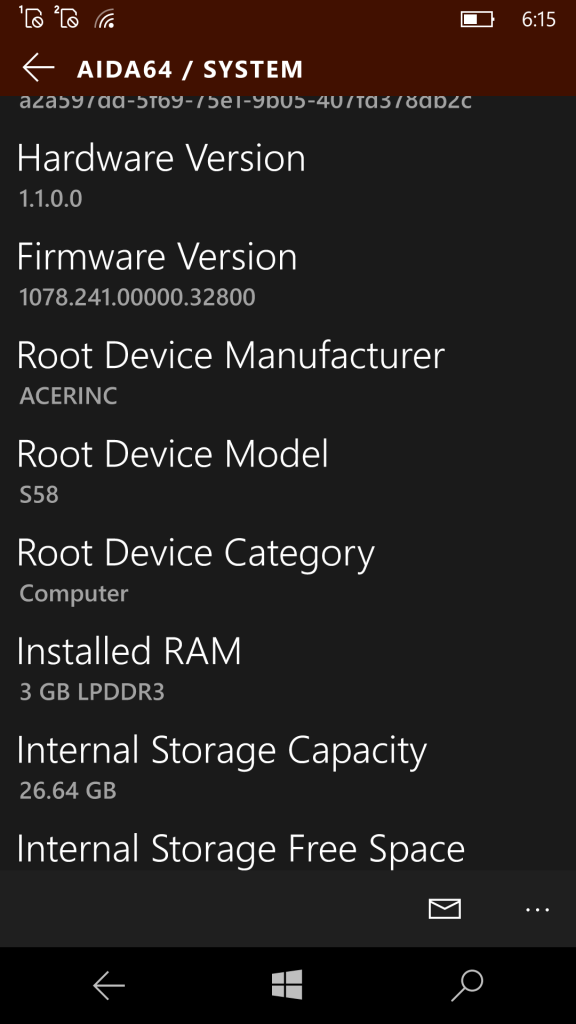 Games run OK though, like Riptide GP2 for example. We also did some benchmarks, scoring 71k points in AnTuTu, which means we beat the Lenovo Vibe X3, that has the same specs pretty much. We also scored 5k points less than the Lumia 950 XL. In BaseMark X we had 26k points, a bit less than the 29k of the Lumia 950 XL and a bit above the Lenovo Vibe X3.
GFX brought us a score of 1232 points in the T Rex offscreen test, below the Lumia 950 XL's 1400. I'd say that the benchmarks are OK, but the lag and performance issues cancel those. On the temperature front there's serious overheating, since we reached 44.4 degrees Celsius after playing the game Riptide GP2, so that's also a problem.
Acer Liquid Jade Primo has a Li-Po battery, a 2870 mAh unit, that on paper provides 20 hours of talk time or 330 hours of standby. We also did a HD video playback test, achieving 10 hours and 55 minutes, which is quite good, especially since it surpasses the Galaxy S6 Edge, Huawei P9 Plus and Lumia 950 XL. We also scored below the iPhone 6 and Xiaomi Mi 5, by the way.
There's no PCMark app, so we couldn't test continuous usage, but from my own experience, it's not exactly good. The charging takes 2 hours and 41 minutes, with the unofficial charger, since we didn't have an official one bundled. We relied on the dock for that charging process and noticed that other chargers juice up the phone very slowly.
Settings for the battery include Battery Saver and a list of apps allowed to run in such conditions. The battery is reasonable, but the continuous usage kills it. On the audio front, we've got no special acoustic technology here, that we know of and we rely on the Groove Music player, with no equalizer. The sound experience featured OK volume, a nice bass, clean sound and good high notes.
There's some muffling here and the decibelmeter revealed a value of 82.5 dBA at the front and 87.1 dBA at the back. It's above the Galaxy S6 Edge+, but below the Lumia 950 XL. The headphones have a small remote, a tangling wire, they're very comfy and offer great bass and good clarity. They actually remind me of the HTC Incredible headphones and I regret the lack of an equalizer and radio here.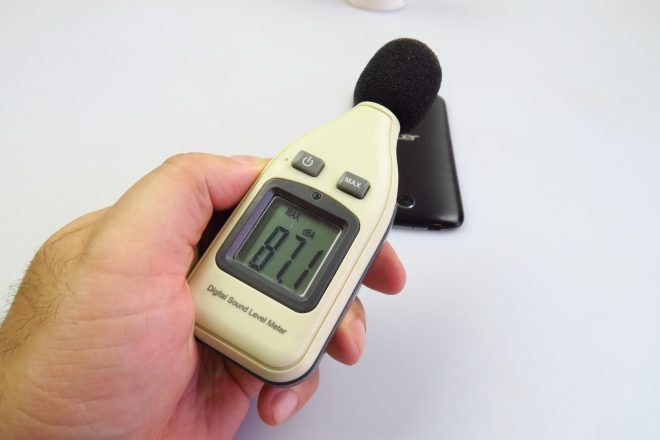 Liquid Jade Primo packs a 21 megapixel camera with dual LED flash, F/2.2 aperture and 4K video capture. It also has a native 4:3 aspect and upfront rests an 8 MP selfie shooter, with 84 degree wide angle lens. The camera app starts up fast, the camera takes a very long while to focus and everything felt buggy to me in this area. Picture taking needs too much time to play out, the exposure is off and the image resulting from the shots tends to differ from what we see in real life.
Zoom was rather OK and the options of the camera included HDR, flash, white balance, ISO, focus, shutter and exposure. There are also the Lenses you can install, timer and aspect ratio to set at 16:9 or 4:3, the first for 16 MP shots and second for 21 MP pics. You can also use a grid, focus light and digital stabilization here.
The gallery of shots we've taken during the day was done on a sunny and cloudless day. The pictures featured artificial colors, the HDR was washed out and there was some serious oversaturation. Colors were OK in some of the pictures and brightness was decent. Selfies are OK, a bit burnt, but I've seen worse. They're better in the shade for sure. It's very hard to focus on closeups, but at least we had some good details in landscape shots. Panorama had a resolution of 9600 x 1728 pixels and it was clear and not very burnt.
There's some blur at closeups and you have to try it a few times to get a macro right. When we zoomed in, the quality dropped a bit. The colors problems are too serious to ignore and the problems with the focus are also annoying. Couple that with very long picture taking (dozens of seconds sometimes) and you'll tell that something is off here.
The shots are clearly below the ones of the Lumia 950 XL, LG G4, Nexus 6P and what have you. Maybe a software update can fix the problems in the future. In low light conditions we registered a good flash, nice texture of the wall of bricks, bad color rendering, not so good details and big street light halos. Video was shot in Full HD at 30 FPS and 18 Mbps in bitrate. Then there's 4K with 52 Mbps bitrate.
The microphone is good, but the colors are non realistic and artificial as well. When zooming in there's quality loos and I also had problems with the loss of focus, plus out of the blue and weird exposure change. Clarity is decent and the hue of red is OK rendered, bu the greens are very bad. The 4K clip is mint, without many objections in this area.
Stabilization is poor and this is as much a negative surprise as the ASUS ZenFone 2 last year. It also surprised us in the same manner as the poor LG G4 filming, that was burnt and shaky. Once again, it may just be the fault of our test unit, not a general problem! Low light videos featured refocusing, a yellow tint, shaky image and a good mic.
Clarity was rather good and overall just the nice mic will be remembered here, that's it. Let's move further now! The web browser preinstalled here is Microsoft Edge, which is not fast on this device somehow. We've got a wordflow keyboard in the mix and in spite of my objections, the Sunspider benchmark result was good. On the connectivity front, there's 4G LTE Category 6 here, with a download speed of up to 300 Mbps.
This is a dual SIM phone, with an USB Type C port, Bluetooth 4.1, GPS, WiFi 802.11 a/b/g/n/ac with MIMO. There's no NFC and WiFi Direct, no FM radio and by the way, no iris scanner or fingerprint scanner. Calls have an OK volume and clarity, good isolation and the mic and signal are good. We also did a Speedtest and achieved 100 Mbps in download via 4G and 8.8 Mbps in upload. On WiFi connections we achieved 62 Mbps in download and 9.3 Mbps in upload.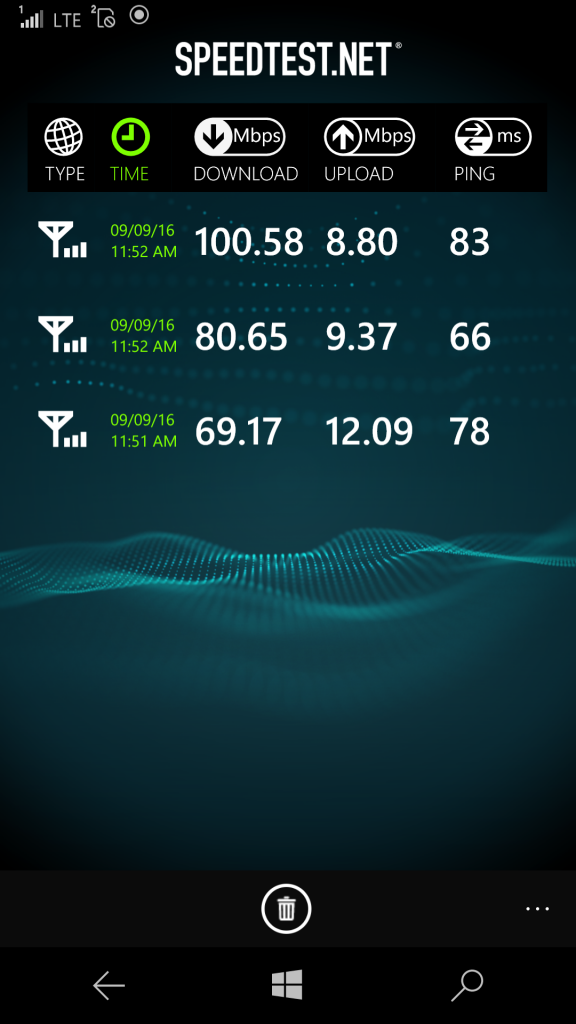 The download results are OK, but the upload ones aren't. The OS that runs on the handset is Windows 10 Mobile, offering the same experience as the Lumia 950 XL. There's no Glance screen, but we do have a live tile homescreen, with 3 sizes of tiles. There's an Action Center here, with toggles and notifications included. We've got a scrollable app list and tile transparency that can be set up according to your preference.
Of course, there's no Google app or service here and for multitasking you can keep the Back button pressed, with a series of thumbnails closed by pressing an "X". That wastes a lot of time, I'd say. We've also got a one handed mode, triggered by keeping pressed the Home button. Apps take a long while to load and we've got support for Continuum, via the dock you've seen in the unboxing and the video review.
That dock is connected to a monitor and together with a keyboard and mouse it'll replace a PC, as far as Office tasks go. The dock is made of glossy plastic, has a HDMI port, two USB 2.0 ports and one USB 3.0. On the monitor you can view the Start Menu, play full screen views, browse via Edge and play with Word, Excel and PowerPoint. There's no snapping or real multitasking here, via the big screen.
I have to admit that Windows 10 Mobile feels old and even antique compared to the latest iOS and Android, so it doesn't complement the features of the device. The only good bit about it may be the Settings area and even that requires too many taps to get to your needed option. The preinstalled apps list includes 38 names, which is almost bloatware.
Apps are basic, like News, Wallet, Outlook, Podcast, Phone, Messenger apps and more. And now it's time for the verdict!
Here are the Pros:
lots of bundled accessories
good battery
OK display
light and comfy
good acoustics
OK selfies
solid build and nice gaming
And the Cons:
very slow picture taking
lag and bugs galore
bad focus
overheating
oversaturated pictures
poor stabilization
poor button placement
no NFC, iris scanner, fingerprint scanner or Glance
slow charging
Acer Liquide Jade Primo is good for pro users and pro users alone and only they've been using Acer gear for a long time. Otherwise, I can't quite say why one would be using this phone, especially in the condition we got it, with bugs, lag and big camera problems. Once everything gets fixed, we still get a device with many missing features and certainly inferior to the Lumia 950.
It's not future proof and the dock has alternatives in the Lumia world. The price is also a bit high, so we can't recommend this device, but if you want it, you can find it here.