ASUS ROG Phone 2 has yet to be unveiled and yet I had the opportunity of getting some hands on time with the device during a visit to Taiwan. It's everything I expected it to be and more. It's got an unexpectedly large battery, lots of processing power and a surprising camera. Sadly we don't have a price yet, but I'm sure it will be rather large.
So, it seems that ASUS made a few bullet points regarding the drawbacks of the first ROG Phone. The camera was the most obvious one and the battery life deserved an upgrade. They also brought this year a new slew of accessories. Now let's analyze the novelty of the device, piece by piece in a hands on review.
Design
The design DNA is largely similar to the one of the ASUS ROG Phone 1. It's still glass and metal, with a small back insertion that feels and looks like a sword, maybe the one used by Cloud Strife in Final Fantasy VII. We still have the ROG logo at the back, with AURA lighting and the device is now beefier, at 240 grams and 9.48 mm. It's got an air exhaust at the back side and 3D vapor chamber inside.
In spite of being so heavy, it actually feels reasonably light in the hand. Well, not exactly light, but well balanced, as the bulk of the weigh is kept in the side connector area, the connector used to hook up accessories. ASUS also avoided curves, as the curves of the screen would have made the content seem deformed. It's all flat this time for an improved gaming experience. If you are in to gaming, read here the latest new casinos in ireland review.
We also have those AirTrigger II buttons, which are now said to be more responsive, but I've yet to test them properly since I've been busy on my phone trying to figure out is solitaire cash legit. I also want to talk about the facade, which doesn't have narrow bezels, but it has pretty massive speakers. Then there's the slight rainbow reflections of the back side, when it catches the light. All in all, a well built machine, that feels like a badass gaming device.
The Aero Active Cooler accessory is also more silent now and seems easier to attach.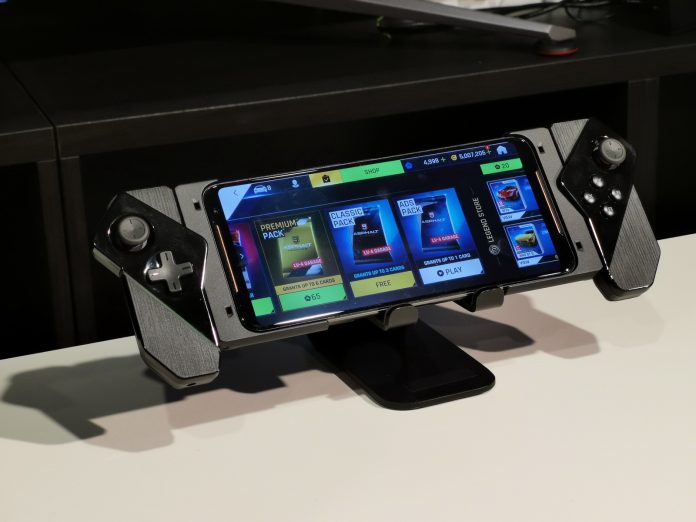 Screen and Usage Experience
During the hours I spent with the phone, I experienced zero overheating and the screen was always bright and crisp. It's an AMOLED 6.59 inch panel, at 120 Hz, 1 ms and with HDR 10 bit support. It also has touch sampling at 240 Hz, which was actually demoed on the stage. That was done using a stylus that was dragging a cursor onto a panel, with a faster response than any other rival.
The latency drops in huge manner and it helps you a lot in games like PUBG Mobile. The screen also has very well calibrated colors (Delta E<1) and Full HD+ resolution should be enough here, since we don't have many Quad HD games or even 4K ones.
Hardware and special features
The speakers blasted pretty strongly and I am afraid to even test them, as the first ROG Phone already delivered results past 100 decibels (107 dBA in my measurement). I'm expecting some serious loudness in gaming here. ASUS provided the best of the best on this phone, with the latest UFS 3.0 storage, only available on the Galaxy Fold and OnePlus 7 Pro, plus 12 GB of RAM, of the LPDDR4X variety.
One of the WOW aspects of the presentation was the introduction of the battery, a 6000 mAh gigantic unic, which was definitely unexpected. Another WOW moment was the introduction of the camera: the very same camera from the ZenFone 6, sans rotation. It includes a 48 MP Sony IMX 586 sensor and a 13 MP ultra wide sensor. Plus we have a 24 MP front shooter. We also have 4 microfones on board, as well as multiple antenna, for the sake of fast connectivity, one that wouldn't be affected by the way your fingers are gripping the device in constant landscape mode.
The Aura Lighting is expanded thanks to the second LED flash, that lights up a bunch of channels on a special case, Lighting Armor Case, creating nice light effects. Back to the battery for a bit, it's supposed to provide up to 7.1 hours of PUBG Mobile gameplay, apparently, which is not half bad, if it involves max brightness, WiFi on and maybe some streaming at times.
We also played with some accessories, like the brand new TwinView Dock II or the new Kunai controller. TwinView Dock II brings an extra 6.59 inch 120 Hz AMOLED screen and an extra 5000 mAh battery, while the Kunai is basically two Nintendo Joy-Cons joined together, but in a different versions. They can also be hooked to the sides of the device, via a special case.
Then we have the WiGig dock, desktop dock and a few more accessories detailed below.
My conclusion about the device? ASUS is starting to cater to the eSports crowd, the gaming Pros, those that make money from their passion. The number of well paid YouTubers is growing and they'll probably not having a hard time paying the premium price of this premium gaming phone. ASUS ROG Phone 2 is not a device for the average user, it's for the pro-sumer in the gaming area.
And now here's the full specs list:
Display: 6.59 inch, AMOLED, 2340 x 1080, 120 Hz, 1 ms, HDR 10 bit, 240 Hz touch sampling rate
CPU: Qualcomm Snapdragon 855+
RAM: 12 GB LPDDR4X
Storage: up to 512 GB, UFS 3.0
Battery: 6000 mAh
Camera: Back: 48 MP + 13 MP (ultra wide); Front: 24 MP
Connectivity: Bluetooth 5.0, WiFi a/b/g/n/ac/ad, GPS dual band, custom connector for accessories, USB Type-C, audio jack, NFC
OS: Android 9.0 Pie
Others: in display fingerprint scanner, stereo speakers, 2 vibration motors, 4 microphones
And the full list of accessories:
AeroActive Cooler II
Aero Case
Twin View Dock II
ROG Kunai GamePad
Mobile Desktop Dock
Pro Dock
WiGig Display Dock Plus
ROG Lighting Armor Case
They come in a new troller, but there's also a special swag bag called Fashion Bag, that carries 5 out of the 8.
More info: baccarat casino sites reviewed by basketballinsiders.com