BlackBerry has had quite an interesting day, so after new rumors about being bought by Lenovo, now their flagship, BlackBerry Z10 has been made available for preorder on AT&T. All of this turnmoil affected the company value and the shares soared over 14%.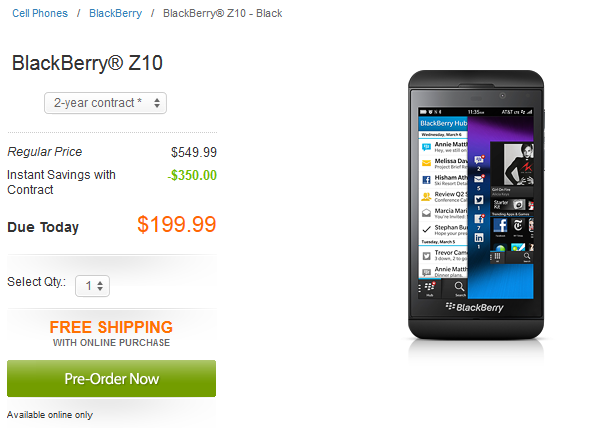 T-Mobile already started selling the BlackBerry Z10 to business customers on Monday, with a price tag of $249.99 on contract. That was followed by AT&T's move to announce the launch of the BlackBerry Z10 on March 22nd, with a price tag of $199.99. AT&T is taking preorders right now and promising to ship the product starting with March 20th.
Shipping is free and in case you're wondering, the Z10 brings some appealing specs, like LTE, 2 GB of RAM, a 4.2 inch 1280 x 768 pixel display, 8 megapixel camera and dual core Snapdragon 1.5 GHz processor. Finally, we've got a 1800 mAh battery inside.