The BlackBerry Z10 was first pictured back in December and ever since the flagship BB 10 OS handset appeared everywhere, in pics, leaks, specs and various hands on videos. Together we get what seems to be the definitive specs list of the newcomer, that will run RIM's latest OS, meant to be unveiled during a special event on January 30.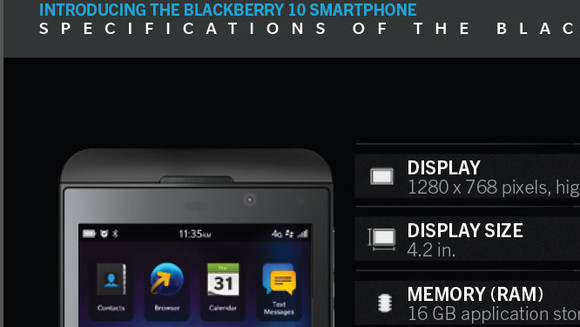 There will be 4 different versions of the device, each with a different codename and they'll make out the L Series. The phone codenamed London is the one without 4G LTE, but it does get 21 Mbps HSPA. The others are, just as last year's rumors said, Lisbon, Laguna and Liverpool. Each of them will have 4G connectivity and each of them will be addressed to an area of the world. We also get confirmations for specs like the 4.2 inch 1280 x 768 pixel display, 8 megapixel camera with autofocus and LED flash and 1080p video recording.
BlackBerry Z10 has a 2 MP front camera with 720p video recording, 2 GB of RAM, 16 GB of storage, WiFi, Bluetooth, GPS, NFC and a 1800 mAh battery. All the info comes straight from RIM documents that reached TechRadar. Expect further leaks as the 13 days left till the event pass.