Nuance is a name you should know, when talking about mobile technology, specially since they're the guys behind the T9 feature and text-to-voice or voice transcription. Now, the company launched an iPhone app that allows you to dictate texts or e-mails.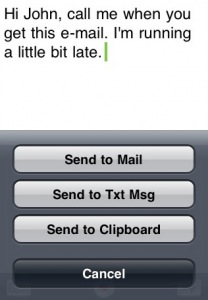 The software is available for free and it's known as Dragon Dictation. It'll allow you to speak your SMS messages and emails, so it's a good option if you're a bit dizzy and had one too many beers. You just have to launch the app, push the record button and speak away.
Afterwards, the clip passes through the Dragon NaturallySpeaking engine and gets turned into text, that can be pasted into an SMS, e-mail or copied to the clipboard for later use. The accent matters very much for this app and so does the cadence, but all in all the software is quite accurate. Get the app from here!
[via mobilecrunch]