While the leak of the day may be related to that new 4 inch iPhone, HTC's future flagship is also proving to be a point of discussion today. A solid source, known as LlabTooFeR on Twitter claims that "HTC Perfume" will come in two versions.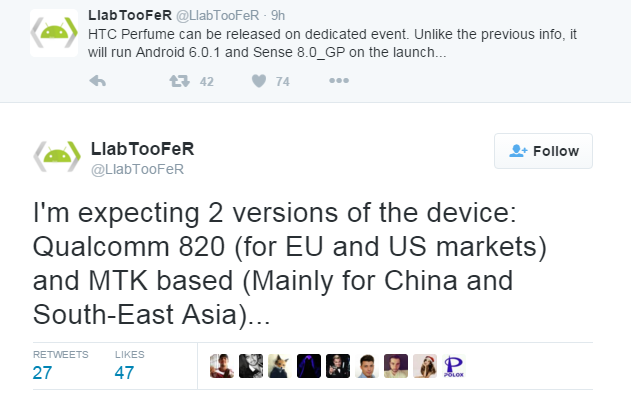 The MaximusHD ROM developer is the same source that originated the info about the device's dedicated event, separate from MWC, while also claiming the model will run Android 6.0.1 and Sense 8.0_GP on launch day. Now he claims that there are 2 versions of the HTC One M10 ready, one with a Snapdragon 820 CPU for Europe and US and one with a MediaTek chipset for China and South East Asia.
Last we heard, HTC was debuting the handset in a special event in March and offering it in stores from April. Both versions mentioned above are rumored to come with 4 GB of RAM, Android Marshmallow with HTC Sense 8.0 and a camera that would have to be really special to make us forget the poor Toshiba sensor on the HTC One M9.
via @LlabTooFeR