Before we played with the Huawei P10 and P10 Plus, we also had fun with the Huawei Mate 9. This phablet debuted late last year and reached some areas, like USA at the beginning of 2017. In USA it debuted with Alexa and serves as an excellent replacement and alternative to the ill fated Galaxy Note 7. It's still a very high end machine even now, compared to the P10 models.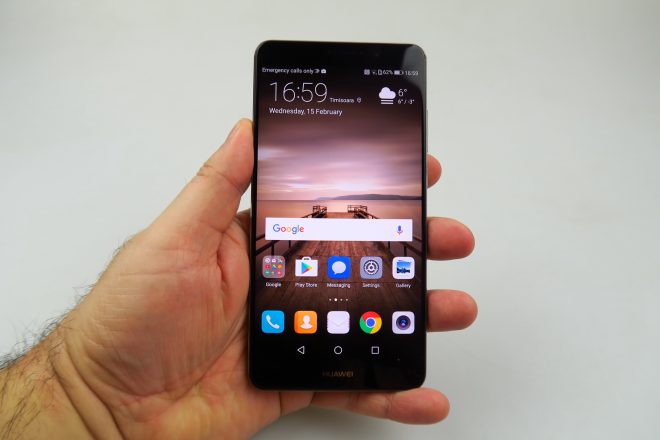 There's also a Pro model of this device, but we had the Standard one for testing purposes. It's a 5.9 inch metal phablet we're dealing with here, that's priced at $650 on Amazon and it also comes with a bundled case in the package. There's an evolved dual camera on board, an evolution from the Huawei P9 and Mate 8, as well as the Honor 8. The camera still have Leica technology, but the sensors have evolved.
Back when we tested the phone, this was also our first contact with EMUI 5.0. As far as the design is concerned, this is a 5.9 inch metal phablet, that's 7.9 mm thick, which is exactly the same thickness as the Galaxy S7 and Galaxy Note 7. The product weighs 190 grams, which is a bit on the heavy side and compared to the Note 7's 169 grams it's quite massive.
Even compared to the Nexus 6 and its 184 grams, it's still heavy. It's closer to the iPhone 7 Plus, and its 188 grams. Huawei Mate 9 is wide, long and heavy, it's got a solid metal build and unibody aluminum build. The grip is good and buttons are comfy. There's no way you're going to use this device with a single hand, that's for sure. Available in space gray, silver, gold, white and brown, the phablet has a top and bottom covered with a plastic lid, albeit small.
It's for the sake of connectivity. Huawei Mate 9 comes with a 2.5D glass panel upfront and has a very small camera protrusion. It sits well in the hand and it's elegant, but there's nothing totally new here, if you want an original design. Still, well built. Now on the display front, there's a 5.9 inch Full HD IPS LCD panel, with a 373 PPI density and 16.7 million million colors.
It's a screen with NTSC saturation 96% and a contrast of 1500:1. Bezels are narrow and if you want a comparison, the Huawei Mate 8 has an IPS LCD panel with Full HD resolution and 6 inch diagonal. We relied on the Videos app to play clips and benefited from features like Pop Up Play, Speed and Enhanced Audio. The viewing experience involved vivid colors, solid brightness, wide view angles and a pretty good contrast, even in the strong sun.
Pixels have an RGB Stripes arrangement and the luxmeter showed a value of 541 LUX, which is rather good, actually very good. This beats the Huawei Mate 8 and its 423 LUX, as well as the Xperia Z5 and iPhone 7. Still, it scored below the Google Pixel XL and iPhone 6, that's for sure. On the Settings front, Huawei provides a View Mode (Small, Medium and Large screen elements), font size and Eye Confort (with a Color Temperature slider).
There's also brightness and color temperature (with a hue circle that lets you tweak the color). Overall, it's a great display, so there's not much to complain about here. Now moving on to other hardware, we find the HiSilicon Kirin 960 processor, an octa core unit clocked at up to 2.4 GHz and working in tandem with an i6 coprocessor. The GPU is a Mali G71 MP8 and we also have 4 GB of LPDDR4 RAM in the mix.
Storage is 64 GB, plus a microSD card slot, which is actually the second SIM slot. The Mate 9 Pro version has 6 GB of RAM and 128 GB of storage. Of course, the Mate 9 has no lag and it's all smooth sailing here, apps starting up fast and the queue alternating between applications like a champ. Games also look great, including Riptide GP Renegade, which we use for benchmarks.
For those of you wondering, 49.81 GB out of the 64 GB are free to use. We also did benchmarks and achieved a not so impressive result in Quadrant, slightly surpassing the Huawei P9 Lite. We blame that on the optimization of the benchmark, since in AnTuTu 6 we scored high, beating the Galaxy S7 and LG G5, but also scoring below the OnePlus 3 and ZenFone 3 Deluxe.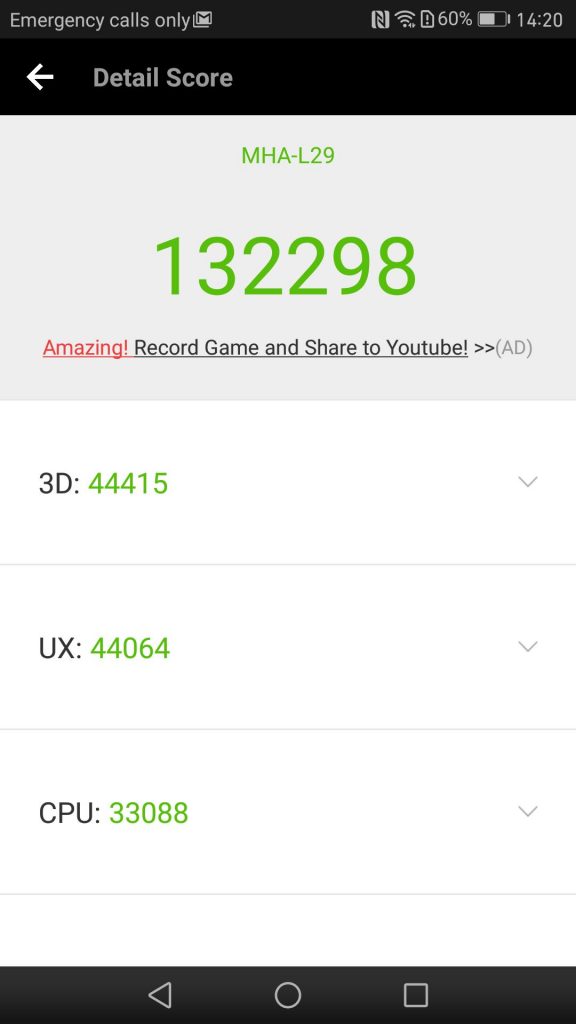 In 3DMark Ice Storm Unlimited, the handset is slightly superior to the HTC 10 and Moto Z, but scores below the Sony Xperia XZ. Then it was the turn of GFXBench to work its magic, with its variety of sub tests. Here we scored in the top 10 for all the tests and only the iPhone 7 gave the Mate 9 some trouble. These are all solid results, but we can't say they totally beat a Snapdragon 821 machine.
When it came to the temperature test, we got to 39.9 degrees Celsius in GFXBench and 34.4 degrees in Riptide GP Renegade, both OK values, so there's no overheating. On the battery front, we've got a 4000 mAh unit here, of the Li-Po kind, that with a 20 minute charge provides one day of usage. On paper we are promised 20 hours of video playback, 105 hours of musical playback and 20 hours of 4G browsing.
In real life, in our tests we achieved 13 hours and 43 minutes of HD video playback in a loop, which was great and it beats the Galaxy S7, as well as the Google Pixel XL. We scored below the Galaxy S7 Edge and the Lumia 1520, by the way. In PCMark we scored 11 hours and 4 minutes, which is also great and it places us on the 7th spot and above the ASUS ZenFone 3 Max and Google Pixel XL.
Only battery phones can beat this device basically. Charging tests were done in stages, so a 5 minute juicing up resulted in 13% battery life and a 15 minute juice up brought the battery to 33%. 30 minutes of charging resulted in 61% battery and one hour of charging meant 89% of the Mate 9 battery was full. The 100% charge is done in 2 hours and 7 minutes, which may not seem impressive, but at least it beats the iPhone 7. At the same time it scores below the Galaxy S7.
Settings for the battery include Power Intensive Prompt, closing excessively draining apps, WiFi on during sleep and Power Saving Mode (Limit Background apps, Visual effects and more). There's also Ultra Power Save, that only lets you use some apps, while shutting down the others. Users can also lower the screen resolution and perform a one touch optimization.
Now let's see what the audio is like here. On the acoustics front, the Huwei Mate 9 proposes the typical music player, with the same UI and lack of equalizer as always. It's got the same timer and animation effects. There are 2 grilles at the bottom of the phone, but only the one on the right actually hides a speaker. The listening experience involved a very loud volume, good clarity and great bass (top 3 I'd say).
The voice is also nice and there's no distortion in the mix. DTS is basically the only tweak you can apply to the sound here. We did a decibelmeter test, which resulted in 87.2 dBA at the front and back of the phone, using our acoustic sample and 94.6 DBA when running Riptide GP Renegade. Meanwhile, the Mate 8 reached 83.3 dBA, but with the audio sample only, so we still surpassed it.
The headphones keep the same design of the past years, from the Huawei P9 onwards. They've got a rigid body, but they're loud and clear and the bass is OK. They're also not very comfy. While I did say there's no equalizer here, there's still a special headset DTS mode and Stereo option, which once activated also uses the earpiece as a secondary speaker.
Stereophony worked great on this device. We have finally reached the camera area, so let's discuss that. Huawei Mate 9 shows up with a dual camera with Leica technology, including a 12 megapixel Sony IMX286 sensor, that captures color and a 20 MP monochrome sensor. Optical image stabilization is available here, plus PDAF, laser focus, contrast autofocus and a dual tone flash.
Leica Summarit lenses are being used. Upfront there's an 8 MP selfie camera, with AF and F/1.9 aperture. On the UI front, it's also standard Huawei approach. We've got a fast start of the app, fast focus, fluid zoom and 2X Clear Zoom. Picture taking is also fast and the UI resembles the one of the P9, albeit with a new font. There are also Effects and color options like Standard, Vivid and Smooth Colors.
Then we've got Bokeh, with an aperture setup feature and the choice to focus on background or foreground before and after the shot. The amount of blur you apply to either of them can be set up too. The right side of the UI features a Manual mode, with features like white balance, focus, exposure, shutter, ISO and metering. Capture Modes are the following:
Photo
Monochrome
Beauty
Video
HDR
Beauty Video
Panorama
Night Shot
Light Painting
Time Lapse
Slow Motion
Watermark
Audio Note
Document Scan
Good Food
Settings let you tweak the resolution, GPS, grid, timer, object tracking, saturation, contrast and brightness. Video is shot in 4K, Full HD at 30 or 60 FPS and there's also OIS. As far as the day time Gallery goes, we took our pics on a sunny day in February and the first thing I noticed was that this cam captures more details than the Huawei P9.
We also zoomed in a lot without losing details, so in that regard, it performs great. We liked the brightness and the focus, plus the clarity and found the colors to be quite realistic. It's not the LG G5 style color calibration, but still pretty good. I'd place this camera above the OnePlus 3 for example, that also had some very nice colors.
We took some nice closeups, especially of those toys in the park and played with focus, triggering blurs and Bokeh effects like a champ. In this area the Huawei Mate 9 easily fights the iPhone 7 Plus, although it's more of a draw between them. Panorama had a resolution of 9984 x 2240 pixels, which is not that impressive for modern standards and the selfies were just OK, although the not very clear background was a bit of a bummer.
The HDR was quite solid, highlighting the contours of subjects and the black and white shots, caught the light in fantastic manner, basically a whole new level. Those were also quite artsy shots in my book. Great shadows and lighting were also noticed. The thing I liked the most here was the sky, that's very realistically rendered and closeups were also great.
Before the Galaxy S8 was tested this was one of the phones with the "closest closeups" I'd ever taken. It's clearly on par with the greats of 2016 and in some areas it beats the Huawei P10 Plus. You can look taht phone's review, if you don't believe me. I feel it's also superior to the iPhone 7 Plus and OnePlus 3, but places below the Xperia XZ in details and the LG G5 in colors.
Low light photo capture was really charming with the whole Light Painting thing, while the pictures were bright and crisp, as well as detailed. The flash felt a bit too white and street light halos had an OK size. There was a bit of blue spotted at the top of some pics, but nothing truly major. We enjoyed the nocturnal closeups and found this experience to be superior to the much appreciated Huawei Mate 8, which was a low light champion.
This time we're on the same level as the Xperia XZ and a bit above the iPhone 7 Plus. What's clear is that the Galaxy S7 catches more light and there's a long way for Huawei to go to beat champions like HTC 10 and Google Pixel XL in low light capture. Now let's got to the video!
We recorded a pretty OK slow mo clip, as well as regular Full HD videos in MP4 format, at 29 FPS and with a 17 Mbps bitrate. The zoom was fantastic and we truly lost no details when applying it. A bit of oversaturation did rear its ugly head, but the clarity was nice in general. 4K video capture was done at 30 Mbps and it was basically perfect.
We also performed and optical image stabilization test, achieving OK focus and clarity, but some lens "vibration" was felt when we moved around. Each step we took was perceived as a vibration of the image. At least we didn't lose focus like on the iPhone 7 Plus. The 60 FPS clip was very crisp and cinematic and some clips seemed to show some blur in the details in the distance.
The front camera was rather solid, in both colors and clarity, while the microphone was top notch, so vloggers may enjoy it. When everything's said and done this phone surpasses the iPhone 7 Plus and LG G6, although it does burn the image a bit in the distance and also curves it slightly when panning around. The Xperia XZ is better, on account of less flaws and better stabilization.
Low light capture was a bit of hit and miss, with a foggy vibe, blue-ish hue and some grain. Zooming in resulted in poor details and the only constant from day time filming was the microphone's quality. Street light halos had an OK size and lighting and colors were quite OK for the night. The shaky image made us feel like we were on a boat at times, though.
Too bad for that blue hue, also found on the otherwise excellent Xperia XZ. This may spoil the capture of someone going to concerts, but at least the mic's solid. Now off to greener pastures! The preinstalled web browser of choice is Chrome and it's quite fast, as confirmed by its benchmarks. For input we have the Huawei installed keyboard, with big keys and Swype in the mix, so very comfy.
Time to check out connectivity! All the modern options are checked out here, including USB Type C, dual SIM slots, LTE Advanced, WiFi, even infrared. The phone comes in dual SIM and single SIM versions and it also brings GPS and Glonass support, There are also 20 LTE bands supported, with 1334 carriers compatible, in 217 regions. WiFi a/b/g/n/ac is in the mix, plus there's WiFi Direct and Bluetooth 4.2.
Calls are quite loud and clear and the 4 mics on board do their job fine. There's also a harassment filter, Pocket Mode, Speed Dial and Virtual HD call. We did a SpeedTest on both 4G and WiFi connections and achieved 69 Mbps on 4G download and 47 Mbps in upload, while on WiFi we got to 238 Mbps in download and 25 Mbps in upload. This phablet runs on Android 7.0 Nougat with EMUI 5.0 on top and this was actually our first contact with EMUI 5.0.
It's finally a change from the previous EMUIs, that were pretty much the same. We get new colors, blue accents that feel like iOS 10. There's still no app launcher, but you can active one if you really want to. Multitasking is done via carousel now and the horizontally scrolling thumbnails are now gone. Keeping the homescreen pressed triggers the wallpapers, widgets, transitions, layout and other such features.
The dropdown section is closer to stock than before and there's no more timeline for notifications. The notifications are now wider and we've got prettier Quick Settings, design-wise. These Quick Settings include a floating dock, mirror share and a screen recording feature. Settings include Search and Suggestions, homescreen style, nav key and fingerprint scanner.
The latter has a 7 step setup and offers instant unlock, lets you take pictures using it and answer calls. You can also browse the gallery and show notifications by swiping down on it. The same fingerprint scanner is very fast to unlock the device and accurate. The list of settings continues with Do Not Disturb, Smart Assistance (One Hand UI, motion control and voice control), plus glove mode.
There's Split Screen here, letting you use two apps at the same time, by splitting the screen in two. Then there's App Twin, that lets you use two accounts on the same app, like Facebook and Whatsapp. A simple Mode is also here. And since you're probably bored by so many elements, know that the preinstalled apps list includes 50 names, which is quite a lot
Lots of them as uninstallable and the list includes a Power Manager, Themes (with custom options), HiGame, Health (with a new UI), Smart Controller, WPS Office, News Republic, Booking.com and To Do Ist. An interesting aspect included here is machine learning, that prioritizes the apps you use most often. It learns your habits and makes the device run smoother and faster. Huawei Mate 9 also came with Alexa in USA, so that's also a big plus.
And now here's the verdict.
These are the Pros:
perfect alternative to Note 7 and iPhone 7 Plus
great camera
elegant design
loud
great screen
top 10 performance
great battery
cute bokeh effects
infrared
finally a nice EMUI
And the Cons:
heavy and massive
some filming drawbacks
the camera doesn't clearly beat rivals, in some areas
Full HD screen at the end of 2016
not waterproof
not a huge bump up from the Huawei P9 camera
As people didn't have the Galaxy Note 7 option and maybe they hesitated to buy the iPhone 7 Plus late last year, the Huawei Mate 9 became the go-to big phablet. It's still the best Huawei phablet and if you look at our Huawei P10 Plus review, you'll see that it even beats that model. It remains great for the camera, screen, audio, battery and performance, so basically everything you can ask.
Some minor camera drawbacks are present and the format is massive, so you may be better off with a Galaxy S8 Plus, but since that one may become increasingly hard to find, the Mate 9 is still very appealing. Plus, it's the best big Huawei phone on the market. You can get one here.