Sometimes it doesn't take a rumour, a leak or an official announcement to learn that a company is preparing new handsets. All it takes is a couple of careless webmasters that make the new phones appear on the official site before they're officially announced… This is also the case of 4 new Moto devices: VE465, ZN300, QA4 and VE66 Lux Edition.
Motorola VE465 is a low end music phone, with CDMA/EV-DO support and a 1.2 megapixel camera. Motorola ZN300 doesn't reveal itself, when it comes to the specs list, but what we do have is an interface screen capture below: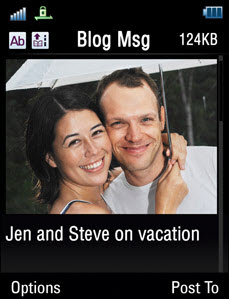 Next is Motorola QA4 Halo, once again showing a screenshot of its interface (picture below), that reveals the use of Web widgets plus (maybe) a touchscreen display. QA4 Halo features CDMA/EV-DO connectivity, a 2.8 inches screen (400 x 240 pixels) and an accelerometer.
Moto VE66 Lux is also a mysterious handset, as we don't have its specs list, but we know that it's going to be a luxury edition of Motorola VE66.
[via Unwired View]