Verizon's got a big announcement coming on the 23rd, but if you're not patient enough, you can learn more about their upcoming device, courtesy of Engadget's hands-on experience. The famous site managed to a score a Motorola Droid X unit for testing, with the results being detailed below.
This is Moto and Verizon's answer to the HTC EVO 4G and we have to say that Droid X is a tad wider and longer than EVO, plus it comes with four physical buttons along the bottom of the screen and a 4.4 inch FWVGA capacitive touchscreen. The latter supports a 854 x 480 pixel resolution and Engadget tells us that the device feels solid in the user's hand and pretty light, too.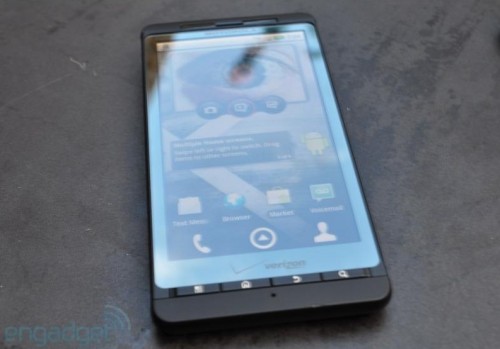 Multitouch gestures are also supported by the handset, that comes with Android 2.1 plus a new version of MOTOBLUR (supposedly Ninjablur). A new navigation bar is present along the bottom, allowing the user to jump to different Android panes. At the back of the Droid X, you'll find an 8 megapixel camera with 720p video capture support and tap to focus.
Too bad that the camera phone button is stiff and there's a slight lag when shooting at 720p. The overall performance of the smartphone is great, possibly thanks to the 1GHz ARMv7 processor, coupled with 8GB of storage space. This is quite a promising phone and we're looking forward to see June 23 marked in our calendars.
[via Engadget]