The Motorola Moto G7 series came to life on February 7th and during the debut we got to play with the Moto G7 Plus and Moto G7 Power handsets. Since then we've unboxed the Moto G7 Power and now the Moto G7 Plus is here for the same treatment. It's priced at around $350 and it comes with some serious multimedia badassery.
Inside the green compact box we find the Turbo Power Charger (27W) with an USB Type-C port, like the Pixel 3 XL charger, by the way. There's also an USB Type-C to USB Type-C cable, manual, case and SIM key. The case is transparent and flexible, with all the needed cutouts. The phone is made of glass and metal and while the back is pretty similar to the Moto G6 Plus one, the camera and fingerprint scanner are a bit different.
The camera seems to be more prominent, with deeper and larger sensors, while the fingerprint scanner is in the dimple with the Moto logo. We also have stereo speakers here and a clean Android 9.0 Pie on board. Available in Deep Indigo and Viva Red, the device measures 8.3 mm in thickness and weighs 176 grams. It's got a splash proof case and packs an IPS LCD Display, with a 6.2 inch diagonal and Full HD+ resolution.
It opts for a small waterdrop notch, not the wide one from the Moto G7 Power. Inside we find the Qualcomm Snapdragon 636 processor, 4 GB of RAM and 64 GB of storage, plus a microSD card slot and a 3000 mAh battery. There's also Face Unlock in the mix, the audio jack is safe and sound and there are also 3 microphones available. Now as far as the cameras are concerned, there's a 16 MP + 5 MP combo here at the back, with F/1.7 aperture for the main sensor, optical image stabilization and dual LED flash.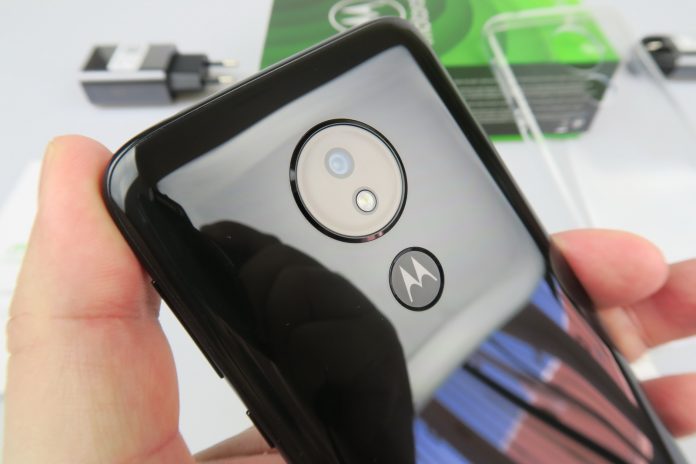 There's also PDAF, RAW capture, Google Lens and 4K video. The front 12 MP camera also does 4K video and HDR, much to my surprise, because Moto hasn't promoted this feature as much as it should have. NFC, GPS and WiFi dual band are all part of the package. We'll be back with a full review ASAP, but at first sight this sounds like the best specced multimedia midrange phone. You can get the phone here.