Motorola Droid RAZR HD (XT926), a device we've been hearing about ever since the Droid RAZR was launched has just started showing up in 3rd party Cellebrite systems. This doesn't necessarily mean that we're getting closer to its release, but at least it's a sign of its existence.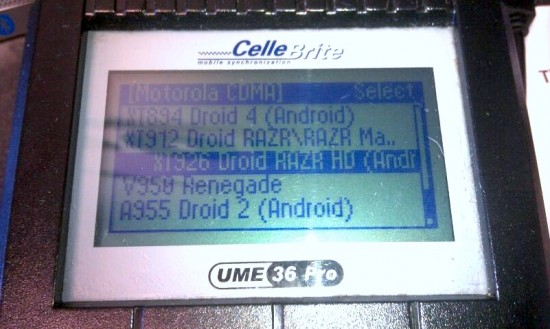 Also known under the codename Droid Fighter, the Droid RAZR HD was supposed to launch this month, most likely on Verizon. For some reason it has not launched and as far as specs go, you should expect a 720p screen and probably the dual core Snapdragon S4 processor, that everyone is talking about. I have to remind you that in China there was already a version of the Droid RAZR with 720p screen and 13 megapixel camera available months ago, so it doesn't surprise us to see the RAZR HD now.
I'm not sure that the 13MP cam part will also make it here, but an 8 megapixel one with at least the quality of the sensors on the HTC One S and One X will be perfect. Hopefully, the new device will come with Android 4.0 ICS preinstalled, so we won't have to wait for it, like we're doing now with the Droid RAZR and RAZR MAXX.