After the debut of the Nokia Lumia 620 yesterday, today we're treated with a fresh leak, the one of the Nokia Lumia 505 lower end budget phone. This one comes straight from Mexico, where the device was teased by local retailer Guerrero Movil. The handset will be exclusive initially to the local carrier Telcel and it will be the cheapest Lumia model to date.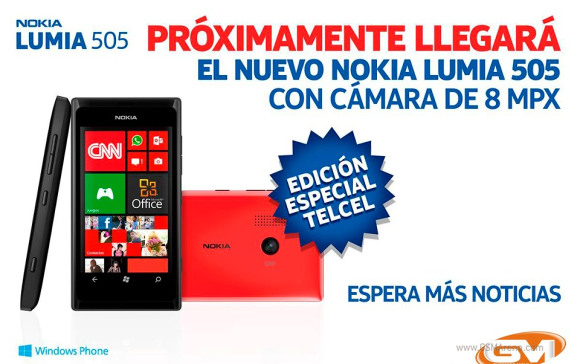 Nokia Lumia 505 has mystery specs, but some of them have leaked out, including an 8 megapixel camera, apparently without flash. The handset will run Windows Phone 7.8 out of the box and rumors say it will come with a 4 inch WVGA display, an 800 MHz processor, 4 GB of storage and 256 MB of RAM. It's strange to see Nokia making a special phone with this budget orientation and not giving it a proper official release, so we could actually see this model as a redesigned Nokia Lumia 510 in the end.
Guerrero Movil promised more details about the handset in a week or so and speaking of very low prices, since no sum was mentioned, allow me to speculate that this product will cost about $250 off contract, or even $200. Who's ready to pay that amount for this device?