@evleaks showed some pictures of the upcoming Nokia Lumia devices just days ago. The Lumia handsets in question are the Lumia 920 model with PureView camera and the Nokia Lumia 820 that looks very much like the Arrow handset leaked a while back. Today the same source reveals new photos.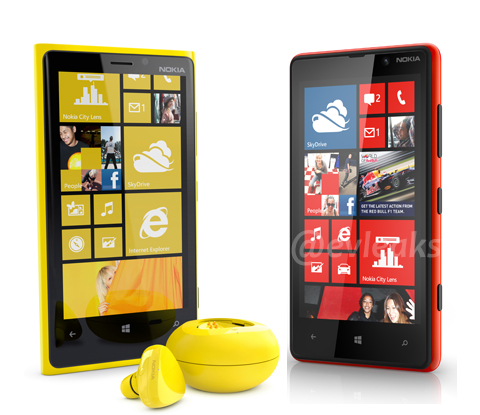 Nokia is preparing to reveal its new Windows 8 running handsets during an event that will supposedly take place on September 5. Two days away from the official announcement and two new photos showing the new Lumia smartphones have surfaced on the Internet.
We are talking about the same models that have become the center of attention lately – the Nokia Lumia 920 and 820.
The design for both devices seems to have been inspired by the current Lumia 800 & 900 models. Specifications for the Lumia 920 include 32 GB internal storage, 8-megapixel camera, dual-core CPU clocked st 1.5 GHz, 1 GB RAM, 4.5-inch display with HD resolution. The device will be labeled with the "PureView" branding even with its "just" 8MP camera as opposed to the 41MP with the PurwView 808. Rear camera features include image stabilization and special camera software for improved image quality. There is also a 1.9MP image senzor on the front.
Not much there is to say about the Lumia 820 as details about the model are hard to come by. It is rumored that the device will feature a 4.3-inch display.
Both new Nokia models will support Wireless Charging through dedicated accessories that will most likely be sold separately (see image below).