Engadget has done a pretty interesting comparison of handsets, picking one for each mobile platform available. Thus, we can see in the table below as Nokia N8 takes on the iPhone 4 in a Symbian versus iOS 4 duel, while the other rivals are Palm Pre Plus (webOS), HTC EVO 4G (Android 2.1) and HTC HD2 (Windows Mobile 6.5).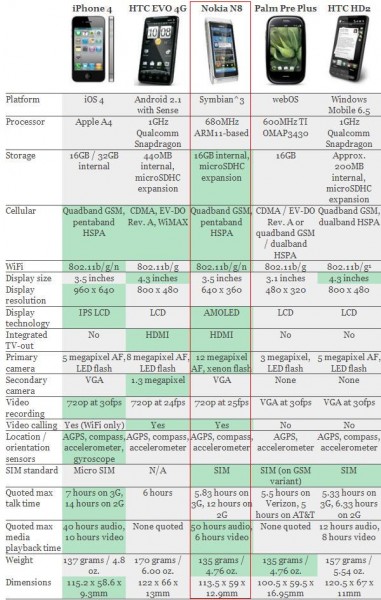 As you can see, Nokia N8 nails most of the table categories, as it wins duels with each of the smartphones. For starters, it sports more storage space than its rivals: 16GB internal, plus a microSDHC card slot, compared to the iPhone 4's 32GB maximum storage. HTC EVO 4G only provides 440MB of internal memory and a microSDHC card slot, while Palm Pre Plus doesn't go over 16GB and HTC HD2 only comes with 200MB and a microSDHC slot.
In the display section, the N8 and the iPhone 4 rule, the first with an AMOLED display and the second with the revolutionary IPS LCD screen, with its incredible 960 x 640 pixel resolution. HTC EVO 4G and HD2 might have the upper hand on the diagonal side (4.3 inches), but their 800 x 480 pixel resolutions pale in comparison to the one of the new iPhone.
HDMI is another issue, as this feature is only present on the N8 and HTC EVO 4G, while the camera segment is clearly under Nokia dominance. The Finns' handset packs a 12 megapixel camera with AF, Xenon Flash, plus the ability to capture 720p video at 25 fps. The rival for this great cam is an 8MP AF unit with LED flash, on the EVO 4G, the iPhone's 5MP AF unit with LED flash and the HD2's 5 megapixel camera with AF and LED.
Palm Pre Plus is almost not worth mentioning, since it only incorporates a 3 megapixel camera, that does VGA capture at 30 fps. In the end, N8 wins the battle, with iPhone 4 pretty close and HTC EVO 4G having the upper hand on the connectivity side (WiMAX).
[via mynokiablog]