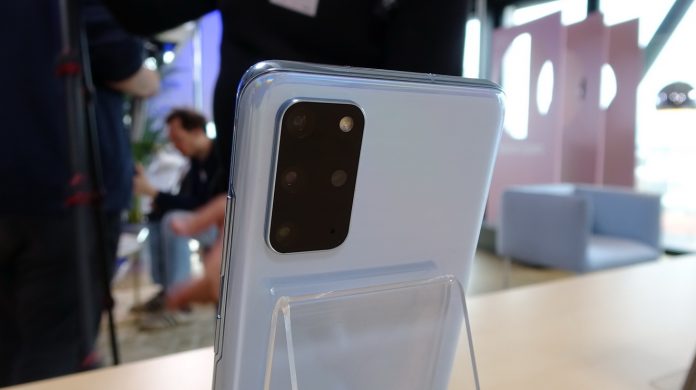 It's that time of the year again, when Samsung unveils its latest flagships and doesn't take any prisoner doing it. They're providing 5G versions of all models and no more flat screens, but also no exaggerate curves… We've already covered the Samsung Galaxy S20 and now let's check out the Samsung Galaxy S20+. It's basically a bigger S20, with an extra DepthVision mechanism borrowed from the S20 Ultra. It fits between the 6.2 inch S20 and the 6.9 inch S20 Ultra.
It should also feel very familiar for those who played with the Galaxy A71, since it has a similar diagonal and footprint. However it now has more premium materials, glass at the back, glass at the front and a metal frame in between. Priced at $1100 or so, the device is available in either a 4G or 5G version. It's surprisingly easy to handle, in spite of the fact it's got a bigger screen than the OnePlus 7 Pro, which I had a hard time handling properly.
It's got IP68 certification for water and dust proofing and the screen is much less curved than back in the days of the S7 Edge, S8 and S9. Interestingly, this device is 0.1 mm slimmer than the S20 and 1 mm slimmer than the S20 Ultra. It's also pretty light at 186 grams, 2 grams lighter than the iPhone 11 Pro, which has a much smaller diagonal of 5.8 inches. Available in blue, silver and black, the device's grip surpasses expectations.
You'd think that it would be slippery, but the curvature angle of the back glass slab is made so to appear almost angular and easy to grip. Upfront rests a 6.7 inch Dynamic AMOLED screen with a Quad HD+ resolution and HDR10+ support. It has narrower bezels than the S10+, it's a bit brighter and has very vivid colors. Also, the chin is smaller and the selfie camera has a single central cut at the top side of the screen, in a punch hole. There's also 120 Hz support, which is really felt in games like Asphalt 9 and can be set up from Settings. You can select just 60 Hz or 120 Hz, no 90 Hz option. Also, 120 Hz is only available in Full HD.
The fingerprint scanner is embedded in the screen and it feels more responsive than the Galaxy S10 one for sure, at least before its software updates came up. Inside the Galaxy S20+ rests the same Exynos 990 CPU that the Galaxy S20 and S20 Ultra use, accompanied by 8 or 12 GB of RAM and 128 or 512 GB of storage, plus microSD card slot. There's also a 4500 mAh battery with fast charge (wired), as well as version 2.0 of wireless charging, also faster. There's also reverse wireless charging via the back side.
Stereo speakers also made the cut, pretty loud, as powerful as the Galaxy S10+ at first listening, maybe more. Connectivity is well set up: 4G LTE Category 20, WiFi 6, 5 non standalone, Sub-6, Bluetooth 5.0, NFC, ANT+, GPS, USB-C. No trace of audio jack this time. Camera-wise, the selfie shooter sounds predictable at 10 MP, the same resolution as the S10 and one camera less than the S10+.
Things get interesting at the back with a quad setup:
12 MP, Ultra wide, F/2.2
12 MP, main camera, F/1.8, OIS
64 MP, telephoto, OIS, 3x optical zoom, 30x digital zoom
DepthVision sensor
The latter sensor is also present on the Galaxy S20 Ultra and the other 3 cameras are available on the S20 too. There's 8K filming at 30 FPS, 4K at 60 FPS and a new Single Take feature. That one lets you use ALL the cameras at the same time to take pics and video and the AI will choose the best frames/shots to use. You can also do a selection after the fact. There's also another novelty: a Pro mode for video capture, which lets you tweak ISO (up to 3200), white balance, exposure, shutter, set up tint, saturation and more. Before you get too excited, LG had that years ago.
Then there's Live Focus Video, an improved Night mode and new AR masks. There are also predefined zoom levels in the right most area of the screen: 1x, 2x, 4x, 10x, 20x and 30x. I can't say that the zoom goes past the quality of the OnePlus 7 Pro or Huawei P30 at first sight. However there we were working with 8 MP telephoto cameras and here we have a 64 MP telephoto cam, so details will obviously improve. It takes a really stable hand or tripod for a decent 20x or 30x shot, but still there's noise.
Now, on the OS front if you've seen the Galaxy A51 and A71, you know what to expect. It's Android 10 and One UI 2.0, with the same focus on one hand usage and tabs and shortcuts at the bottom of the screen. The wallpaper is affected by the Dark Mode, becoming darker or lighter, there's a Link to Windows feature, there's a feature rich Gallery with video and photo editing options galore, but there's also a novelty called Bixby Routines.
That one will automate some features, like starting the GPS when you go to work at a certain time of day or firing up a jogging playlist in the morning after you wake up. Bixby is still an aggregator and virtual assistant present here. The widgets, icons and navigation, plus settings are all the same as before.
Verdict
Seen side by side the difference between the Galaxy S20 and Galaxy S20+ is not that huge. The Galaxy S20+ is pretty easy to wield, on account of the slim frame and good grip. It can draw some fingerprints on the back and it's got an immersive narrow bezel screen. I'm still trying to find the benefits of having a 30x digital zoom 64 MP camera instead of the 8 MP one, but we'll have to see the shots first. From what I've see so far Samsung listened to feedback and worked on the main criticisms from the S10 series: Night mode, fingerprint scanner, bezel size, screen brightness, battery life.
8K 30 FPS filming is a gimmick for mere, 120 Hz is all for gaming (and a battery drainer), but the Exynos 990 is definitely a future proof beast. Having 5G as an option is welcome and having a 4G version is welcome too for cheapskates and people in areas where 5G is not yet fully rolled out. I'm really really curious to see if we can actually feel the advantage of Live Focus shots with DepthVision on the S20+ and Ultra and without on the S20… We'll see!
https://www.youtube.com/watch?v=JbElx6ECzwo