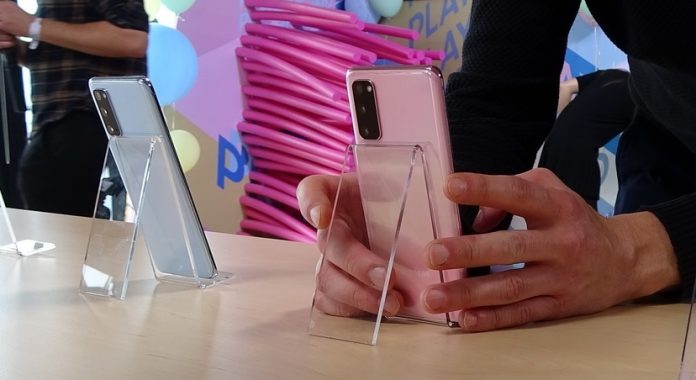 Samsung Galaxy S20 is the latest flagship series from Samsung, freshly announced on February 11th. Chief among the models is the Galaxy S20 Ultra, followed by the 6.7 inch Galaxy S20 Plus and the smaller Galaxy S20. Yes, 6.2 inches is a small diagonal now. We had some quality time with the phone and we have some hands on impressions for you below.
First of all, the price: the device is available for $899 in the 4G version and $999 in the 5G one. It's got glass at the back and front and comes in blue, pink and silver or black. It feels a bit similar to the Galaxy A51 at first, but it's definitely better built. Samsung also created a sort of "angular curve" of the back side, so the device sticks to your hand and doesn't slip. It also catches the light with rainbow effects, between Aura and Galaxy A51 basically. No prisms here!
The metal frame is rather slim and measures 7.9 mm in thickness. This phone is 163 grams heavy, which is still pretty light for a 6.2 incher, but also 13 grams heavier than the direct predecessor Galaxy S10e. At the front we find a screen with bezels seriously cut compared to the same Galaxy S10e. At the top we find the punch hole selfie camera and otherwise it's all narrow bezels, with almost no chin. The video watching is definitely immersive.
The Galaxy S20 is IP68 certified and comes with a 6.2 inch Dynamic AMOLED Quad HD+ screen that offers HDR10+ support. There's also 120 Hz refresh rate, but only available when you set the resolution to Full HD+. I feel that the brightness is a bit higher than on the Galaxy S10 series. Also, games like Asphalt 9 look great with the 120 Hz thingie on. Inside we have the powerful 7 nm Exynos 990 processor, accompanied by 8 or 12 GB of RAM and 128 GB of storage, as well as a microSD card slot, which can add 1 TB extra.
There's a 4000 mAh battery here, able to do wireless charging 2.0, faster than before. It also has fast wired charging and reverse wireless charging. To those we add stereo speakers, which pack quite a punch, between the S10 and Note 10 series I would say. No audio jack this time around, folks! We do have an USB-C port, 4G LTE Category 20, 5G on the 5G version and Bluetooth 5.0, plus WiFi 6 and NFC. On the software front there's Android 10 with One UI 2.0 and something called Bixby Routines.
It's a series of predefined and predetermined settings, patterns, apps and functions that activate at a certain time during the day or a certain place. Motorola has been doing that for a decade on the Droid series… Anyway, imagine having Gmail refreshed, a morning playlist read on Spotify and Bluetooth on, plus Dark Mode off at 9 am. That's just one example.
One UI 2.0 and Android 10 are just as we left them, complete with Link to Windows, better Dark Mode, applied to the wallpaper and improved control over location and notifications. For security we have a fingerprint scanner in the screen, an ultrasonic one, which feels a bit faster than the S10 one. Also more accurate. On the camera front, there's a 10 MP selfie camera in the punch hole camera, able to do 4K video capture.
The triple back camera setup goes like this:
12 MP, ultra wide, F/2.2
12 MP, main camera, F/1.8, OIS
64 MP, telephoto, F/2.0, OIS, 3x optical zoom, 30x digital zoom
I spent a limited amount of time with the phone, so I can't quite judge the camera. What I know for sure is that it films in 8K at 30 FPS and also has a new feature called Single Take. That one takes a series of videos and photos using ALL cameras and then the AI chooses the best set of pics/videos for you. You can also do another selection after the fact. Then there's 30x digital zoom, which is pretty much on par with what we saw last year on the Huawei P30 and OnePlus 7 Pro in quality.
Another novelty is the Pro mode of the video capture, with tweaks to the ISO, exposure, shutter, white balance, color temperature, saturation and more. I remember that LG did that years ago, with the V30 if I remember correctly or even V20. We also have two way high quality videocalls, just so you know.
Conclusion
Overall this feels closer to the iPhone 11 as part of the iPhone 11 series, rather than the iPhone XR and Galaxy S10e in their respective series. The phone has the best CPU, RAM, storage type possible, a 120 Hz screen, 8K video capture and you can opt for a 5G version. 6.2 inch has become a "small" phone, miles away from the huge Moto Nexus 6 from back in the day. I feel that this is an undercover gaming phone between the CPU and 120 Hz screen, but the camera zoom is not very different from the Huawei P30 and OnePlus 7 Pro. One thing going for it is the large resolution of the telephoto camera, 64 MP, which lends itself to better quality and more details.
8K filming is a bit of a gimmick and Single Take needs to be a staple on all phones I feel. The only difference between this phone and the S20 Plus is the DepthVision mechanism, aside from the obvious diagonal and battery changes. It all depends on the size of your fingers and palm in the end and how comfy you want the phone to be. We'll be back with a full review!
https://www.youtube.com/watch?v=Ho-9KBg2VEM