Samsung Galaxy S5 was a waterproof phone, we all know that, but the Galaxy S6 and S6 Edge lost that ability, because they now possess a glass and metal body. Well, the Galaxy S6 Edge was bravely tested for water resilience, as shown in the video below, done by Keaton Keller from TechSmartt.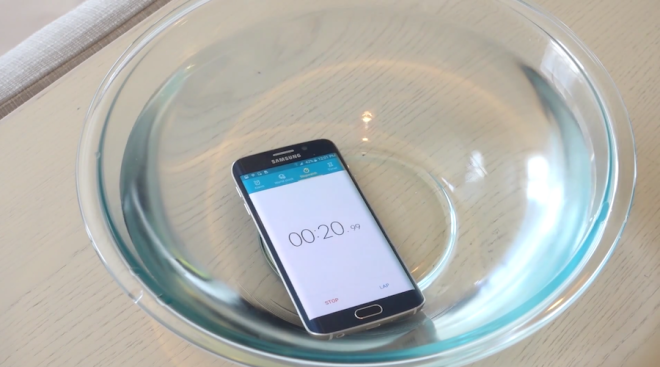 He sunk the device in a bowl of water for over 20 minutes and took it out from time to time to check it out. After 22 minutes he dried the handset with a  towel and tried shaking it to remove the water inside, which is not a very good idea by the way. The front camera seemed affected by water and the handset got stuck in a boot loop at some point.
In the end the phone turned on, but the camera seemed affected and the battery was draining very fast, so there had to be something wrong with it as well. This goes to show that the Galaxy S6 Edge may survive the unintentional toilet bath, but you shouldn't take it swimming with you, that's for sure. The phone just got even more amazing! Also be sure to check our pre review here.
via sammobile