After quite a few leaks of specs, pictures and other details regarding the Samsung Galaxy S8, it's time for the Galaxy S8+ to shine for a bit, this time through a benchmark leak. We're talking about GeekBench and it seems we have both the details about the Snapdragon 835 version and the Exynos 8895 one.
Both devices appeared in GeekBench's database with very solid scores. The Snapdragon 835 model is headed to the US and scores below the Exynos 8895 unit. The Samsung made CPU reaches 1978 points in the single core test and 6375 points in the multi core one, both higher than the 1929/6084 of the Snapdragon 835. It's important to mention that actually Samsung was vital in making the Snapdragon, too, not just the Exynos.
It's important to mention that the Qualcomm unit has lower power cores, that run at higher clock speeds compared to the Exynos. The single core performance is thus only slightly better in some of the single core sub tests and the Qualcomm chip suffers from high memory latency apparently, in both sub tests. This could impact user performance negatively, although we can't guarantee that.
The end consumer shouldn't be too affected by this, when it comes to every day usage. When compared to the Galaxy S7 Edge, the Galaxy S8+ greatly surpasses it, thanks to the Exynos 8895. The older Exynos 8890 is no match for it in the multi core area at least. Single core results are more of a mixed battle though. Samsung engineers improved especially some usage cases, like speech recognition, HDR processing and face detection, all of them making sense in the context of iris scanning, face scanning and Bixby.
We'll have to wait and see results for the regular S8 now and for the 6 GB RAM Chinese model too. Interesting to see that the iPhone 7 Plus hasn't been beaten yet.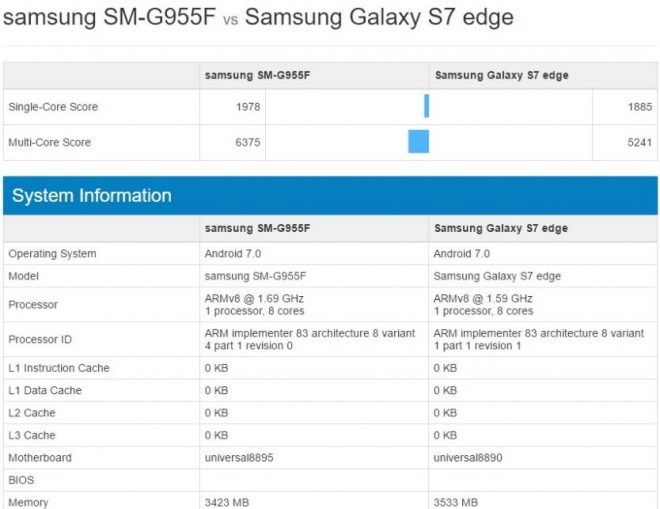 via Phone Arena / Gizchina