Samsung has sent invitations for their newest press event in New York. The press invite bares the "The Next Big Thing Is Here" slogan. We will probably be delighted with the announcement of new device/s from the top smartphonee Korean manufacturer.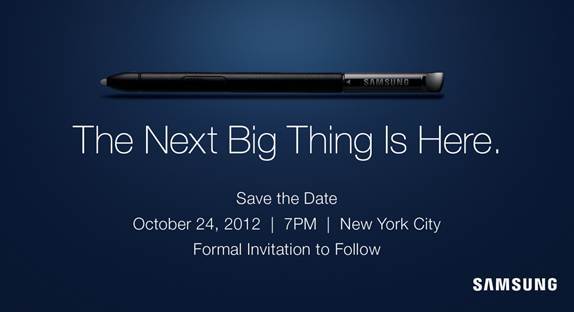 As the Windows 8 official launch draws near, Samsung is expected to announce devices running on the Microsoft platform at the press event in NYC on October 24th. The manufacturer gives us a clue to at least one device that will be announced at the conference : the US bound Galaxy Note II. The press invite image shows what looks like the S-Pen stylus, characteristic for Samsung's Note line-up. We have already seen leaked images of the Verizon branded Note II with LTE that will apparently launch next month. This model comes with the same specs as the international version as Samsung has apparently added LTE capabilities to their Exynos chipset.
Whatever Samsung will announce be sure to follow us for the latest info.