After quite a long wait and a CES announcement, the Skype native VoIP client for the iPhone is available for free, as a download via the iTunes App Store. Skype for iPhone looks more like an iPhone app than like its 4.0 version for Windows, which is good news, if you've been an Apple fan for the past years.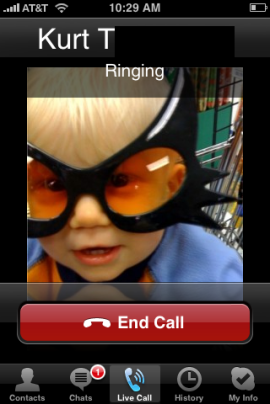 The app's screens are well organized and support filters, that sort contacts alphabetically or by online presence. Chatting is supported as well and you'll be able to call other Skype uses for free, while calls towards landlines will be rather unexpensive. Keep in mind that Skype calls on the iPhone are done only while you're in range of a Wi-Fi network.
There are also iPhone-specific features included in this app, like taking a photo from within the software and using it as your avatar, or using a picture from the camera roll. It's important to mention another function, that needs a little bit of work, the ability of accepting incoming conference calls. You won't be able to initiate them, but you'll join them after a friend invites you in.
We miss the SMS option from this app, the ability of purchasing SkypeOut credit directly and the display of a second incoming Skype call, but maybe they'll be there in the next version. But you can always connect through Wi-fi and find many apps which gives you this feature to send online sms till the time you have the next version.
[via reviews.cnet.com]