Among the best phones announced at MWC 2017 we also had the Sony Xperia XZ Premium, smartphone that packs an amazing 4K Ultra HD display and a 19-megapixel camera that can record videos at an amazing frame-rate of 960fps. This product received the award for the best new smartphone launched at the tech show and today we get the chance to know how much it will cost in Europe.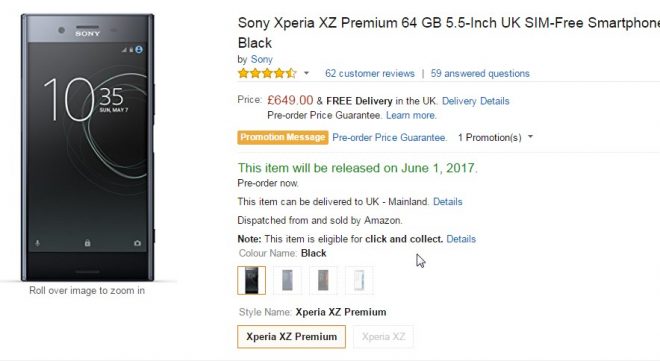 For just a couple of hours the phone was listed on Amazon UK for 649 pounds ~ $791, but shortly after we saw that the phone isn't available for preorder anymore. However, we have a screenshot before that happened so we notice that Sony plans to start shipping the XZ Premium starting June 1st.
As for this late commercial launch, we put it on the fact that the production of the Snapdragon 835 chipset is going pretty slow, processor that will be found on the new 4K smartphone from Sony. In terms of the hardware specs we'll bet 4 GB RAM and 64 GB of storage here, stereo speakers, USB Type-C port and unfortunately just a 3230 mAh battery..
via: mobilissimo.ro