The sprintgurus.com folks have just revealed Sprint's handsets that have reached the alpha/beta stage testing as they're prepping for launch. The list includes the following devices: CDMA HTC SNAP (S511), iDEN r765IS, iDEN i580 Yellow, CDMA BlackBerry 9630 (Niagra), CDMA LG LX290, CDMA Sprint U685 USB Card, iDEN Motorola Clutch i465, CDMA PALM PRE.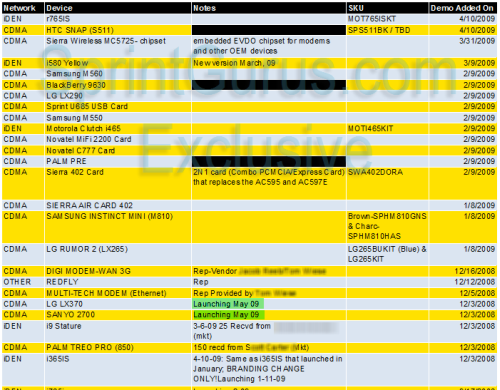 Also, we learn that LG LX370 will be launching in May, as will Sanyo 2700, that will hit the market on May 10. Pre is probably the hottest item on the list and it has 2 release windows, the first one being 6/7/09, while the other one is still a mystery.
The same forum reveals that BlackBerry 9630 might be launched by Sprint under the name "Tour". More info on release dates can be found right here.
[via sprintgurus.com]