Last week we heard that Oppo was preparing a 4 mm thick phone and immediately the battle for smartphone slimness supremacy was on. Vivo is now said to be working on a crazy thin 3.8 mm handset, as shown in the images below, posted on Weibo.
At the time of writing this article the thinnest handset in the world is the Gionee Elife S5.1, with a mere 5.1 mm in thickness. Some people believe that's too thin, but some are willing to go even further, in spite of the fact that Bendgate proved us all that thin is not the way to go. The Vivo phone shown in the teaser is compared side by side with the iPhone 5 and 5s, that measure 7.6 mm in thickness, which is double the waistline of the new Vivo phone.
We don't have any hardware specs for the newcomer, but we're certainly worried about its resilience. Anyway, Vivo may decide to go the Oppo way and use Lithium and aluminum for the case, to make it light and sturdy, or maybe go with an ultrathin shell made of stainless steel. What do you think?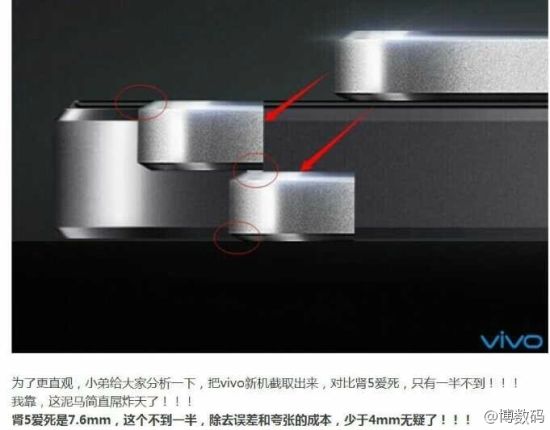 via gforgames