The xpPhone is a slider that features a 4.8 inch touchscreen display, specs that would make a netbook jealous and, most importantly, it runs Windows XP, thanks to a "AMD Super Mobile CPU". As you can see in the image below, the handset's interface includes call icons, plus shortcuts to Windows apps that can be arranged thanks to the icon-based tabs on the left side.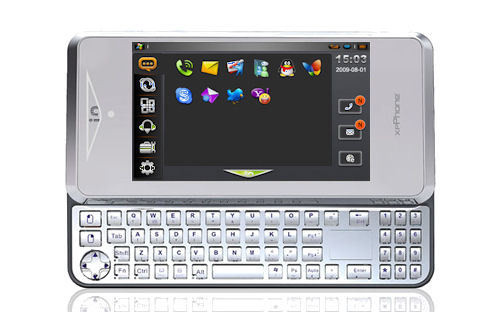 xpPhone's interface is able to switch between landscape and portrait views and another advantage of the handset is the fact that it comes with direct access to the Outlook address book, for contact management. If you're wondering about the specs, know that the xpPhone packs 512MB or 1GB of RAM, a SSD that can go from 8GB to 64GB, a HDD that reaches 120GB and a TFT touchscreen LCD with a 800 x 480 pixel resolution.
The device also supports GSM/GPRS/EDGE/WCDMA connectivity, plus WiFi, WiMAX, Bluetooth, GPS and there's a 1.3 megapixel camera on board as well. As far as ports are concerned, you get an earphone jack, a microphone jack, a docking connector (with VGA output), an USB 2.0 port and a SIM slot. The battery of the xpPhone provides 5 hours of talk time and about 5 days of standby.
[via Gizmodo]