Since we already reviewed the Motorola Moto Z2 Play, we thought we'd also play with a bunch of modules. And here come the modules, 5 of them to be precise, some familiar ever since last year and some 2017 material. We've attached them all to the Moto Z2 Play and had a blast doing that.
I'm talking about the Moto Style Shells, Moto Turbo Power, the Insta Share Projector and Moto 360 Camera. Let's check them out. You can get them here.
1. Style Shell
The Style shell is a pretty basic accessory, priced at around $20 or so and it's aimed at changing the texture of the device's back side and also its looks. We had a striped model, that mimicked some sort of wood, maybe bamboo and also had the role of covering up the camera bump of the Moto Z2 Play, by expanding its waistline a bit. Nice extra grip and a cute way to change the device's looks.
2. Style Shell With Wireless Charging
There's another type of Style Shell, that doesn't get much thicker, but it also adds wireless charging in the mix. Even Apple went ahead and opted for wireless charging on the iPhones, so Moto couldn't stay away. Thus, they came up with this accessory, that attaches via modularity to the Moto Z2 Play and costs around $40. It lets you charge the device with a wireless charging pad, but as far as I know there's no fast charging.
3. Moto Turbo Power Pack
This is where it gets real and this is a more bulky affair. We're dealing with a 95 gram module, priced at around $30-$40. It's also rather thick, but not in an exaggerate fashion and it offers a battery capacity of 3490 mAh. It can basically double the battery life of the phone, which was already a strong suit of the Moto Z2 Play. The module supports fast charging and it's able to get juiced up to 50% in just 20 minutes.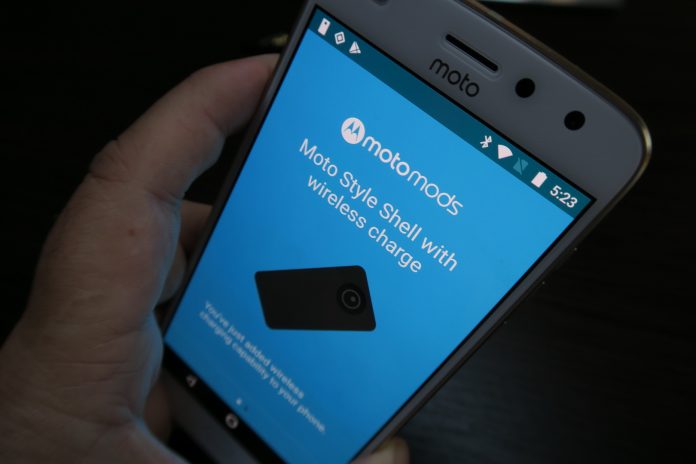 The attachment is shown in the UI with its own dedicated charging symbol and its own power meter. At the back of the module there's an LED flash, that shows the charge level and a button to trigger it. I think that a Moto Z2 Play with this accessory attached to the back may be a life saver for a week's worth of nature trips.
4. Insta Share Projector
I actually tested this one with the Moto Z, the OG one, so it's a very familiar device. Priced at $300, this machine integrates a DLP projector, able to show an image that's up to 70 inches in diagonal. You can project movies, matches or whatever you want on a special screen, on the ceiling, walls, or wherever you want. Keep in mind the fact that you'll need a dark room for it, since this is not a very bright projector and the sun may make the image seem ghostly and not very clear.
This projector module features a lamp that offers up to 10.000 hours of life. It's a reasonably slim and not very heavy accessory, at 11 mm in thickness and 125 grams in weight. The module has a 50 lumens brightness, a 1100 mAh battery and can project a 16:9 image. The previously mentioned battery is supposed to offer one hour of projection and then the phone's battery kicks in.
There's also a special fan at the back to cool off things and a kickstand that lets you prop up the device.
5. Moto 360 Camera
Somehow, the 360 degree cameras never got to me. I never got this trend. People paying hundreds of dollars to capture 360 degree videos and photos to consume on VR headsets. I'm also not a huge fan of those headsets, but in the end I cab see their appeal. Thus I was pretty suspicious of this $300 module. It's a 360 degree camera that attaches to the Moto Z2 Play via module and integrates two 12 megapixel sensors.
It does 360 degree photo or video capture and even captures acoustics in 3D, using 4 microphones. Video is captured in 4K and there's also an ultra wide angle picture option. Once the module is attached, the new UI takes over and you switch to the two camera's view. It can either be shown as a globe, with an all around view or just a vertical slice of reality, which you can pan through.
Then there's also a split screen mode, that splits the capture of the front and back camera. This module is only used in portrait mode and it recently got a special software update, that lets you stream 360 degree pictures of videos live to Facebook or YouTube. The actual capture is pretty cool, immersive and detailed, although any attempt at zooming may leave you with less details than you had hoped.
Also, picture taking doesn't face a strong sun well. The videos look fine, if you're a fan of curved images and fisheye lens experiences. It's best used when atttending a concert, soccer match, live event of sorts, being a tourist in a beautiful location and so forth. I can see the appeal, for a vlogger at least. The price is a bit steep though…
And as a last admission, I can't wait to play with the Moto GamePad, which is by far my favourite module.