A new smartphone announced today is also the LG V10, a unique phone that was leaked in pictures just a few days ago. The device is now official and thereby we have the chance to know its specs and also to admire it in some high-quality pictures. The word that can label this phone is duo, and you'll find down below why we're saying this.
Well, it's a duo smartphone because first, it comes with two displays, a main one that measures 5.7 inch in diagonal and offers a Quad HD resolution of 2560 x 1440 pixels. What's the novelty here, is the 2nd screen placed above the main one, panel that measures 2.1 inch and offers a 1040 x 160 pixels resolution.
As LG revealed, this panel will be always on, and it will show some precious info about time, weather, or even missed calls or messages. From here, we'll be able to control the audio playback, see the calendar appointments, but also switch easy between apps.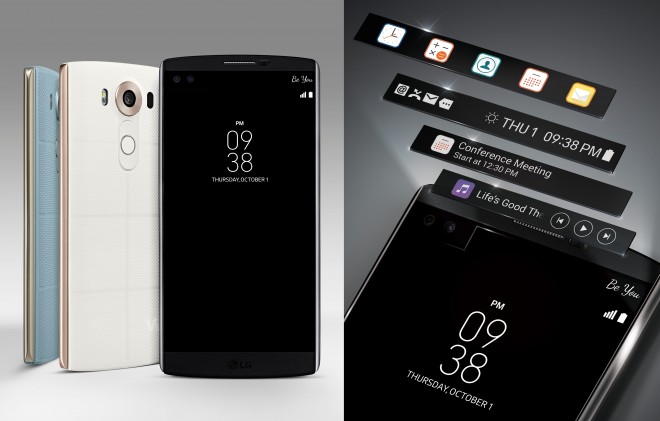 Another thing that reveals the phones duo side, is the front-facing camera composed by two 5-megapixel sensors, one for single-slefie shots (80 degree angle), and another one for wider selfie captures, when we're taking a picture alongside our friends (120 degree angle).
Inside the device we have a hexa-core Qualcomm Snapdragon 808 processor, an Adreno 418 GPU, and 4 GB LPDDR3 RAM memory. There's 64 GB space of internal storage, a microSD card slot up to 2 TB and a 3000 mAh removable battery.
The rear camera is a 16-megapixel unit with f/1.8 aperture, OIS 2.0, LED flash and laser autofocus. LG V10 arrives with 4G LTE Cat.6, NFC, microUSB v2.0 and Bluetooth 4.1 connectivity. We get to know that this phone packs a metallic frame and a back cover called Dura Skin that seems similar to rubber and promises to offer a better protection to scratches and also a better grip.
Unlike the LG G4, this new product announced by LG, measures 8.6 mm in thickness, while the weight goes up to 192 grams. LG V10 will be available in black, white, beige, dark blue and a light shade of blue. At first, the phone will arrive in October on the Korean market.
via: lgnewsroom.com